Christmas and New Year are just around the corner, and we all have our plans for how will we spend that time. And, if you don't, well, no need to worry as we are here with not one or two but six different destinations that will lift up your spirits and carve some beautiful memories, for sure!
You are here for the destination ideas, but we will make sure that you do not need to do any more research as we will take that burden off your shoulders.
Check out these destinations. And Stay with us till the end, you will not regret it, promise!
New Delhi: The Capital
Delhi is love, speed, tranquility, and chaos all at the same time. A destination, that doesn't actually look like but can be proven a beautiful one. Only, if you know where and how to go.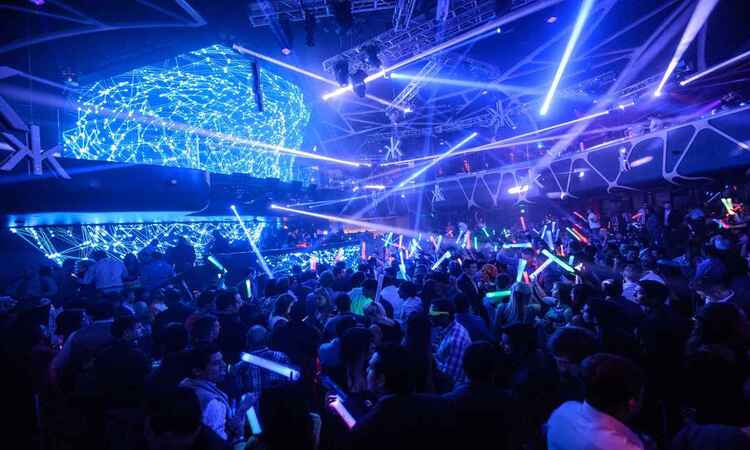 It is without a doubt that Delhi is the national capital of India for all the right reasons. Tourism in Delhi is reflected in the diversity of the city, which has always been the epicenter of all activities.
To roam around
When you decide to visit New Delhi and the surrounding places for your Christmas and New Year vacation.
On Day
The famous ISKCON temple, an important Hindu spiritual destination, and Akshardham are other popular tourist destinations in Delhi.
Here, you can also witness UNESCO Heritage sites like Red Fort, Humayun's Tomb, and Qutub Minar. Hauz Khas, on the other hand, has emerged as a favorite spot for those seeking solitude and peace.
In Night
There is something enchanting about Delhi nightlife, with empty streets and lively crowds in bars and clubs, the city appears more enticing at night. New Year parties in Delhi-NCR clubs are something you should not miss.
Kutch: The White Desert of India
The utmost travel destination, a 4-month long festival. Rann Utsav of Kutch
Known for its vast expanses of the salt desert, Kutch is one of the most beautiful surreal places in India. The erstwhile princely state of Kutch is shaped like a tortoise, and it still retains some of its splendid past glory.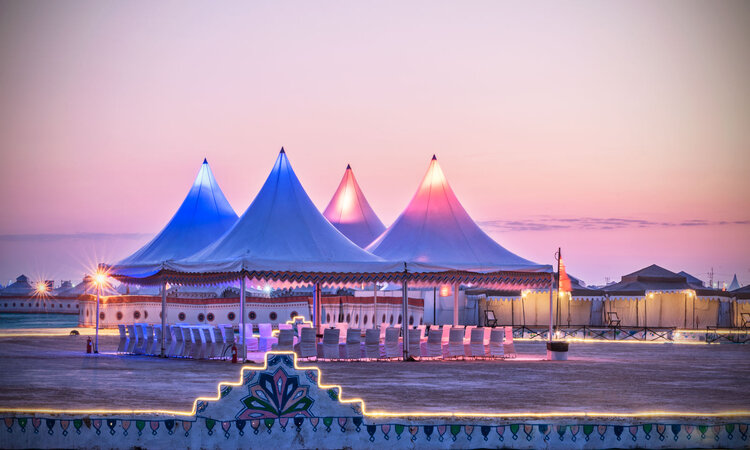 Large camp settlements hold cultural events, functions, and adventure activities such as hot-air ballooning during the Rann Festival, which is held in October-February.
Kutch is also one of the largest districts in India and has one of the lowest population densities. It also lies on the India-Pakistan border, so parts of Pakistan can be seen from Kutch. A good place to visit the Rann of Kutch is Bhuj, which provides easy access to Flamingo Sanctuary, and Wild Ass Sanctuary, besides the crafts and embroidery works.
During your trip to Kutch, be sure not to miss the amazing beaches of Mandavi near Bhuj. Also, don't forget to visit Dholavira, a fascinating ancient town that you won't want to miss.
The Pink City Jaipur: The Unesco Heritage
The panoramic views of the sprawling city and its environs that these forts commands are magnificent as is the history that lies buried within them. Taking a tour of Jaipur's famous sites is a great way to learn about the city's history, culture, and traditions.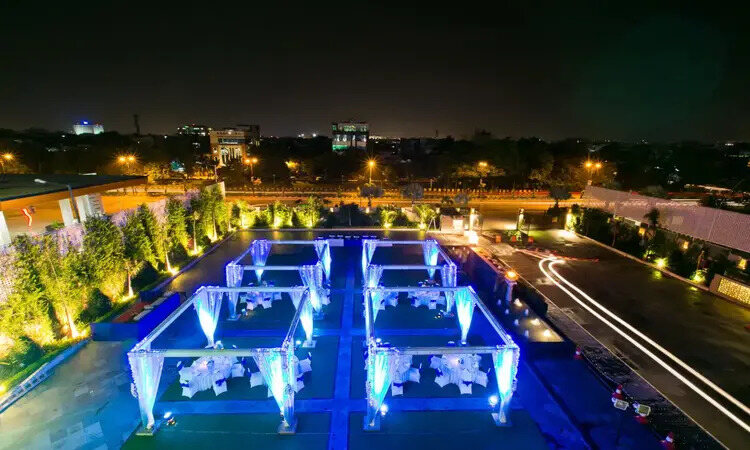 We highly suggest you plan to visit here during the upcoming months, as winters in Jaipur are typically filled with mist and magic. While a pleasant climate and a bright sun prevail during the day, the atmosphere begins to shift in the evening.
The Kite Festival and the Jaipur Literature Festival take place in January, this is a great time to visit Jaipur. Just one day before Holi, Jaipur hosts the Elephant Festival sometime in the month of March.
You can find more information about Jaipur here: https://blog.trainman.in/blog/trainman-tourism-guide-of-the-pink-city/
Kochi: God's own country
Kochi, Kerala's most populous port city, offers a diverse range of cultural experiences. The city, which was once dominated by the Portuguese, Dutch, and British, still reflects the essence and air of these ages in more vibrant ways.
Fort Kochi, formerly a hub for spice traders from all over the world, is one of the most stunning places to see in Cochin. A tour of this region, together with the prismatic views of the Chinese fishing nets, is a must-experience for visitors, whether steeped in history or the livelier reminiscence of the past.
During the winter, Kochi has an enticing atmosphere. As the temperature drops, the city becomes more lively and offers more possibilities to visitors. Winters in Kochi are perfect for honeymooners, adventure seekers, leisure seekers, and other types of travellers.
You can find more information about Kochi here: https://blog.trainman.in/blog/guide-of-trainman-for-your-journey-to-own-country-of-god/
Ooty
A destination that helps you forget the outside world and be at peace. In the southern part of India, among the Nilgiri Hills, lies one of the country's most stunning places, Ooty, also known as the Queen of Hills Station because of its pristine beauty.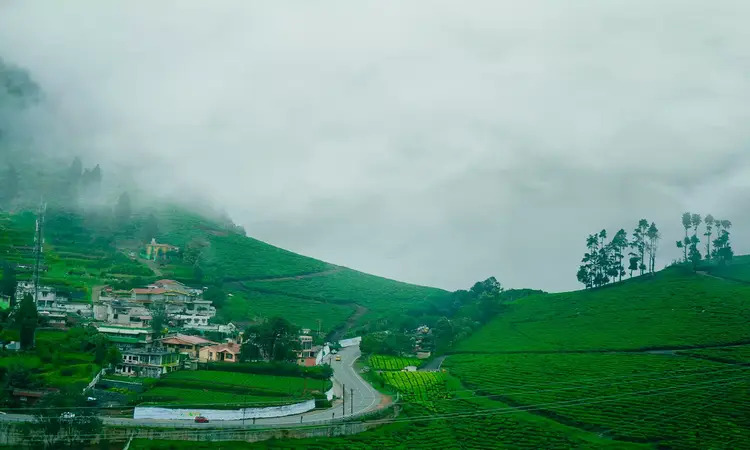 The mighty hill station perched on the Nilgiri hues is mostly accessed by roads due to its popularity and easy accessibility from other major cities in India. It is also surrounded by some of India's most popular tourist destinations. There are numerous sites worth seeing here, such as Doddabatta Peak, Avalanche Lake, Pykara River, Ooty Lake, Rose Garden, Ooty Boat House, and The Tea factory.
A great way to enjoy the festival atmosphere is to ride the Toy Train, which travels 45 km in 5 hours. Toy Train rides are a great way to see all the sights and enjoy the festival atmosphere from October to February while relaxing in April and June are the best times to visit.
Gokarna: Land of Palm Trees, Blue Seas, and Golden Sands
The Hindu Pilgrimage town in Karnataka is a beach lover's and hippie's paradise, thanks to its pristine beaches and breathtaking landscapes. In search of peace and relaxation, Gokarna welcomes hordes of tourists every year. Beaches outside the town, such as Kudle and OM are a remarkable contrast to the busy city life.
The region is well known for its beautiful beaches, which are perfect for a slow and relaxing holiday. It has a forest of coconut and palm trees, as well as an ocean and clean sand, which makes this place one of a kind. Foreign tourists are the majority on Gokarna's palm-clad beaches, while a few Indians can also be seen here and there.
These destinations will definitely make your Christmas and New Year holiday plans a lot better. And, additional features that Trainman will provide will just enhance your overall train travel experience. For instance, availing IRCTC Executive Lounge after you booked your tickets with us. Or, assuring your train journey by opting-in Trip Assurance