The largest, liveliest, and busiest city in the India's state of Rajasthan is Jaipur. It also goes by the name "Pink City," and it is renowned for having the busiest train route in the area as well as a wide range of gorgeous and stunning palaces. And in particular, the main train station is constantly jammed to capacity. So, is it worthwhile to travel to Jaipur? And, what should a first-time visitor do there? We are here with all the answers to your questions. Let's get on the journey to Jaipur.
Overview
The panoramic views of the sprawling city and its environs that these forts commands are magnificent as is the history that lies buried within them. Taking a tour of Jaipur's famous sites is a great way to learn about the city's history, culture, and traditions.
However, while exploring Jaipur's heritage sites, do not overlook its markets. The city of colors greets tourists as they enter. The markets here are irresistible, and you'll soon find yourself loaded down with bright clothes, dainty parasols, one-of-a-kind artifacts, and heavy Rajasthani jewelry. To say the least, shopping in Jaipur is a pleasurable experience.
Places to Visit in Jaipur
We highly suggest you plan to visit here during the upcoming months, as winters in Jaipur are typically filled with mist and magic. While a pleasant climate and a bright sun prevail during the day, the atmosphere begins to shift in the evening.
You can also check out our Jaipur travel blog for the most comprehensive Jaipur travel guide blog, including information on how to get there, the best time of year to visit Jaipur, the finest locations to visit, and what to do in Jaipur.
Great Panoramic Views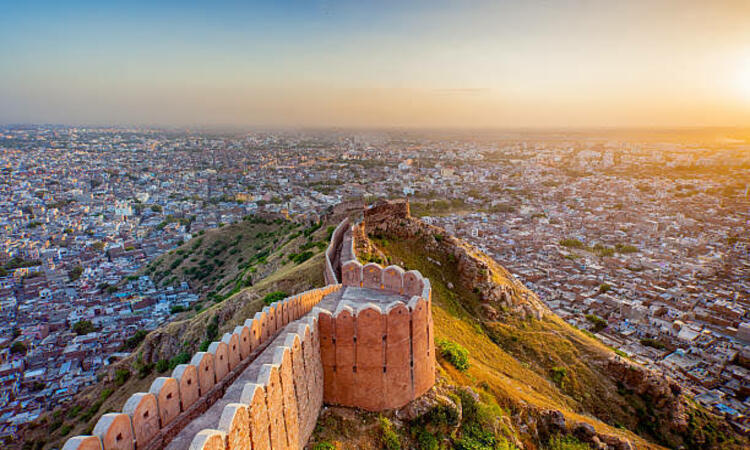 Jaipur, as a semi-desert area with numerous places to visit, attracts millions of visitors each year. However, there are certain times of the year when it is best to visit Pink City.
The best time to visit Jaipur, according to Jaipur travel guides, is from October to March. During these months, the temperature remains moderate, with pleasant weather following. As a result, getting around the city becomes simpler and more convenient.
City Palace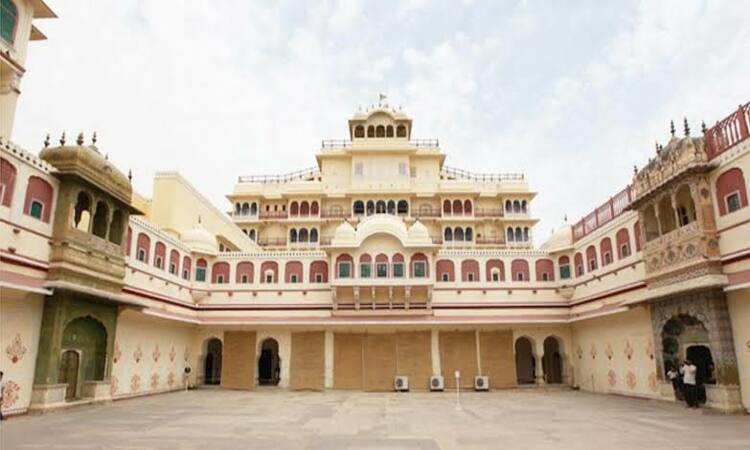 The City Palace has played the most important role in Rajasthan's history of all the palaces included in the Jaipur Travel Guide. City Palace has been the residence of the royal families of Jaipur since Maharaja Sawai Man Singh moved into it. It has witnessed many majestic celebrations over the centuries, including royal marriages and royal family festivals.
City Palace, built between 1729 and 1732, is an outstanding example of Mughal and Rajasthani architecture. There are also remnants of European architecture. The main palace complex consists of the Mubarak Mahal and the Chandra Mahal. This palace also houses the Mukut Mahal, Maharani's Palace, Shri Govind Dev Temple, and the City Palace Museum.
Amber Fort And Palace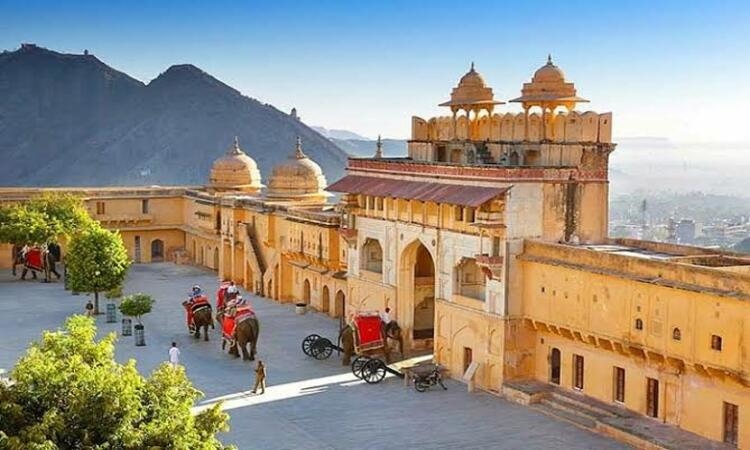 Amber Fort and Palace is one of the primary destinations in Jaipur Travel Guide and is located in Amer Village, amidst the scenic backdrop of a hilltop called 'Cheel ka Tila' on the Aravalli Hills. The palace is entirely made of red sandstone and marble. Maota Lake, which flows at the foothills of the Aravalli Hills, always provides a cool and pleasant climate to the fort.
Amber Fort, also known as Amer Fort, is divided into four major sections. Each of these sections has its own entrance gate, which leads to a courtyard. Jaleb Chowk is the first and most important of the four courtyards. This east-facing courtyard was intended for royal parades following battle victories.
How To Reach Jaipur
Jaipur, the city that reflects great gallantry, is one of the most popular historical cities in India, and it forms part of the renowned Golden Triangle package in India, along with New Delhi and Agra. The road distance from New Delhi to Jaipur is approximately 250 kilometers, while the road distance from Agra to Jaipur is 225 kilometers. Apart from its ethnicity and tradition, the main attractions in Jaipur are its vibrant bazaars, strong forts, and majestic palaces. All of this attracts a large number of visitors, both domestic and international.
By Air
Air travel to Jaipur is a convenient mode of transportation. The Jaipur airport is located 12 kilometers from the city center in Sanganer. It has both international and domestic terminals and is well connected to most cities around the world, with a number of airlines operating regularly.
Taking a bus to Jaipur is a cost-effective and convenient way to spend your vacation money. Regular, Volvo (air-conditioned and non-air-conditioned), and deluxe buses are operated by the Rajasthan State Road Transport Corporation (RSRTC) between Jaipur and other cities in the state.
Self-Driving by Road
A trip to Jaipur by car is a lot of fun. The Delhi-Jaipur National Highway (260 kilometers) provides a smooth ride with plenty of restaurants and amenities along the way. National Highways 8, 11, and 12 connect to the road leading to Jaipur.
By Train
The Shatabdi Express, which is air-conditioned and very comfortable, connects Jaipur to many important Indian cities including Delhi, Mumbai, Ahmedabad, Jodhpur, Udaipur, Jammu, Jaisalmer, Kolkata, Ludhiana, Pathankot, Haridwar, Bhopal, Lucknow, Patna, Bangalore, Chennai, Hyderabad, and Goa.
Ajmer Shatabdi, Pune Jaipur Express, Jaipur Express, and Adi SJ Rajdhani are some of the most popular trains. Also, with the introduction of the Palace on Wheels, a luxury train, you can now experience Jaipur's royalty while on the move. This luxurious train to ride within, and around Jaipur will leave you speechless.
What time of year is ideal for visiting Jaipur?
The best time to visit Jaipur and other regions of Rajasthan is from November to March when temperatures range from 8 degrees Celsius at night to 32 degrees Celsius during the day. The summers are brutally hot, and sightseeing isn't the most enjoyable activity.
On the other hand, the monsoon season is not recommended because it is quite hot and muggy. Because of the Kite Festival and the Jaipur Literature Festival that take place in January, this is a great time to visit Jaipur. Just one day before Holi, Jaipur hosts the Elephant Festival sometime in the month of March.
Here are Some Train Journeys You Can Take
From Delhi to Jaipur
From Mumbai to Jaipur
From Lucknow to Jaipur
From Patna to Jaipur