Your Trip, Our Assurance
The Indian railways cater to around 23 million passengers daily. These numbers can go up to 8 billion in a year. To tackle the needs of these passengers, IRCTC runs about 5000 trains every day. Even though after every effort, many passengers do not get the confirmed berth for their journey, hence they have to book the ticket with waiting list status. And then, the anxiety starts. After every few hours, checking the ticket status just to make sure they get to travel for their upcoming journey.
Everyone wants to reach their destination, as there is always a purpose. And, most of the time, the journey can be highly important. Our every effort is for the passengers' benefit only. As we are constantly working in that direction, and with our 94% accurate prediction for the ticket confirmation, we are helping a lot of Indian railway passengers to choose their perfect train ticket even in the waiting list status.
However, the uncertainty is always there, and trust us, we do feel very sad, even if we failed to get the passengers a confirmed ticket, for once. And, as we feel responsible for any such incident, we came up with a solution again this time.
that solution is to make sure you don't miss your journey under any circumstances. Just like every other feature, this as well is quite simple and easy to use, because our commitment to our users is something we don't want to hamper.
Hence, using machine learning and artificial intelligence, we came up with a solution that will help every train traveller. You might be curious about the solution, hence, we won't hold it any longer. the solution that we have come up with is Trip Assurance.
Trip Assurance with Trainman
As the name states, trip assurance is our special product, through which we commit to helping you complete your journey, if not train then we will help you board a flight. Too much to process? we will make it simple for you.
How Does It Work?
If you book your train ticket with us, which is on a waiting list at any given point of time and remains waitlisted after the chart preparation even after our prediction of it getting confirmed; we will provide you with a confirmed flight ticket, just to assure that your journey gets completed.
And, the best part is if the train ticket you booked on the waiting list gets confirmed before the journey, we will refund the TA Fee that you paid, as TM Cash in your TM Wallet.
How you can avail the Trip Assurance from Trainman?
The information might be getting way too overwhelming, so we will make it simpler for you. The steps to avail the Trip Assurance are as easy as walking on the cake. All you have to do is:
Step 1: Open Trainman App

Step 2: Enter your origin and destination railway station and hit search

Step 3: On the newly opened page, look for the train with Trip Assurance Tag, and tap on it to get the availability.

(Passengers booking the train on Trainman under Trip Assurance need to keep in mind that Trip Assurance is only available for trains which are providing a waiting list, that too in all 460 Trains.)

Step 4: Tap on book now, add the passengers for the journey, and click on proceed.

Step 5: Here, fill in all your details and click on

Yes

to opt-in for Trip Assurance

Step 6: Then, make the payment and you are all set.
Now, just sit back and relax, as your trip, is our responsibility now.
After booking the train tickets with Trainman, there are two possible scenarios that can happen with you before or at the time of chart preparation:
The Ticket Gets Confirmed
Congratulations! we got the prediction right, and you will be eligible to undertake the journey on the train. Additionally, the amount you paid as TA Fee will be credited back to your TM Wallet as TM Cash. You can use this amount in your next booking to get off on your ticket prices.
The Ticket Remains Waitlisted
Don't worry, we got you covered. Now, that your ticket is on the wait list after the chart has been prepared, one of the customer representatives of Trainman will connect with you over call. And, with the details you provide, the flight tickets will be booked. Your journey will be completed, as we promised! To know more about the terms and conditions of trip assurance, follow this link: T&C of Trip Assurance
Trip Assurance: Train Names and Route Details
We are currently providing trip assurance for 12Trains and will be expanding it on more routes soon. The best part of TA is that it is active for all the Rajdhani Trains and other popular train routes as mentioned below.
Recent Update: We added 580 more trains under Trip Assurance. With this update, the total number of trains that supports Trip Assurance has increased to 1278.
Recent Update: We added 238 more trains to this on Tuesday, 13/12/2022. With this update, the total number of trains that supports Trip Assurance has increased to 698.
Update (03/12/2022): We added 231 more trains to this list on Saturday, 03/12/2022. With this update, the total number of trains that supports Trip Assurance has increased to 460.
Update (24/11/2022): We added 99 more trains to this list on 24 November 2022. Thus now, the total number of trains that supports Trip Assurance has increased to 229.
Trip Assurance is available for AC 1, 2 & 3 Tier, and Sleeper Classes of the trains. To check out the complete list of trains eligible for Trip Assurance, you can follow this link: List of Trains with Trip Assurance
Assure Your Trip Starting from Rupee 1
Making sure of reaching the destination is the best possible thing we can help you with. And, taking the anxiety off your mind is what Trip Assurance will do for you.
This is the game changer feature in the travel industry that cares about the passengers. This is why for a few routes and trains, at certain moments, Trainman will charge just Rs.1 as TA Fee, while booking the train ticket in the waiting list status.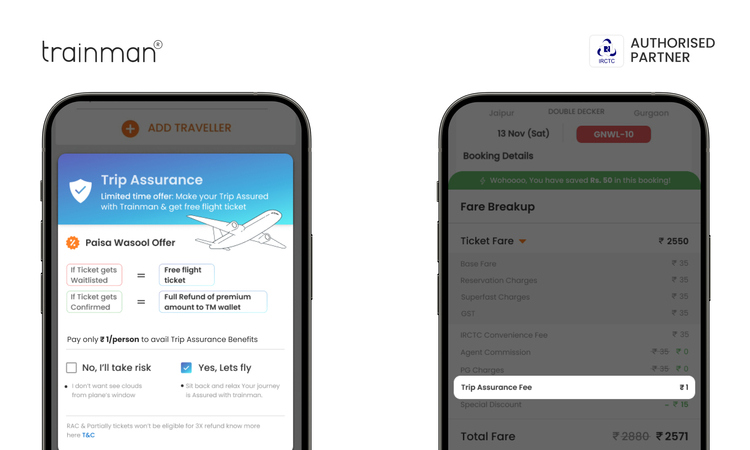 For example, search for trains from New Delhi to Mumbai for the date of your journey, and see train number 22222 – CSMT Rajdhani with the trip assurance tag. Now, if the train is providing the waiting list tickets with the confirmation chances are 90% or above, and you decide to opt-in for Trip Assurance, you will be asked to pay only Rs.1 only.
With that amount, your trip will be assured with Trainman. It means if your ticket remains waitlisted even after the chart preparation, we will be providing you with a confirmed flight ticket.