Overview
The Golden Chariot train is South India's only luxury train. It takes its name from the Stone Chariot in historic Hampi, one of many places it visits as it winds its way through Karnataka. You'll travel through the night to various locations and spend the day exploring them. The Karnataka Tourism Development Corporation owns the train, which is operated by the Indian Railway Catering and Tourism Corporation.
It began its operations in early 2008, making it one of the more recent additions to India's luxury train fleet. Its logo features a mythological creature with the head of an elephant and the body of a lion.
One of the most exciting and luxurious ways to see the natural and architectural treasures of south India is to travel on the Golden Chariot train. Golden Chariot has received numerous accolades for its modern refinement and traditional ways of hospitality, including being named one of the world's seven best luxury rail journeys by Vanity Fair Magazine within four years of its inception.
Read More- All New Vande Bharat Express
A Little History
Rajasthan Tourism and Development Corporation (RTDC) introduced the Palace on Wheels train, which marked the beginning of luxury train travel in India. The resounding success of Palace on Wheels inspired other state tourism departments to follow in RTDC's footsteps, resulting in the introduction of Royal Rail Journeys in India's South Western Region.
The Golden Chariot, South India's first and only luxury train, is the fruit of a 2002 agreement between the Karnataka State Tourism and Development Corporation (KSTDC) and the Ministry of Indian Railways. This luxury train in India is named after Hampi's famous stone chariot.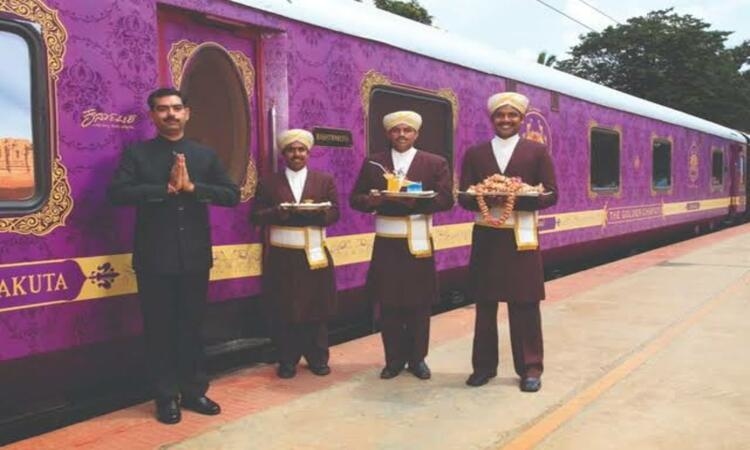 On February 2, 2008, President Pratibha Devi Singh Patil presented the Golden Chariot with a ceremonial presidential flag off at Yeshwanthpur Railway Station. Golden Chariot chugged on its maiden voyage from Bangalore to Goa on March 10, 2008, weaving through various historically significant and culturally potent destinations in Karnataka.
Features
The train's refurbishment included new features such as improved suspension, newly upholstered furniture, curtains, renovated rooms and bathrooms, crockery and cutlery, fresh linen, smart TVs with Netflix subscriptions, and new eclectic global and local menus.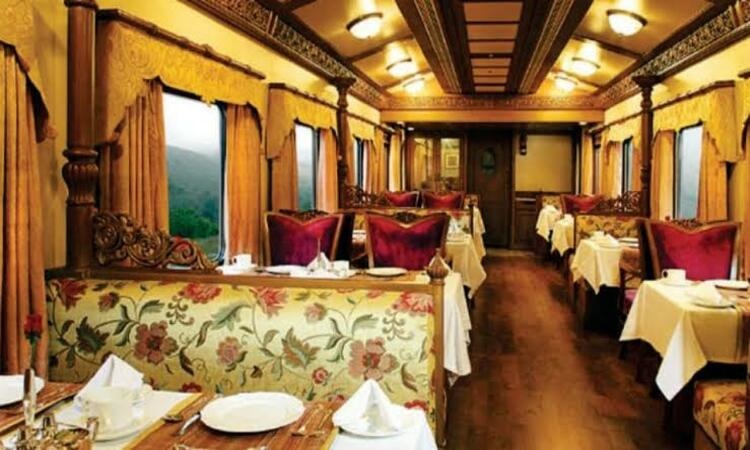 There are 11 purple and gold-themed passenger carriages with 44 air-conditioned guest cabins (four in each carriage) and an attendant for each cabin. There are 13 double bed cabins, 30 twin bed cabins, and one cabin for people with disabilities.
Each carriage of The Golden Chariot is named after a Karnataka ruling dynasty, including the Kadamba, Hoysala, Rastrakota, Ganga, Chalukya, Bhahamani, Adhilshahi, Sangama, Shathavashna, Yudukula, and Vijayanagar.
There are also two speciality restaurants (Ruchi and Nalapaka), a lounge bar (Madira), business facilities, a gym, and a wellness spa offering massage therapies on the train. One of the highlights is performances by local artists in the train's lounge bar, which has been designed to look like a replica of the Mysore Palace.
Routes And Destinations
The Golden Chariot has three routes and itineraries, all of which depart early Sunday morning from Bangalore's Yeshwantpur Railway Station.
Jewels of South (Karnataka, Tamil Nadu, and Kerala) (6 Nights/7 Days):
Bangalore-Mysore-Hampi-Mahabalipuram-Thanjavur and Chettinad-Kochi-Kumarakom-Bangalore
Sunday, Day 1: Bengaluru to Mysore
Monday, Day 2: Hampi
Tuesday, Day 3: Mahabalipuram
Wednesday, Day 4: Thanjavur and Chettinad
Thursday, Day 5: Cochin
Friday, Day 6: Kumarakom
Saturday, Day 7: Bangaluru
Pride of Karnataka (Karnataka and Goa) (6 Night/7 Days):
Bangaluru and Bandipur-Mysore-Halebidu-Chikamgaluru-Hampi-Badami-Goa (including Old Goa's churches and museum)
Sunday, Day 1: Bengaluru to Bandipur
Monday, Day 2: Mysore
Tuesday, Day 3: Halebidu-Chikamangalur
Wednesday, Day 4: Hampi
Thursday, Day 5: Badami, Pattadakal and Aihole
Friday, Day 6: Goa
Saturday, Day 7: Bengaluru
Glimpses of Karnataka (3 Nights/4 Days):
Bangaluru-Bandipur-Mysore-Hampi-Bangaluru
Sunday, Day 1: Bengaluru to Bandipur
Monday, Day 2: Mysore
Tuesday, Day 3: Hampi
Wednesday, Day 4: Bengaluru
Departure Dates of The Golden Chariot in 2022-23
The train runs only on pre-scheduled dates and the booking must be done well in advance from the departure date. The Golden Chariot starts its journey only on Sundays. Here are the dates on which this train will start its journey in the year 2022-23:
Jewels of South
October 09 & 30, 2022

November 20, 2022

December 11, 2022

January 01 & 22, 2023

February 12, 2023

March 05, 2023
Pride of Karnataka
October 16, 2022

November 06 & 27, 2022

December 18, 2022

January 08 & 29, 2023

February 19, 2023

March 12, 2023
Glimpses of Karnataka
October 23, 2022

November 13, 2022

December 04 & 25, 2022

January 15, 2023

February 05 & 26, 2023

March 19, 2023
Why Travel Through Golden Chariot?
It's a fantastic way to see south India in comfort and without hassle. The itinerary includes stops at national parks and ancient temples, as well as cultural, historical, and wildlife connections. Excursions are meticulously planned. Furthermore, alcohol is now included in the tariff (it used to be charged separately and was costly). Despite the fact that it is a luxury train, there is no formal dress code.
Miscellaneous Questions
Booking Procedures
To book the tour package on The Golden Chariot, visit

https://www.goldenchariot.org/#/book/bookticket

, and follow the instructions.

At the time of booking, you must pay 20% of the ticket price.

The remaining 80% of the ticket price is 60 days before departure.
Policy on Cancellation
If you cancel your FIT ticket up to 60 days before your departure, you will be charged 5% of the ticket price.

If you cancel between 30 and 59 days before your flight, you will be charged 20% of the ticket price.

If you cancel between 15 and 29 days before your departure date, you will be refunded 50% of the ticket price.

If the cancellation is made 14 days before departure, the full ticket price will be deducted.