ACPG Offer on Trainman App | An IRCTC Authorised Train Travel Booking Company
Indian Railway is the most used mode of transportation in India, and as an official IRCTC authorized partner, Trainman knows the importance of your money and desire to travel. We are glad to take the pain of high ticket pricing off your shoulders by waiving Agent Commission (AC) and Payment Gateway (PG) charges on your train ticket booking. Customers can use our website or Android/iOS app to book their train tickets to make their journey more affordable. Read on to know the details.
What Exactly Are AC And PG charges?
Agent Commission and Payment Gateway charges are often levied on train ticket booking as an additional fee to the ticket price. AC and PG charges are mostly levied while booking tickets online. In a bid to make train tickets affordable, Trainman has decided not to charge any AC and PG charges on your first booking, thus, making your travel more affordable and enjoyable.
The additional Rs 50 Off is extended to users with available TMCash. To avail of the TMCash, you can use the code TM50.
What is our benefit?
Our app and web users get the benefit of taking AC and PG charges off of their first train booking on Trainman
Android / iOS / Web
If you are transacting for the first time on Trainman
- AC and PG will be zero, and additional Rs. 50 will be off if TMCash of Rs. 50 or more are available in your TM Wallet.
Up to total INR200 off if TMcash is available in your wallet.
Let us help you to understand the offer in a better way:
So, for example, you wish to travel from Delhi to Mumbai in AC 1st class by 12952 MMCT Tejas Rajdhani Train and start booking the ticket for tomorrow on Trainman. You will notice that the total fare of that ticket is Rs 5463.20. In this amount, the base fare for a 1st Class AC ticket is Rs. 5275.00, IRCTC Charge is Rs. 35.40, Agent Commission is Rs. 40.00, Payment Gateway Charge is Rs. 112.00, that is added.
But, since you are a new user of the Trainman App, and the fare of your ticket is above Rs. 200, the AC and the PG charges will be not charged to you. Also, if you have any TM Cash in your TM Wallet, you can avail of an extra Rs. 50 off on your ticket booking.
If you do not have TM Cash in your TM Wallet, you can use the code TM50 to add money to the TM Wallet.
So, after applying all these offers, your final ticket price will be Rs. 5463.20 (Total Fare ) - Rs. 40 (AC)- Rs. 112.00 (PG Charge) - Rs. 50 (TMCash) = Rs. 5260.40. Try it out yourself and see the difference.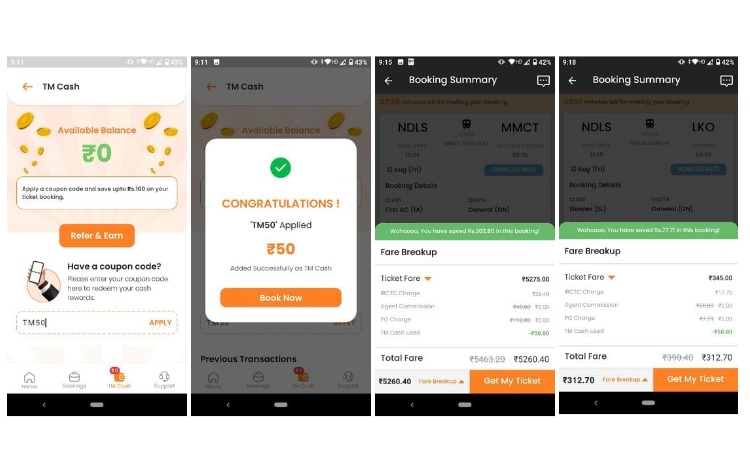 We will try to ease this up a bit more: Let's suppose you want to go to Lucknow from Delhi in Sleeper Class, by 12556 Gorakhdham Express, and you started the booking for tomorrow. Here, you will see that the total fare of the ticket is Rs. 390.40. This amount includes the Base Fare of the Sleeper Class Ticket of Rs. 345.00, IRCTC Charge of Rs. 17.70, Agent Commission of Rs. 20.00, and Payment Gateway Charges of Rs. 7.71.
But, because you are a New User on Trainman App, and your ticket fare exceeds the limit of Rs. 200. Thus, you will not be charged with AC & PG charges, and you can also avail Extra Rs. 50 off by using your TMCash. (The process of adding the TMCash in your TM Wallet is the same.)
So, by using this exciting ongoing offer, you can travel to Lucknow in Sleeper Class for just Rs. 312.70, it includes the deduction of AC of Rs. 20, PG of Rs. 7.71 and an Extra Rs. 50 off by using TMCash.
Still got confusion? Don't worry, you can always reach out to our Customer care, available 24x7, for any additional queries.
With Trainman, travelling throughout the country has become more convenient thanks to our seamless ticket booking platform. Almost any city can be reached by train at a reasonable cost. Train ticket booking with us offers various benefits, including low-cost travel, PNR status check, 95% probability of a confirmed ticket if trainman predicts WL tickets, speed checking and a whole lot of other benefits.