Overview
The Vande Bharat Express, previously known as T-18, is India's first semi-high-speed premium trainset series. It was launched by The Prime Minister Narendra Modi. The first rake was made operational between New Delhi and Varanasi on February 15, 2019.
The Train-18 was later named Vande Bharat Express. It was rolled out by the Integral Coach Factory (ICF), Chennai in an incredibly short time span of 18 months under the 'Make in India' program at a cost of Rs 100 crore.
The second rake of Vande Bharat Express was made operational in October 2019 on the New Delhi-Katra route connecting New Delhi to Shri Mata Vaishno Devi Katra.
Why Vande Bharat 2.0?
After the successful launch of Vande Bharat, the Ministry of Railways decided to manufacture them on a large scale, which requires some more research, tender allocation, and more importantly, many approvals. Meanwhile, ICF also decided to modify the train set to enhance the safety and comfort of the passengers.
This all took almost 3 years, and finally, the upgraded version of Vande Bharat, i.e., 2.0, is ready to roll out for trials from August 12, 2022.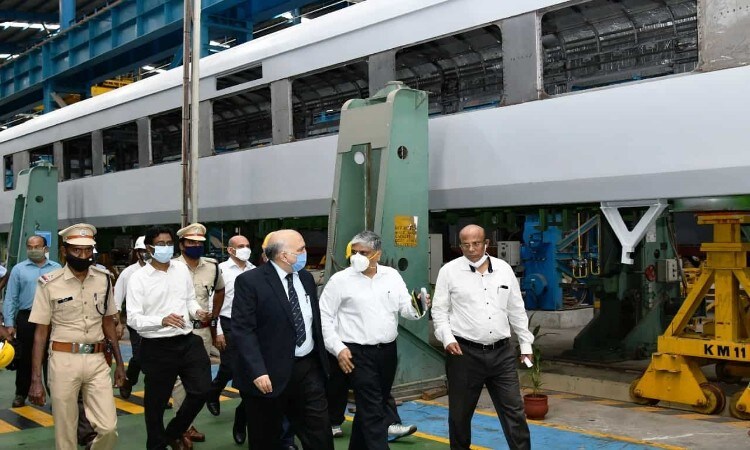 In this year's Union Budget, the Central Government has unveiled a massive plan to produce 400 semi-high-speed "Vande Bharat Express" trains in the upcoming three years with an estimated cost of Rs 115 crore each train.
What is new in Vande Bharat 2.0?
Vande Bharat Express's new rakes have a better Riding Index*.
What is the Riding Index?
Riding Index is a number that gives us an indication of the riding comfort of a vehicle. The index is easily calculable during field trials by measuring the vertical/lateral accelerations using standard accelerometers. Riding Index 1 is considered as best while 5 is considered as dangerous.
Reclining Chairs**, upgraded automatic door system, more enormous windows, better space for luggage, emergency lights & much more.
(**Previously, there were sliding chairs modelled after those in European trains, but the response from passengers was unsatisfactory.)
Enhanced Safety in Vande Bharat 2.0
For every coach, there will be

4 emergency windows (two on each side), for an easy evacuation of passengers in case of any mishappening.


Smoke sensors and quick response management have been installed in the electrical panel.

Previously, many fire cases are reported because of short circuits in the AC electrical panel. A smoke detector will immediately detect the smoke and quick response management will ring an alarm and stop the train within a reasonable time.



The train set has an anti-collision system called

KAVACH

.
What is Kavach Anti-Collision System?
KAVACH is a newly launched anti-collision system that protects the train from head-to-head collisions. It detects the obstacles ahead of time and automatically stops the train. Indian Railways intends to install Kavach across its full 68,446-kilometer network. The budget of Project Kavach is estimated to be approximately Rs 30-50 lakh per km, with a two-to-three-year timeline.
How does the Kavach system work?
Train Collision Avoidance System (TCAS) named KAVACH provides continuous updates of Movement Authority (distance up to which the train is permitted to travel without danger). Hence during unsafe situations when brake application is necessitated, and the Crew has either failed to do so or is not in a position to do so, automatic brake application shall take place. TCAS has additional features to display information like speed, location, distance to signal ahead, Signal aspects, etc. in Loco Pilot's cab and generation of Auto and Manual SOS messages (Distress messages) from Loco as well as Station unit in case of emergency situation. The communication between Stationary TCAS and Loco TCAS units shall be Safety Integrity Level 4 (SIL-4) certified, while Loco TCAS to Loco TCAS communication, Non-Signalling based additional collision protection features (i.e. Head-on. Rear end & Side Collision) and Manual SOS are non-SIL (not failsafe).
According to the reports, the third rake of the Vande Bharat Express will begin service in November 2022 and will be assigned to South India. So, Are you excited to experience the new Vande Bharat Express? You can reserve your seats on the Vande Bharat express by visiting www.trainman.in.