In spite of countless barriers, Indian Railways plans to begin with second Vande Bharat Express train before the onset of festivities. The Second Vande Bharat Express Train which will be running on a heavy traffic Delhi-Katra route is all set to be seen on tracks before the festive season, said Vinod Kumar Yadav, the Railway Board Chairman on Tuesday. Adding to this he also said that, 40 such trains equipped with sleeper class coaches will be prepared by 2022.
The Introduction of the Second Vande Bharat Express that is scheduled to run on Delhi-Katra route will be an added advantage for the train travellers as majority of people plan to travel during the festival season.
Delhi-Katra Vande-Bharat Express is expected to depart from Delhi at 06:00 AM and will reach Katra at 02:00 PM. On its way back, the train will depart from Katra at 03:00 PM on the very same day and will reach the National Capital at 11:00 PM stopping at only 3 stations en route, Ludhiana, Ambala Cantt and Jammu Tawi. Along with this Delhi Katra Vande-Bharat Express will be furnished with more comfortable seats, pantry space for which the bidding is most likely to begin next month, will weigh less, consume less energy and will also fit for sleeper coaches.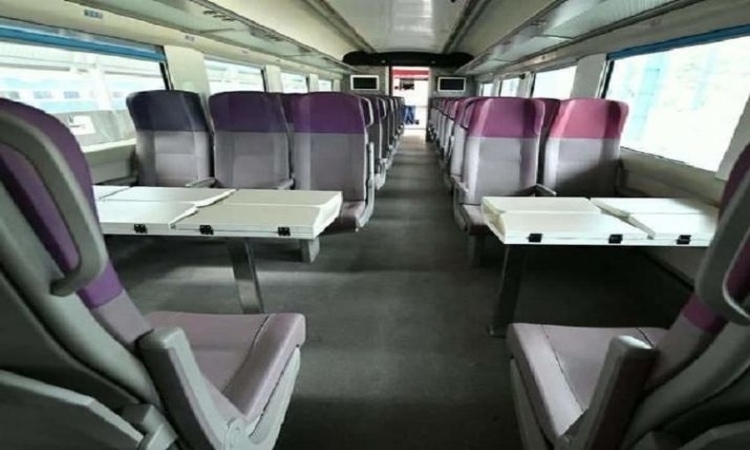 "The Delhi-Katra Vande Bharat Express has finished all its trials and will run before the festivities that begins from October," Railway Board Chairman said. The Railway board has strategically chosen Delhi-Katra route in order to gain maximum revenue on high traffic corridor due to the famous Hindu pilgrimage, Vaishno Devi temple. The Semi-high speed intercity train provides chair-car service which will bring down the travel time between Delhi and Katra, last station to reach Vaishno Dev temple from 12 hours to 8 hours.
As of now, only one Vande Bharat Express or Train 18 is operational which is 22436 New Delhi Varanasi Vande Bharat Express that runs on Delhi-Varanasi route and it was flagged off on February 15, 2019, from New Delhi Railway Station. Vande Bharat Express is equipped with modern amenities like automatic doors, bio-vaccum-type toilets, comfortable seats, onboard wifi facility for entertainment, audio-visual GPS based passenger information system, diffused LED lighting and a lot more.
Book your tickets now through Trainman which offers zero agent and payment gateway (PG) charges. You can also get cashback while making your bookings through Trainman and choosing the payment mode as PayPal. Hurry and book now as this offer lasts only till September 30, 2019. Download Trainman App to check PNR Status of the booked ticket, Train Between Station, Running Status and much more.