Many sites across the world are given recognition as heritage sites around the globe by the United Nations Educational, Scientific and Cultural Organization (UNESCO). Among the notable functions of the organisation is the conservation of notable sites across the world that are of cultural and historical significance.
India ranks number six on UNESCO's list, having 40 heritage sites across the subcontinent. All of the UNESCO across India is a testament to the magnificent history of the country. And this features very prominently in the many sculptures, engravings and works of art found at the various heritage sites.
With so many options, let us explore some heritage sites that may not be as prominent in the popular imagination as they should be.
Bhimbetka Rock Shelters, Madhya Pradesh
The Bhimbetka Rock Shelters feature some of the oldest known cave paintings that date back approximately 30,000 years ago. The paintings found here bear a striking resemblance to those found at several other similar sites across the world. These include cave paintings discovered at Kakadu National Park in Australia, Lascaux in France, and the Bushmen cave paintings in the Kalahari Desert.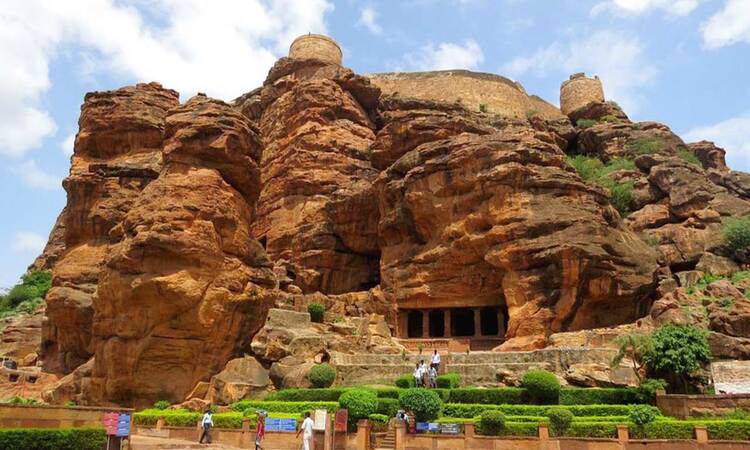 (Image Credit: Bhopal Tourism)
The caves were inhabited by the earliest humans that lived on the planet and there are a total of around 243 rock shelters at the site. It is also one of the largest prehistoric complexes ever discovered anywhere in the world.
The heritage site is located about 45 kilometres southeast of Bhopal, in the Raisen District in Madhya Pradesh. These rock shelters are part of an archaeological complex that spans the Palaeolithic and Mesolithic eras while also extending to the historic period. Visitors here will get to see the earliest traces of human life in the sub-continent.
And as mentioned earlier, you can also find relics that are more recent dating to recorded history. Most notable among these is an enigmatic temple dedicated to Lord Shiva. The temple's sanctum houses a shiva lingam standing roughly 7.5 meters tall. The construction of the temple is said to have commenced around the reign of Paramara King Bora.
Getting Here (Nearest Railway Station - Bhopal)
12002 | Rani Kamlapati (Habib Ganj) Vande Bharat Express - H Nizamuddin (NZM) To Bhopal (BPL)

12171 | LTT HW AC EXP - Mumbai (LTT) To Bhopal (BPL)

13025 | HWH BPL EXPRESS - Howrah (HWH) To Bhopal (BPL)
Rani Ki Vav, Patan, Gujarat
Built around 1063 CE, by Queen Udayamati as a memorial to her husband King Bhimadeva I, Rani Ki Vav is situated on the banks of the Saraswati River. This magnificent monument in Patan, Gujarat is said to have taken over 20 years to complete.
(Image Credit: Gujarat Tourism)
Until fairly recently none of its sculptural or architectural beauty was visible from above ground. When British Archaeologists James Burgess and Henry Cousens visited the site in the 1890's all that was visible from above ground were some of its pillars. In fact, until its excavation by the Archaeological Survey of India in the 1940s, it was used as a pond by the locals.
Upon excavation, the world finally became aware of its marvellous splendour. The steps leading down through its many levels are lined with carved pillars and hundreds of sculptures. These have been crafted in striking geometric patterns largely based on themes related to the Hindu deity Vishnu's avatars.
Getting Here (Nearest Railway Stations Patan and Unjha)
12916 | ASHRAM EXPRESS - Delhi (DLI) To Unjha (UJA)

12490 | DDR BKN SF EXP - Mumbai To Patan (PTN)
Fatehpur Sikri, Uttar Pradesh
Built by Emperor Akbar during the second half of the 16th century, Fatehpur Sikhri is a complex of monuments constructed in a uniform architectural style. Its name means the City of Victory and it was the Mughal capital for around 10 years. The Jama Masjid one of the largest mosques in India is located within its complex.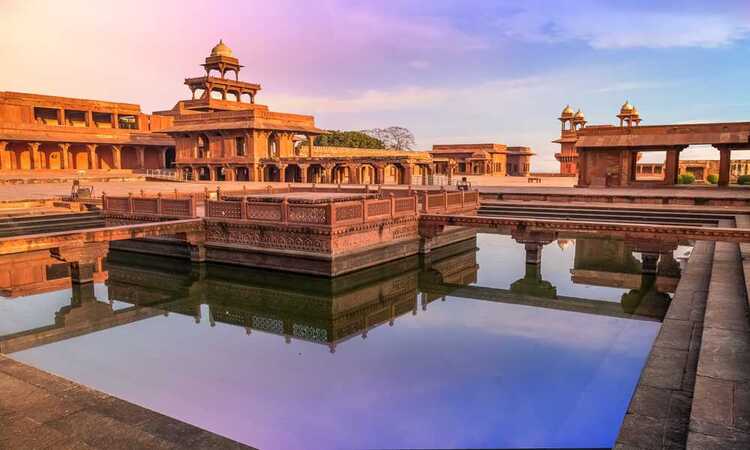 (Image Credit: Holidify)
Constructed of Red Sand Stone it was built by Akbar in honour of Sheikh Salim Chisti a great Sufi saint. The uniqueness and magnificence of the monument are a testament to the architectural finesse of the emperor. Moreover, the blend of both Hindu and Muslim elements in the style and design of the site reflects his religious tolerance.
Fatehpur Sikri can be considered the most magnificent city constructed by the Mughals. It is characterized by stunning palaces and spectacular administrative, religious, and residential buildings. Even after the imperial capital was shifted to Lahore in 1585, Fatehpur Sikhri remained a place for temporary retreats by Mughal Emperors.
Getting Here (Nearest Railway Station - Agra Cant)
12280 | TAJ EXPRESS - Delhi (NDLS) To Agra (AGC)

12319 | KOAA AGC EXP - Kolkata (KOAA) To Agra (AGC)

22221 | NZM RAJDHANI - Mumbai (CSMT) To Agra (AGC)
Elephanta Caves, Maharashtra
Also known as Gharapurichi Leni, the Elephanta Caves are located at Mumbai's Elephanta Island in Maharashtra. The caves contain a collection of temples mainly dedicated to the Hindu deity, Lord Shiva.
The total area of the cave temple complex is about 60000 sq ft and boasts of the central chamber and two lateral ones. It also contains many subsidiary shrines and courtyards along with three passages to the temple courtyard.
(Image Credit: TripSavvy)
The seven caves that comprise the complex are an excellent testament to the brilliance of ancient Indian architecture. The caves contain rock-cut stone sculptures, most of which are in high relief, that display an eclectic blend of Hindu and Buddhist ideas and iconography.
In the first cave, you will find engravings mostly inspired by Hindu themes including sculptures dedicated to Lord Shiva. These sculptures are created in eight forms and represent the quintessential essence of the Shiva Lingam. The other smaller caves feature Buddhist rock-cut architecture.
Getting Here (Nearest Railway Station - Mumbai)
22210 | MMCT DURONTO - Delhi (NDLS) To Mumbai (MMCT)

12164 | MAS LTT EXPRESS - Chennai (MAS) To Mumbai (LTT)

12102 | JANANESWARI EXP - Kolkata (SHM) To Mumbai (LTT)
The Great Living Chola Temples, Tamil Nadu
This is not just one particular site but three temples across modern-day Tamil Nadu that have collectively been declared as UNESCO World Heritage Sites. These are the Brihadisvara Temple at Thanjavur, the Brihadisvara Temple at Gangaikonda Cholapuram, and the Airavatesvara Temple at Kumbakonam.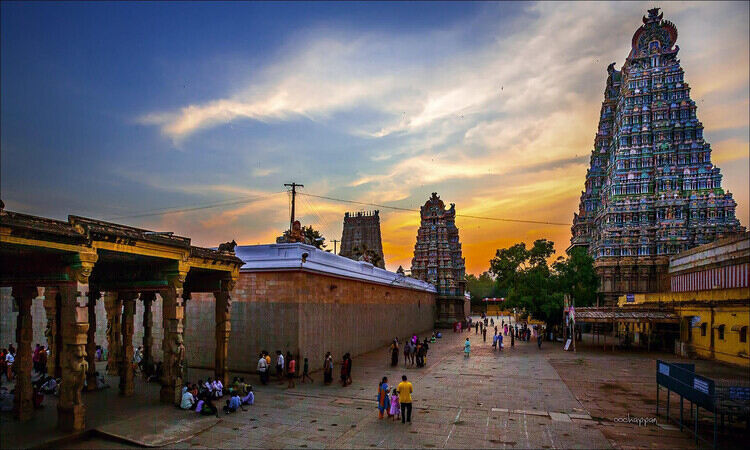 (Image Credit: Adotrip)
Dedicated to Shiva, the Brihadisvara Temple at Thanjavur is one of the largest temples in South India. Built by Raja Raja Chola I between 1003 and 1010 AD, it is an excellent example of fully realized Tamil architecture. The original buildings of this 11th-century temple complex were constructed around a moat.
The complex included buildings and artefacts that were predominantly related to Shaivism, and also other traditions of Hinduism such as Vaishnavism and Shaktism.
The Brihadisvara Temple at Gangaikonda Cholapuram is heavily influenced by the Thanjavur Brihadisvara Temple. Built during the 11th century AD by Rajendra Chola I, this Chola dynasty-era temple is similar in design to the Brihadisvara Temple at Thanjavur and is sometimes just called the Gangaikondacholapuram temple.
The temple is based on a square plan and It is dedicated to Shiva. Much like the temple at Thanjavur, it also reverentially displays Vaishnavism and Shaktism. It also features syncretic themes of Hinduism with statues of Vishnu, Durga, Surya, Harihara, Ardhanishvara, and others. Additionally, the temple is renowned for, the artwork on its walls, its bronze sculptures, the Nandi and more.
Completed in 1166 AD, the Airavatesvara Temple is in the city of Kumbakonam, South India and is one among eighteen large medieval Hindu temples in the region. The temple reverentially displays the legends associated with sixty-three Nayanars – the Bhakti movement saints of Shaivism.
The stone temple incorporates a chariot structure and includes major Vedic and Puranic deities such as Indra, Agni, Vayu, Brahma, Surya, Vishnu, Ganesha, and others. According to inscriptions, the temple was much larger and once had seven courtyards. Only one courtyard survives, while other parts of the temple such as the gopuram are in ruins. To this day, a large number of devotees throng the temple every year.
Reaching Brihadisvara Temple in Thanjavur
16232 | MAILADUTURAIEXP - Bangalore (SBC) To Thanjavur (TJ)

22675 | CHOZHAN EXPRESS - Chennai (MS) To Thanjavur (TJ)
Reaching Brihadisvara Temple in Gangaikonda Cholapuram (Nearest Railway Station - Tiruchirappalli)
16788 | NAVYUG EXPRESS - Delhi (NDLS) To Tiruchirappalli (TPJ)

16232 | MAILADUTURAIEXP - Bangalore (SBC) To Tiruchirappalli (TPJ)
Reaching Airavatesvara Temple (Nearest Railway Station - Kumbakonam)
16232 | MAILADUTURAIEXP - Bangalore (SBC) To Kumbakonam (KMU)

22675 | CHOZHAN EXPRESS - Chennai (MS) To Kumbakonam (KMU)
Conclusion
Whether you are a travel enthusiast or simply a culture nerd, there are numerous UNESCO World Heritage sites to be explored in the country. We have looked at some truly magnificent sites that have stood the test of time and are also truly sights to behold.
India has been called the land of all seasons and the land of all reasons and most would readily agree with this. From delectable cuisines to rich culture, and heritage sites, there is nothing that you cannot find here. And the fact that these have been recognised as world heritage sites means India's prominence is sealed in global travel and tourism.