With a total capacity for ferrying over 23 million passengers per day, the Indian Railways is one of the largest railways in the world. It ranks number four internationally among the top largest railway networks in the world.
The Railway Ministry has made plans to set up infrastructure to accommodate high-speed bullet trains sometime in the near future. So far twelve routes have been proposed with the Mumbai-Ahmedabad corridor being developed. There are also plans to initiate food services on the trains and the railways are working hard towards this goal.
Indian trains currently run and relatively low speeds due to old infrastructure and speed restrictions. Upon completing the installation of improved rail lines, high-speed trains will be initiated by Indian Railways on various routes.
Until then let's take a look at some of the fastest trains currently plying the railway lines of India.
Vande Bharat Express
While the Vande Bharat which is the fastest train in India capable of a top speed of 180 km/h, it normally runs at 160 km/h keeping safety in mind. It also has the distinction of being the first self-propelled train in India and need not be pulled by a locomotive.
The Vande Bharat Express is set to operate on 14 routes in India with Rajasthan's first one having been inaugurated on April 12 this year. Before this, the train plied between two routes, namely Varanasi-New Delhi and Delhi-Katra.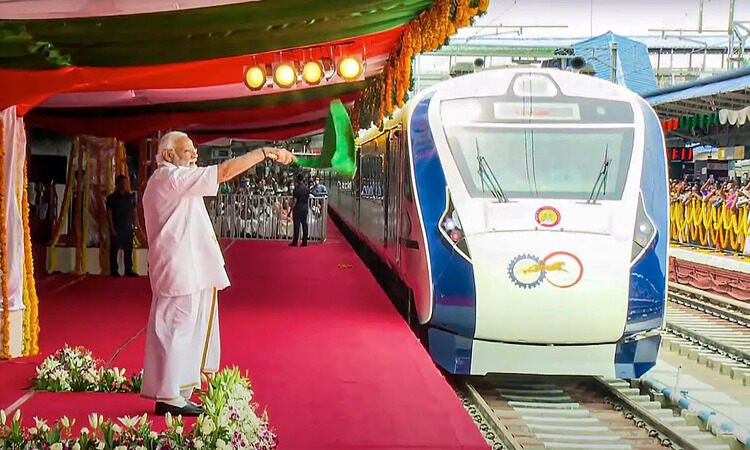 (Image Credit: NDTV)
This state-of-the-art express train has 16 coaches in total, with 2 Executive Class Coaches and 14 Chair-Car Coaches. All of the coaches are air-conditioned and provide comfortable seating arrangements and onboard Wifi hotspots. Additionally, the coaches are also equipped with a GPS-based audiovisual passenger information system.
Maximum Operating Speed: 180 km/h
Popular Train/Routes
Gatimaan Express
Traversing a distance of 403 kilometres, the Gatimaan Express shuttles between New Delhi and Jhansi in just over four hours. Wap-5 Locomotives which are equipped with Train Protection and Warning Systems are used to haul the trains in both directions. Gatimaan Express trains have 10 coaches with 8 Chair Car Coaches and 2 executive class coaches.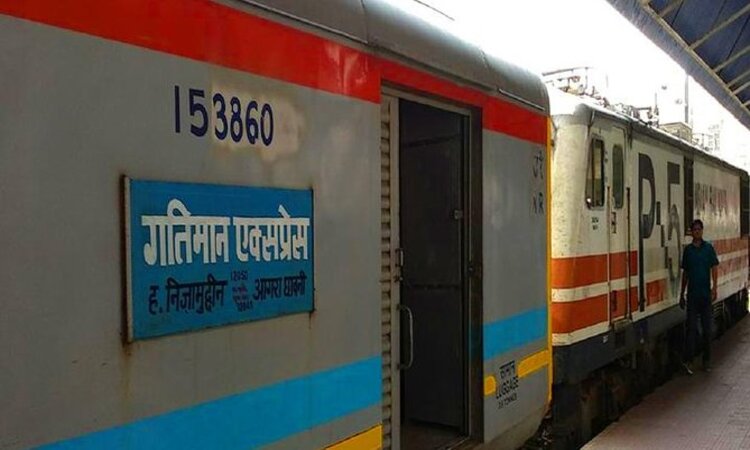 (Image Credit: Viator)
The service and facilities available on the train are easily comparable to those normally available on commercial airlines. This includes even having hostesses serving the passengers. Other facilities are available on board Gatimaan trains include automatic sliding doors, fire alarms, and free Wifi.
Both vegetarians and non-vegetarians will be able to enjoy North and South Indian meals. The meals are normally included along with the ticket fare. However, passengers can also opt to pay for the food separately on the train if they wish to do so.
Maximum Operating Speed : 160 KM/Per Hour
Popular Trains/Routes
Tejas Express
The Tejas Express which made its debut in 2017 is a fully air-conditioned, semi-high-speed train that plies on several routes across the country. Its inaugural journey was between Maharashtra to Karmali in Goa which took place on 24 May 2017. The journey took around 8 hours and 30 minutes and covered 552 kilometres.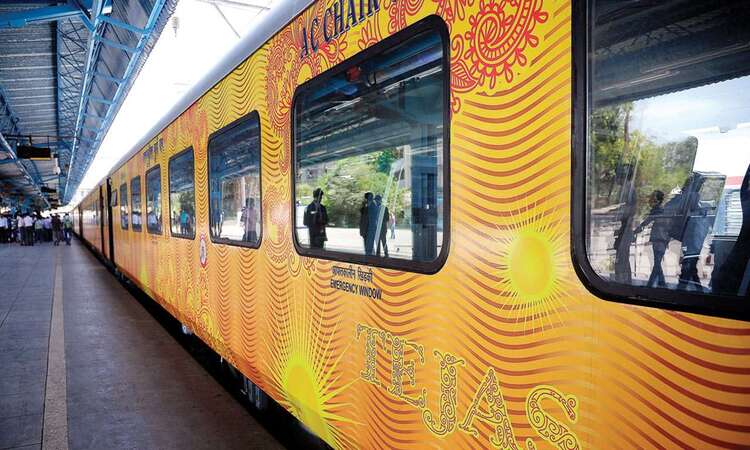 (Image Credit: DNA India)
While WDP-3A were initially used to haul Tejas Express Coaches, new asymmetric-bodied WAP-5 locomotives began to be used to haul trains as of 2020. The utilization of WAP-5 locomotives has allowed the new Tejas Express trains to touch top speeds of up to 200 km/h. However, due to rail safety considerations, they are not permitted to exceed 130 km/h.
The train's executive class has 56 seats in a 2+2 configuration that are very comfortable for passengers. Each seat has a headrest and footrest along with a snack table that can be pulled out from under the handrest. Every passenger will have access to a personalised LCD screen. Additional facilities in the executive class include personalised reading lights and USB charging points.
The non-executive chair cars have similar features and facilities to the executive ones. The main difference is that they seat 72 passengers in a 3+2 configuration.
Maximum Operating Speed: 200 km/h
Popular Trains/Routes
New Delhi-Rani Kamlapati Shatabdi Express
With a top speed of 150 Km/h, the New Delhi - Bhopal Shatabdi Express is notable among the top fastest trains in India. It covers a distance of 707 km running from Delhi to Bhopal. The English translation of the word Shatabdi is Centenary.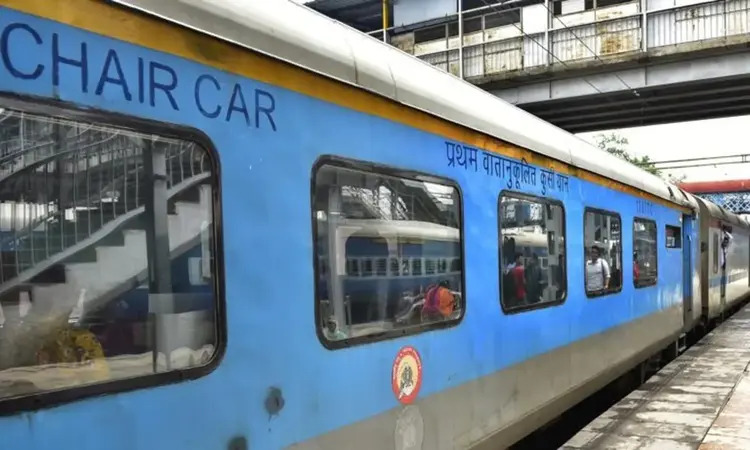 (Image Credit: Hindustan Times)
The train kicked off its journey in 1988 in commemoration of the 100th birth anniversary of India's first Prime Minister Jawaharlal Nehru. The erstwhile statesman Madhavrao Scindia who was Railway minister at the time proposed the idea to do this.
The New Delhi - Bhopal Shatabdi Express was the fastest train in the country for several decades until 2016 when Gatimaan Express was launched. The train receives one of the highest priorities in the Indian Railways being second only to the Rajdhani Express.
Maximum Operating Speed: 150 Km/h
Popular Trains/Routes
Mumbai - New Delhi Rajdhani Express
Inaugurated on May 17, 1972, The Mumbai - New Delhi Rajdhani Express was an instant hit owing to the standard of facilities provided in addition to its groundbreaking speed for the time. It has a top speed of 140 km/h but is not permitted to exceed 120 km/h due to safety considerations.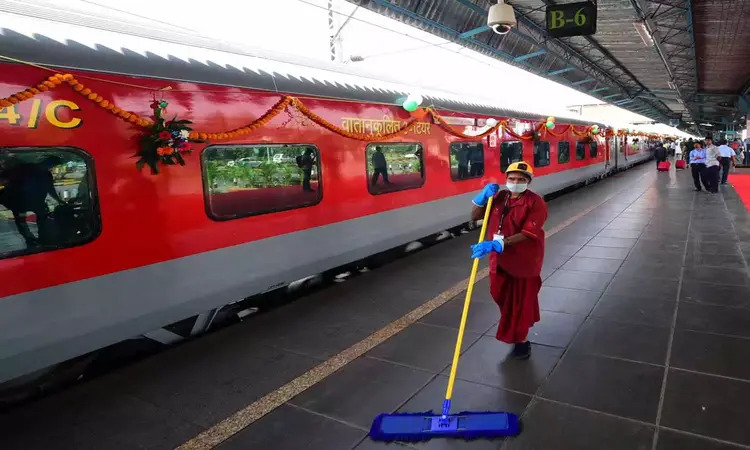 (Image Credit: TOI)
In 2021, the Indian Railways added Tejas-style sleeper coaches to the Mumbai-New Delhi Rajdhani Express. New smart features were also added to offer passengers the best quality travel experience.
The train is equipped with facilities that allow for GSM network connectivity. These facilities will record data on things like panic switches, CCTV recording, and items integrated with fire detection, air quality and alarm systems. These measures aim to allow for predictive maintenance rather than preventive maintenance.
Maximum Operating Speed: 140 km/h
Popular Trains/Routes
Conclusion
Being a vital part of transport in India, the Indian Railways strives to offer passengers the best in facilities and service. In addition to connecting every nook and corner of the country, it also allows its people to connect better. And getting people across the subcontinent is an important first step in this endeavour.
And while the country may not yet be equipped to handle bullet trains, this is just around the corner. Until then these top 5 fastest trains in the country will take you on a whirlwind journey to wherever you may be going.