I happened to visit this exquisite beauty on earth Ramnagar, thanks to my friend Sadhna Bourai. This place is gateway to mountains. While most people (especially North Indians) would have known this place for years and would have visited Ramnagar famous for Jim Corbett, I got lucky enough to explore the insides / locals of the city. I got the opportunity to stay with the family (who resides there) for almost 4 days.
Ramnagar railway station is located about 65 KMs from Nainital district and has a simple yet beautiful archaeological structure. It has good Railway connectivity too and on an average 20-25 trains cross the station daily. Check here for railway connectivity from Delhi to Ramnagar.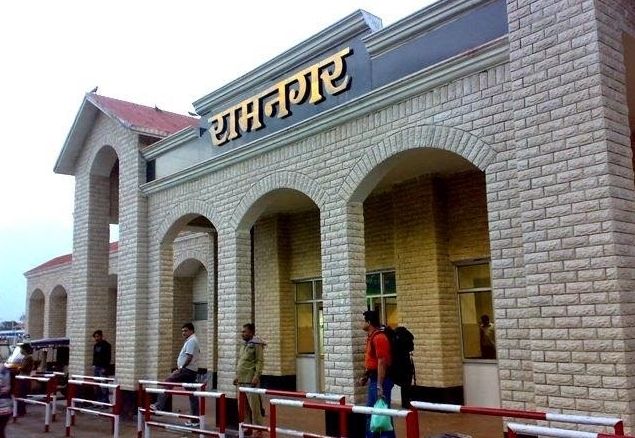 I am not an avid traveller, and definitely don't have an eye for detailing like a traveller do these days. But I was completely mesmerised by the beauty and weather the place offers during rainy hours. One morning we got up early and went for a casual walk nearby only to discover the ravishing mountains surrounded by dark / white clouds. A plain railway track with different shades of stones lying on the sides enclosed the mountains on either side. It felt as if there were "Lukka Chuppi" game going between the mountains and the clouds. The romance between the two would make you fall in love again (Ah! If you haven't till now).
Then we encountered fields that offered lush green grass, that were half dip in water. Upon enquiring, I got to know those were rice fields and it takes lots and lots of hard work to produce rice. Each stem of grass is re-planted on the ground by bare hands, and mind you the farmers are so talented to place them methodically that they look as if the grass is teaching us life lessons of equality. Believe you me, each grass were exactly the same size!
Moving little ahead we saw big fields that were home to several vegetables. I somehow get so happy feeling when I see vegetables / fruits growing on plants. We saw Brinjal (Purple colour took over that area), Lady Finger (Bhindi), Bottle Gourd (Lauki), Pumpkin (Kaddu) Bitter Gourd (Karela), Sponge Gourd (Torai), Curry Leaves to name a few. The local people there grow a plant which is considered to be costliest and most sacred. This root called as "Teadu" is sold at a rate as high as Rs. 80-100/- per piece during the festival. They dig out its root only on "Shivratri (Festival of Lord Shiva)" and consume it either boiled or prepare a dish out of that root on this auspicious day.
I am not very fond of mangoes but I saw and tasted a species of mango called "Mallika" which I heard for the first time. It was amazingly tasty. I learned "Mallika" generally ripe by the month of August-September and are longer than our palm.
One thing I found interesting, people here make use of every part of a plant be it stems, roots, leaves or the vegetable. Aunty (My friend's mother) served us "Pakoras" of the leaves of Bottle Gourd plant which were yummilicious. So, you see this is the best thing about staying in a tropical region - You can make use of nearly anything and everything.
This place is also known for holy goddess Garjia Mata temple located over a giant rock in Kosi river and it attracts thousands of devotees every year. It is believed that Garjia is another name for goddess Parvati who is the daughter of king of mountains, the Himalayas. People pay a visit here in huge numbers during Kartik Poornima.
So all in all this place is a heaven hidden beyond mountains and clouds surrounded by greenery. Pay a visit to this place not as a vacation destination but as a mere traveller to satiate your city life buzz and you would be blown away by its beauty and simplicity. Once you do don't forget to share your experience with me. Now Book Train Ticket on Trainman App. To download the app Click Here, and get features like PNR Status, Train Running Status, Train Ticket Booking and a lot more on your fingertips.