Railway officials confirmed that the "Ramayan Yatra" train is set to restart its journey from Safdarjung. Delhi on April 7, 2023. It will visit several prominent locations connected to the life of Lord Rama, including Ayodhya, Prayagraj, and Varanasi in Uttar Pradesh, as well as other places in different states.
To promote the Indian Government's "Dekho Apna Desh" and "Ek Bharat Shrestha Bharat" vision, Indian Railways has taken the initiative to run Bharat Gaurav tourist trains. Indian Railways announced that the proposed tour would be operated on the Bharat Gaurav Deluxe AC tourist train, with modern amenities such as AC-I and AC-II class coaches to accommodate 120 tourists. The AC-I coach will have coupes with 24, cabins with 48 seats, and AC-II with 48 seats.
The Indian Railways issued a press statement stating that tourists on the train would have a stopover in Ayodhya, where they could visit the Shri Ram Janmabhoomi and Hanuman Temples and witness the Saryu aarti. The train would also visit various other places, including Nandig Nandigram, Sitamarhi, Janakpur, Buxar, Varanasi, Prayagraj, Chitrakoot, Nashik, Hampi, Rameshwaram, Bhadrachalam, Nagpur, among others, during the 18-day tour.
Features of Ramayan Yatra Train
Two Dining Restaurant

Modern kitchen

Shower cubicles in coaches

Sensor-based washroom functions

Foot massager

CCTV cameras and security guards for each coach
Ticket Fare of the Ramayan Yatra Train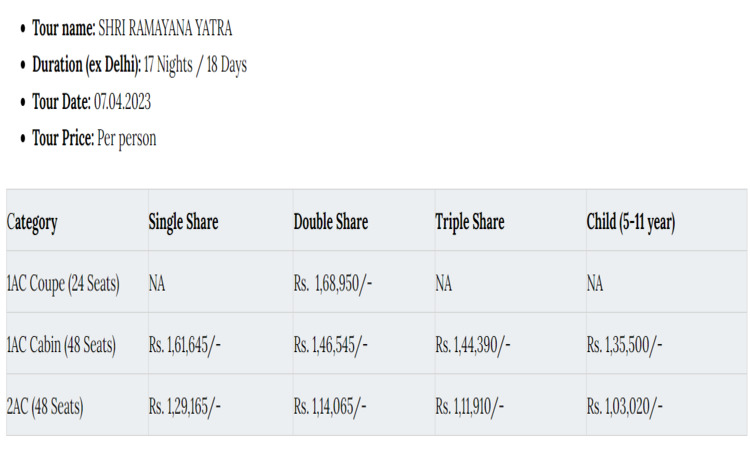 Ticket prices start at Rs 1,14,065 per person for 2AC, with 1AC class cabin at Rs 1,46,545 and 1AC coupe at Rs 1,68,950. The package covers AC class travel, accommodation in AC hotels, all veg meals, AC vehicle transfers and sightseeing, and travel insurance.
Boarding and Deboarding Stations of the Ramayan Yatra Train
Tourists can board the train from the stations mentioned below
Delhi Safdarjung

Ghaziabad

Aligarh

Tundla

Etawah

Kanpur

Lucknow railway station
Tourists can deboard the train from the stations mentioned below:
Virangana Lakshmi Bai

Gwalior

Agra

Mathura
Stoppages of the Ramayan Yatra Train
After departing, the train will make its first stop at Ayodhya, then travel to Bharat Mandir in Nandigram Sitamarhi, Bihar. Tourists can then see Sita's birthplace and the Ram Janki temple in Janakpur, Nepal.
After Sitamarhi, the train proceeds towards Buxar and Varanasi, where tourists will have the opportunity to visit the Kashi Vishwanath temple and corridor, the Tulsi Mandir, and the Sankat Mochan Hanuman temple
Then, the train will proceed to Prayagraj, Shringverpur, and Chitrakoot, before travelling to Nasik, Hampi, Rameshwaram, Bhadrachalam, Nagpur, and finally concluding its 18 Day long journey in Delhi.