The alarming pollution level in many parts of the country has initiated a national debate on the quality of air inhaled and health concerns. Over the past decade pollution is only increasing that too exponentially. With the onset of winters early this month, there were visible layers of smog (Fog + smoke) in India especially in northern region. Delhi is always on scrutiny and why not, the pollution index is way beyond maximum accepted level here. Not only Delhi, other regions like Jammu, Lucknow, UP, Gurgaon, Alwar, Bhiwandi, Agra, Moradabad, Varanasi and Patna also have a record severe condition this year. Many medical experts are already in a hue of emergency situation and with the direction of Supreme Court to take immediate measures to bring down pollution levels all eyeballs are now stuck on the government.
The adverse effects of pollution on health cannot be seen immediately but over the period of time, it may cause many fatal health related problems. Let us see how Indian Railways have contributed in gauging this issue.
1. RO-RO Service (Roll on Roll Off)
This service was initially started by the Konkan Railways in 1999 on diesel route. Early this year, the service was given a head start again by the then Railway Minister Mr. Suresh Prabhu. Under this service heavy commercial vehicles passing through the main city are loaded on flat railway wagons at railway terminals outside the city and gets unloaded on the other end of the city. The commercial heavy load vehicles constitutes to 70% of carbon monoxide, 50% of hydrocarbons and 30% of particulate matter of the total pollution load according to reports. This service thus helps in reducing traffic and pollution levels to a great extent.
2. Solar Powered Coaches
On July 14th this year, Railways launched its first ever solar -powered DEMU train. Solar panels are fitted on roofs of trains and a battery backup is provided to ensure sufficient power in absence of sunlight. The power generated by these solar panels is sufficient to cater electrical needs of the coaches' lights, fans and information display system. The step taken to increase the use of non-conventional source of energy is definitely a good strategy. It will reduce diesel consumption and the carbon signature of these commuter trains thereby reducing CO2 generation by many folds.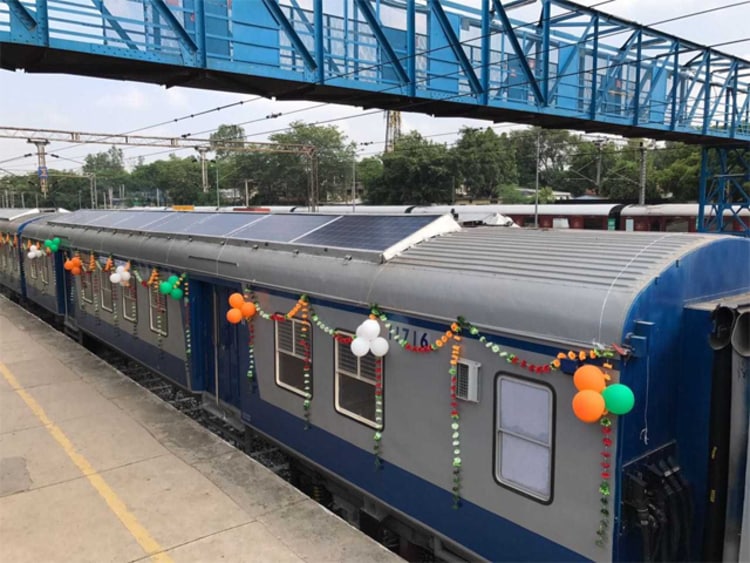 3. Paperless Tickets
With the advent of mobile ticketing system people have moved from traditional printed ticket to mobile SMS and mail tickets. This reduced the consumption of paper drastically and digitization is helping curb pollution to a large extent. Now people need not carry a hard copy of their ticket with them and the ease of carrying mobile ticket is much more convenient. As people and communities are already favoring less use of paper, this step was a definite fit to the situation.
4. Electric and CNG Engines
The initial day's steam engines are now replaced by electric engines, CNG trains and Diesel locomotives. These steam engines used to release carbon monoxide in heavy amounts into the air thereby polluting the environment in large scale. With the modern day electric locomotives, the pollution problem is resolved to a large extent. CNG train also got a kick start this year thus reducing the greenhouse gas emission and consumption of diesel.
5. Bio Toilets
Every year railways used to release large amounts of human excrete by railway passengers on tracks and railroads. These excrete used to create much pollution and unhygienic environment around rail premises. Thus railways introduced biodegradable toilets that collects the excrete in bio -toilet fitted underneath lavatories and does not throw it out on railway tracks. They are then acted upon by anaerobic bacteria that convert human waste into water and bio-gases which are then released on tracks. This is much hygienic process and does not pollute the environment.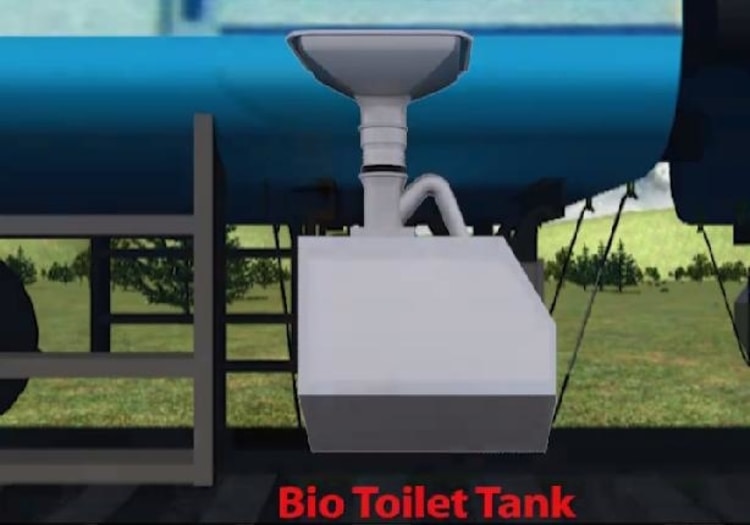 There are many other initiatives that railways have been taking regularly and are implementing them to ensure clean and safe environment. It is now prerogative of each and every Indian to fight with this national problem. As rightly said a small step taken today can ensure lifetime happiness for generations to come!
Hope, you've enjoyed the post. You can also download travel app Trainman in your smartphone to hassle free travel in India and check PNR Status, live train status, running train status, find train between stations, train enquiry and much more.