Seeing the coronavirus outbreak, Indian Railways have asked the passengers to bring their own blankets for their train journey. To prevent the spread of Covid-19, blankets and curtains are going to be withdrawn from the ac coaches of the trains as they are not washed after every trip. Other items in the bedroll including bedsheets, towels and pillow covers, are washed every day. The Ministry of Railways has also started a drive to create awareness of the COVID-19 disease among passengers and people in local languages at railway stations, trains and hospitals.
As per the railway officials, additional bed-sheets and blankets have been kept for any emergency but passengers are instructed to bring their own blankets for the journey. The temperature in ac coaches is set in such a way that passengers do not require blankets. Trains operating across all the zones have issued a statement that blankets and curtains would not be provided in ac coaches keeping in view the ongoing coronavirus threat. In addition to this, railways are also making continuous efforts in the frequent disinfection of coaches and toilets.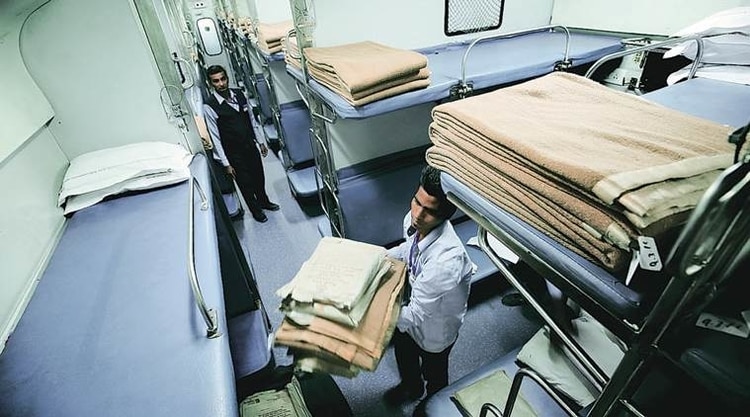 To curb the spread of novel coronavirus, railway personnel are told to clean coach fittings like door handles, door latches, entry door handles, seat guard, snack trays, window glass, window grill, bottle holders with disinfectants. Intensive steam cleaning and hot water cleaning is also being done on doorway, gangway areas & pantry cars that are used frequently by the passengers. Passengers travelling on the train are also given disinfectant chemicals, liquid soap and napkin rolls. Additionally, train staff have been ordered to keep a strict vigil on passengers with flu-like symptoms. In ac coaches attendants have also been told to not recirculate used linen.
Till now, the total number of confirmed COVID-19 cases across the country is 107 with two deaths. The Union Ministry of Health & Family Welfare under the central government has launched a helpline number: 011-23978046 for coronavirus-related inquiry and support. The government has also launched two new national helpline numbers: 1075 and 1800-112-545 for coronavirus related query. These number will be available 24*7. There are also separate helpline numbers for the different states and union territories. If you want to know the ways to protect yourself while travelling during coronavirus read Coronavirus: Travel Advisory.
Coronavirus outbreak was first reported in December last year in Wuhan city of China. This disease has affected around 100 countries and has been declared a pandemic by the World Health Organisation (WHO).
That's all folks! Be safe and try to avoid public places if not necessary. Keep reading the Trainman blog to get the latest updates on railways and train travel-related news. Download the Trainman app to check PNR Status of your ticket, Running Status, Seat Availability and many such spellbound features.