India is a land of varied festivals, flavours and celebrations. It's time to bid goodbye to bone-chilling wintery days and welcome the warmer days. Yes, you guessed it right!! It is time for one of the biggest festivals in the country - Makar Sankranti. To mark the end of winter solstice and beginning of the longer days Sankranti is celebrated on January 14 annually. It is among the few Hindu festivals celebrated according to the solar calendar since most of the festivals are observed in accordance with the lunar calendar. Sankranti refers to the movement of the sun from one zodiac sign to another. The sun enters Makar or Capricorn zodiac sign. Makar Sankranti holds immense significance for the agricultural community as it is the harvest time when the crops sown in the winter start maturing.
Makar Sankranti has different names across India. It is called Uttarayan in Gujarat, Sukarat in central India, Magh Bihu by Assam and Pongal in Tamil Nadu. The traditions and customs with which the festival is celebrated also vary from state to state in the country. If you want to know how Makar Sankranti is celebrated in different regions of India then do read the blog Makar Sankranti celebrations. Just like any Indian festival, food plays a major role in Makar Sankranti festivities as well. In this blog we will be talking about the traditional food that is prepared across the country on this day.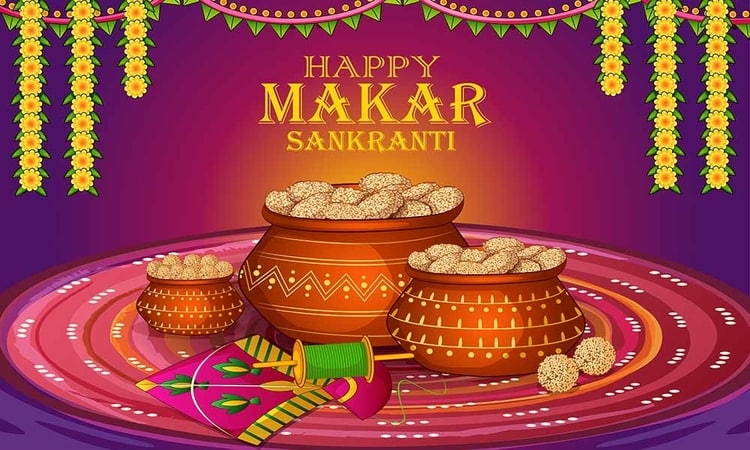 Til Laddu
One of the traditional dishes that is made on Makar Sankranti is Til Laddu. These sumptuous laddus are made of jaggery and sesame seeds. One can also add grated ginger or peanuts to it. The specific recipe differs across cultures. Both sesame and jaggery are an important part of Sankranti celebrations. These bite-sized laddus are a treat to the soul. It is believed that sesame helps in keeping the body warm. Maharashtrians often greet each other saying, 'til-gul ghya, aani goad-goad bola', (translation: eat til and jaggery and speak well) while feeding each other til laddus.

Khichdi
A nutritional mixture of rice, green moong dal or any lentil mixed with green veggies is served with a generous amount of ghee on this day. Moong beans cooked with rice and a pool of rustic spices, khichdi is more than just comfort food for Indians. People in Bihar make delicious khichdi and enjoy it with a generous dollop of ghee on Sankranti too. Curd, pakoda, baigan bhajiya and pickle are some of the things that go well as a side-dish with Khichdi.

Payesh
There is little doubt that Bengali sweets are the best. A popular dish prepared by Bengalis is a kheer or pudding made up of rice and a special variety of date palm jaggery. In other words it is a thickened rice and milk pudding flavoured with aromatic spices. It can also be called a close cousin of kheer. Poush Sankranti payesh is extra special because it is often sweetened with date palm jaggery or khejur gur which is available only during winter months.

Makara Chaula
Makara Chaula is a delicious blend of freshly harvested rice, jaggery, milk, chhena, banana, grated coconut, milk, pepper powder, cottage cheese, grated ginger, pomegranate and sugarcane. It is prepared in almost every Odia household during Sankranti. Once the mixture is offered to God it is then distributed to everybody. It is served as Prasad on Makar Sankranti.

Dahi Chura
Famous in East India chura, chiwda or flattened rice mixed with dahi or curd is prepared during the festival. On the day of Makar Sankranti people commence their daybreak with Dahi Chura and jaggery or sugar. Instead of sugar people opt for jaggery to sweeten the dish and add an authentic flavour. You may also add freshly cut vegetables and a little milk to make it a healthy and filling meal.

Pithe
Pithe is prepared in the homes of Bengal to celebrate Poush-Parbon (the name given to Makar Sankranti in Bengal). Pithe (or Pitha) is rice cake and is eaten as a crepe with sweet or salty filling inside in every household in West Bengal and especially during Makar Sankranti. There are several kinds of pithe. Each district has its traditional pithe and a variety of gur or jaggery is a compulsory accompaniment.

Pinni
Oodles of ghee, wheat flour, jaggery and almonds - pinni is one indulgent winter treat from Punjab which is prepared widely during Lohri and Sankranti celebrations. This bite-sized sweetmeat is so densely packed with ghee and nuts that it is also traditionally known to offer protection from various winter-related ailments.

Gajak
Ghee-laden chikki also called Peanut Chikki is made of peanuts, sesame seeds and jaggery. Originated in Morena (Madhya Pradesh) - Gajak is a delicious and crunchy snack prepared on Makar Sankranti. Roasted sesame seeds and cashew-nuts or groundnuts are folded in a mixture of ghee, sugar and water and then laid on a ghee coated tray. On cooling down this layer of sesame seeds is then broken into small pieces and served as a sweet dish. Do not forget to make a big batch of these beforehand as one laddoo or a gajak is never enough!

Puran Poli
Another Maharashtrian delicacy that makes Makar Sankranti one of our most favourite festivals is puran poli. It is a classic flatbread stuffed with finely chopped jaggery, cooked and mashed chana dal mixed with til (sesame) and roasted gram flour.

The process of making the puran poli is similar to a stuffed paratha. It is usually served with oodles of melted ghee poured over it. This dish is at once sweet and savoury. The famous breakfast dish is also prepared during Diwali and Naraka Chaturdashi celebrations.
Did we miss out on your favourite Sankranti delicacy? Do let us know in the comments section below. Here's wishing you all a very Happy Makar Sankranti!! Let's celebrate this Makar Sankranti with the loved ones by preparing traditional dishes. For quick ticket booking experience, book your train and flight tickets through Trainman app. Download Trainman App and check PNR Status of the booked ticket, Seat Availability, Train Running Status, Train between Stations and lot more.