Love to visit a place which has some historical significance? Then, Hampi should definitely be on your bucket list. It used to be the capital of Vijayanagar which is a majestic historical site in India. It emerged as one of the sprawling towns in 14th Century. Hampi is situated on a strategic location like on one end it is surrounded by Tungabhadra river and rest three sides encompass hills (plus point for defense purpose). Now you know why it was chosen as a capital city? Curious to know the tales associated with Hampi? In this article, we will take you back in ancient times and enlighten you with the archeological remains of Hampi.
Legend of Hampi
This place is also associated with Indian Epic, Ramayana. Ramayana consists of seven episodes or kanda. One of the Kanda which is "Kishikindha" glorifies Hampi where Lord Rama, Lakshman meets Vaanar Sena (land of monkeys) and Hanuman while searching Sita. As it is mentioned in the Hindu epic it attracts a large number of people across the globe.
Another folktale is about Parvati related to Hindu epic. Parvati wanted to marry Lord Shiva but her parents were against it and tried to discourage and persuade her. But she pursued her desires and prayed to Hindu gods which led to opening of his third eye to awake Lord Shiva from Yogic Meditation. Parvati convinced Shiva on Hemakuta Hill to get back to the normal life. From there on, river near the Hemakuta Hill is known as pampa river.
Monuments in Hampi
It dates back from the emergence of Vijayanagara Empire. Hampi is one of the UNESCO world heritage sites and captivates people from worldwide. Ruins of temples, palaces, forts will definitely hold a special place in the hearts of people who have a thing for History. The moment you'll visit this site you'll fall in love with it. It consists of oldest temples which were popular pilgrimage centres as well as ancient monuments. Architectural style in Hampi is Dravidian and Indo-Islamic which signifies ethnicity of society.
Virupaksha Temple


It encompasses a gopuram that marks the entrance of the temple. It is a famous place for worshippers of Shiva as it is dedicated to Virupaksha, a form of Shiva. One of the phenomenal facts of this temple is its structure based on mathemtical concepts. Krishnadevraya is the major contributor who was a prominent king during Vijayanagara empire. Several halls are also found out in Virupaksha temple complex which was used for special ceremonies and marriages. During the 19th century, the site has undergone renovation including the ceiling painting and building of gopurams.

Laxmi Narsimha Temple


It has the largest monolithic statue of Lord Narsimha which is an incarnation of Vishnu. It reflects a fierce avatar of Vishnu which is half lion and a half-man sitting in a cross-legged position. Laxmi Narsimha temple is built entirely of stone which comprises of main temple, seven domes, and mukha mandapas. Pillars in the temple are a remarkable feature that reveals myriad shades of Prahlad's life. Earlier, the original statue had Lakshmi Goddesses sitting on the lap but during the downfall of Vijayanagara Empire, destruction of temple had taken place.

Vijaya Vittala Temple


It is one of the spellbound features of Hampi spread over vast tracts of land with innumerable halls, gateways, and pavilions. A distinctive attribute of Vijaya Vittala Temple is a stone chariot. Outside the temple complex lies market which has ruins of town. Till now, it is not yet confirmed that why this temple was built and who has built this iconic temple compound? This historical structure is dedicated to Vitthala, a form of Krishna. Photography enthusiasts can capture some exquisite shots here in numerous composite temples.

Hanuman Temple


It is another magnificent temple that lies on Anjaneyadri Hill often believed to be the birthplace of Hanuman. In order to reach temple, one has to climb up around 575 stairs. The picturesque view from hill is breathtaking along with ruins of Hampi all over the landscape. You will also see Tungabhadra river, scattered paddy fields, and boulders. Be careful of all your belongings as this hill is home to langurs and monkeys. Temple is built on a steep hill and by seeing the view from the top you will get to know why Hampi was the capital city.
You must be wondering that does this place only has historical sites? Let me tell you that you must not forget to take a stroll in Hampi Bazaar. It is a great place for tourists to give them an insight view of bustling streets. On the east end of street, you will see a Nandi Bull with a two-storey photo gallery on another side. Majority of the tourist accommodation lies near this bazaar. The annual Hampi festival also takes place here in the month of January on an open platform.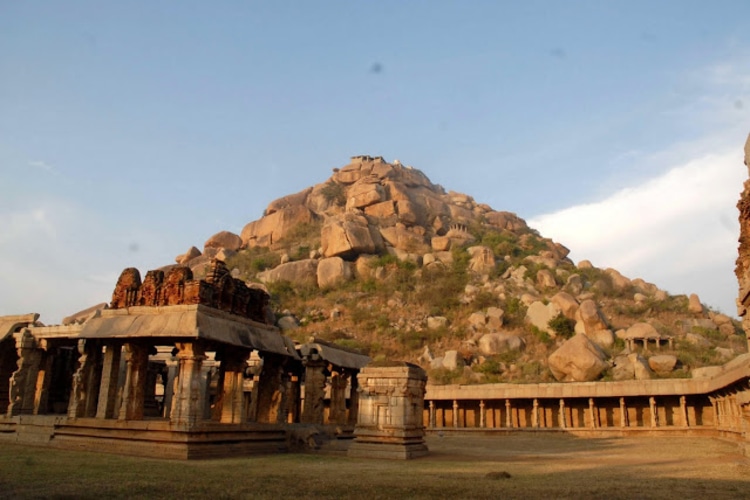 To get a perfect panoramic view, one can also visit matanga hill. One can easily reach here by doing a trek of 30-35 minutes and see Veerabhadra Temple. It is an ideal place to get sunrise and sunset view amidst the historical aspect of Hampi. Those who would love to go for a short trek must not miss this as you will get to see an aerial view of Hampi.
Daroji Bird Sanctuary is also one such place which is a protected forest of the sloth bear spread over 83 sq km. The flora and fauna in this sanctuary is a deciduous forest. It has around 120 sloth bears and is also home to tiger, leopard, spotted deers. It is advisable that while visiting this sanctuary you wear sports shoes or sneakers. It is a premier place for wildlife lovers and those who love to spend quality time in the beauty of nature.
Now, you have a perfect excuse to visit this astounding place. Go on and book your tickets through Trainman app. Download Trainman App to check PNR Status of the booked ticket, Seat Availability, Running Status of train and lot more.