Overview
Changing a travelling plan is a thing any of us don't like. But, there are times when we have to change our plans.
In India, any preponement or postponement journey in trains is not an easy thing. As you will not get a confirmed berth if you book the tickets immediately. Getting a confirmed berth is anyways hard in Indian Railways. Once we book a ticket on the train, we will have to pay a fee if we cancel the ticket due to some unexpected scenario. No matter if the ticket was Waitlisted, RAC, or in Confirmed status, the passenger has to pay the cancellation fee. We all have faced such situations, right? Well, not anymore!
As usual, we are here with a solution to that very same issue. We have introduced a new feature recently, with which you can avail a full refund on ticket fare if you cancel a train ticket that was booked with us, no matter what was the ticket status. That feature is named FCS or Free Cancellation Scheme.
FCS: Free Cancellation Scheme
FCS is a feature that lets you change your plans without loosing any money with unnecessary extra charges. All you have to do is to opt for Free Cancellation while booking your train tickets. If at any point you had to cancel the tickets due to unforeseen circumstances, you can easily cancel your tickets, and we will return the ticket fare amount* to your original mode of payment.
Charges for Cancellation of Train Ticket
Waiting List and RAC Ticket
If the train tickets are on the waiting list, Rs. 60

(+charges)

will be applied upon cancellation.

If the train tickets are in RAC (Reservation against cancellation), they will be treated as a waiting list ticket as well. And, the cancellation charges will be levied accordingly.
Confirmed Ticket
The Indian Railways charges Rs 240 along with 5% GST for cancelling an AC first class or AC executive class ticket, 48 hours before the train's departure.

According to a recent circular issued by the Finance Ministry, travellers must also pay the same amount of

GST on Cancellation Fees

. If a confirmed AC first-class ticket cancellation, a traveller must pay an additional Rs. 12 (5% of 240) towards GST.

Railways will levy a cancellation fee of Rs 200 (+charges) per passenger for confirmed AC 2-tier tickets and Rs 180 per passenger for a confirmed AC 3-tier ticket (if they are cancelled 48 hours before the departure of the train).

For Sleeper class tickets, the cancellation charges are Rs.120 (+charges) per passenger, and for Second Sleeper, the charges are Rs.60 (+charges) per passenger.
(Get more information on the cancellation charge in Indian Railways.)
If a confirmed ticket is cancelled within 48 hours to 12 hours of the train's scheduled departure, a cancellation fee of 25% of the ticket value is levied.

If passengers cancel confirmed tickets between 12 and 4 hours before departure, they must pay 50% of the ticket fare amount.
Here is a scenario to help you understand the ticket cancellation charges before Opting for the Free Cancellation Scheme Not Opted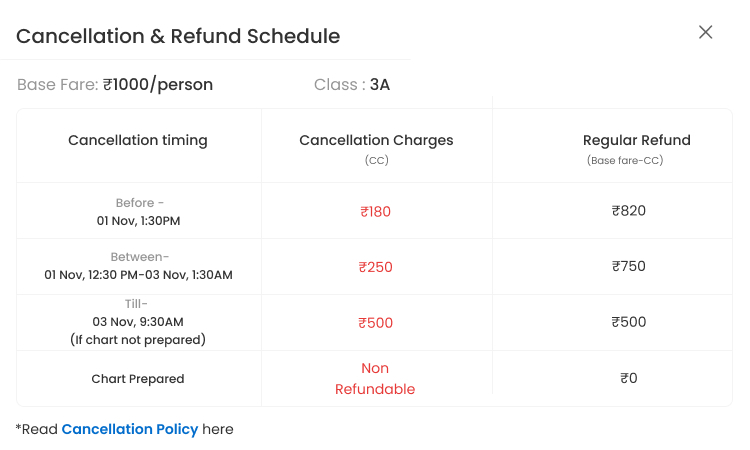 Note: You can not cancel your train ticket once the chart is prepared. After the chart preparation, you can only file TDR to get refunds from IRCTC. Find the complete TDR rules here: TDR in Indian Railways
How is FCS beneficial for you?
The sudden changes in plans always end up in cancelling your tickets. And, if the tickets were confirmed, and you cancel them, you end up paying extra charges.
But, with the Free Cancellation Scheme feature selected, you can cancel the tickets at least 4 hours before the scheduled departure of the train or before the chart preparation, and get a full refund of the ticket fare.
And just to make things easier for the subsequent bookings, we have set it on default for users who have previously opted Free Cancellation Scheme. It means when you start booking your train tickets with Trainman, the Free Cancellation Scheme will be opted-in automatically, to help you save any extra charges upon cancelling the ticket. However, you can always deselect the Free Cancellation Scheme option, if you wish to pay charges for ticket cancellation.
Here is a scenario to help you understand the ticket cancellation charges After Opting the Free Cancellation Scheme: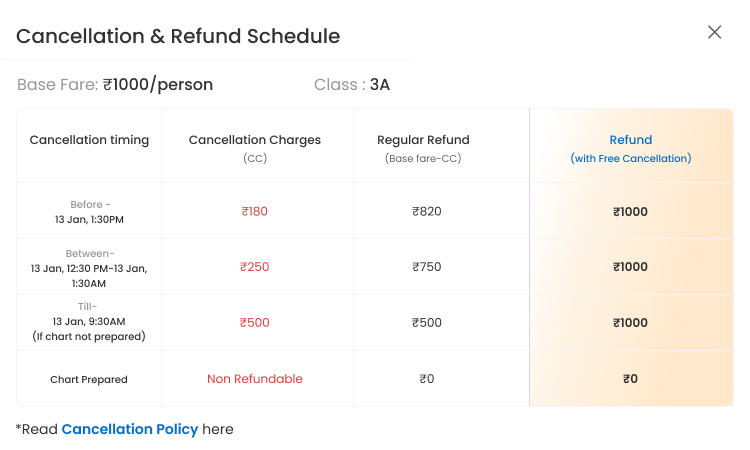 How to opt for Free Cancellation Scheme while booking a train ticket?
The process of opting for Free Cancellation Scheme is as simple as boarding a train. All you have to do is,
Step 1: Open Trainman App

Step 2: Enter your origin and destination railway station, select the journey date, and hit search.

Step 3: On the newly opened page, look for your train, and tap on it to get the availability.

Step 4: Tap on book now, add the passengers for the journey, and click proceed.

Step 5: Here, fill in all your details and check on

Yes, I want full refund

to opt-in for Free Cancellation Scheme.

(Note: You can opt-in for

Free Cancellation Scheme

by clicking on

Yes, I want full refund

from the Home Page and Train Listing Page.)

Step 6: Then click on "Proceed to book" and make the payment.

Step 7: Here, fill in the IRCTC login password and captcha, click the "Submit" button, and you are all set.
Now, your tickets have been booked with Free Cancellation Scheme. You can now enjoy your trip. And, if at any point there is any change of plan, you can cancel the ticket without giving it a second thought and avail full refund of your ticket fare.