Have you ever imagined a starry sky above your head, white Rann beneath your feet, a chilly night, and quality time with your loved ones? Well, finally, the wait is over; it's time to plan your trip to Kutch, Gujarat, India, to witness the joyous festival known as "The Rann Utsav."
Gujarat is one of many Indian states that proudly hosts many cultural festivals and showcases the various colors of Indian tradition to the world. Rann Utsav is a spectacular festival held in Kutch, a beautiful region of Gujarat known for its rich traditions, breathtaking scenery, and magnificent culture. Every year, the fascinating festival begins in November and lasts for four months.
The dazzling sky and the alluring nights on this land will keep you bound to the place. Whether you are artistic, or shopaholic, music lover, or food lover, all your desires shall be fulfilled here. The magical moment created here shall stay with your family and you forever as you cherish them for life.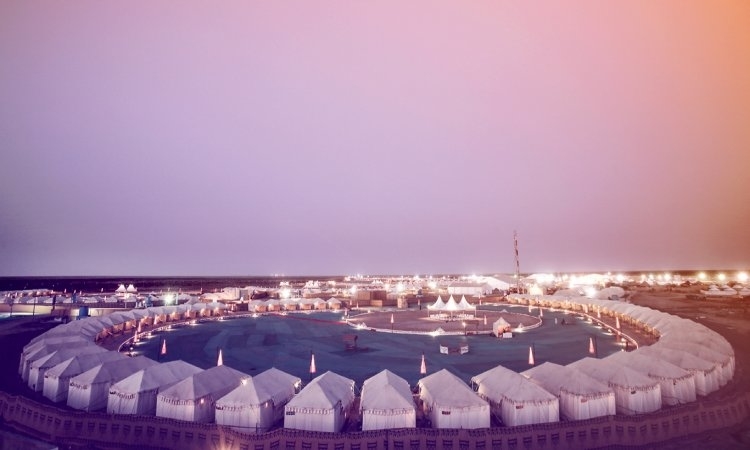 Also read- Tips and tricks to get confirmed railway ticket
A brief introduction to Kuch- A little history
With a land area of approximately 45,652 km2, Kutch is India's largest district, with a population of approximately 2,092,371. A large portion of Kutch is known as the Rann of Kutch and is the best place to visit in Gujarat. The district is well-known for its banni grasslands and seasonal, swampy wetlands. The Arabian Sea and the Gulf of Kutch surround it. The location is best described as a "Cradle for Craftsmanship" because of the handiwork and the famous "bandhini," i.e. tie & dye, as well as the various styles of embroidery.
Rann of Kutch is one of the largest salt deserts of the world; the Great Rann of Kutch is a white land covering an area of around 7,505 kms2. The name "Rann" is derived from the Hindi word which means "desert". To promote the village culture and the surrounding beauty of this white rann, the Gujarat government has been organizing Rann Utsav for a long time, attracting thousands of tourists every season.
Timing of Rann Utsav?
From November 1st, 2021 to February 20th, 2022, the vast white Rann desert will come to life in all of its thousand colors.
Rann Utsav- The most exciting festival of India
The Rann Utsav is one of India's most anticipated festivals, celebrating the wonders of nature in the White Desert as well as Kutch, Gujarat's rich cultural and artistic traditions. With its breathtaking landscape, the Rann Utsav is a photographer's dream and has recently gained popularity as an offbeat tourist destination.
Unlike the Kite Festival and Navratri, the Kutch Rann Utsav is a well-known Gujarati festival. It is a vibrant festival that celebrates life through beautiful and blooming nature, soothing dance, and entrancing music. A walk in the desert on a full moon night is an unforgettable experience. Aside from its beauty, it is a diamond of serenity to be treasured. If you are planning a trip to Gujarat, you should revise your itinerary if a visit to the white desert is not on it.
The celebrations of dance, music, and fun with the exhibition of Gujarati culture and traditions last for around 107 days to captivate the fiesta for another year. The rich cultural heritage of Rann Utsav is the beautiful fête of 'White Rann'. It is a destination for holidays with family and friends to enjoy and create splendid memories.
Although the pandemic has put a halt to our exciting travel life, the Rann Utsav will remain open to tourists. All necessary precautions will be taken, and all visitors to the Rann Utsav 2022 are expected to behave appropriately for Covid-19.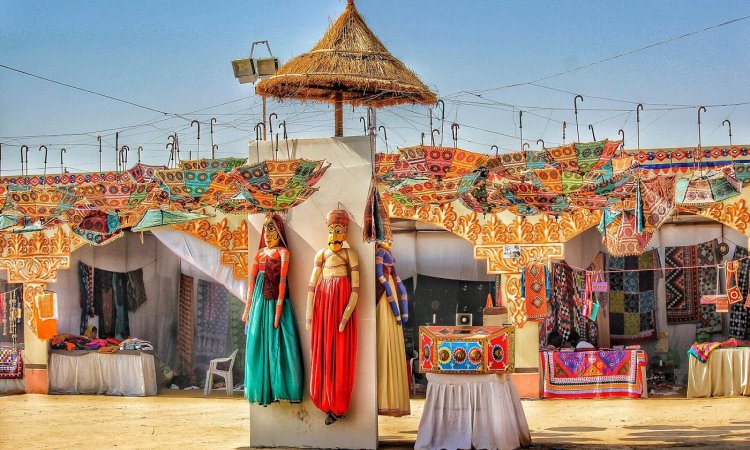 Vision of Rann Utsav festival 2022
The Rann Utsav is an annual cultural festival that brings together Gujarat's art, culture, cuisine, and people to celebrate the state's rich heritage.
The Tourism Corporation of Gujarat Ltd. accepts full responsibility for providing the best facilities and arrangements possible to make this festival accessible to people from all over the world.
Tourists can stay in luxurious and convenient Swiss tents and enjoy traditional dance and music programs, as well as a camel safari in the desert, during the festival. A trampoline, camel cart, ATP, Trikke Ride, and other adventurous activities are also available at the festival.
In various stalls, amazing hand-made products by local villagers are displayed. The festival's main attractions are garments with Bandhni and mirror work, jewellery, home décor items, various products made of wood carvings, and mouth-watering vegetarian dishes.
How to safely reach Rann Utsav?
There are several ways to reach the Rann Utsav. You can take a road trip with your friends, reach swiftly there by plane but who wants these mundane routines? Book an IRCTC train ticket online for Rann Utsav and travel affordably while enjoying serene Gujarat. None can match the nonchalance that Gujrata offers, and an exciting train journey gives you just that.
Distance between some of the cities to Rann of Kutch is:
Mumbai to Rann of Kutch distance: 930kms

Ahmedabad to Rann of Kutch distance: 413kms

Bhuj to Rann of Kutch distance – 73 km
Nearest Railway Station to Rann of Kutch
Are you seeking online to know about the nearest railway station to Rann of kutch? The nearest railway station to Rann of Kutch in Bhuj junction is about 104 km away and it is going to take about 2 hours to reach there. Bhuj railway station is well connected and linked with many other prominent cities of the country and road is well maintained in reaching there.
Also read- Unusual and unknown facts about Indian railways
The other nearby railway stations to Rann of Kutch are Santalpur junction, Anjar station, Adipur station, Gandhidham station, and they are within a range of 107 to 112 km distance and it is going to take almost the same time as like of Bhuj junction in reaching at Kutch. Bhuj junction railway station is among the class A category stations that is in Bhuj in Gujarat, India. Now, book your IRCTC train tickets at Trainman from anywhere and anytime.
It is supervised by the Western Railways line network and handles approximately 9 trains per day. The Rann of Kutch is a salt marsh located in the great Thar Desert in the Kutch district of Gujarat, India, and is one of the country's largest salt deserts. The Kutchi are the people who live in the desert.
IRCTC Rann Tour Package- The Ultimate Guide
RannUstav, a one-of-a-kind festival that celebrates the mystical magic of Kutch, is one of the country's most anticipated tourism extravaganzas. This event is ideal for people of all ages and truly celebrates Kutch's incredible diversity. Beginning in November 2021, the event will run through the winter months until February 2022, providing tourists with the ideal opportunity to witness the colourful mosaic of art, culture, adventure, nature, and more.
IRCTC Tourism has put together the best Rann Utsav tour package for you and your family. So, take a break, gather your travel companions, and set out on an unforgettable adventure. With so many attractions, this tourist festival has something for everyone. And the best part? You don't even need to plan your vacation because they've already taken care of everything.
From getting confirmed train tickets to providing delicious meals, our dedicated team has curated such an all-inclusive tour that you won't need to worry about anything at all. Want to take a look at this popular domestic tour package? Hurry up and book your IRCTC train tickets online Here are all the details.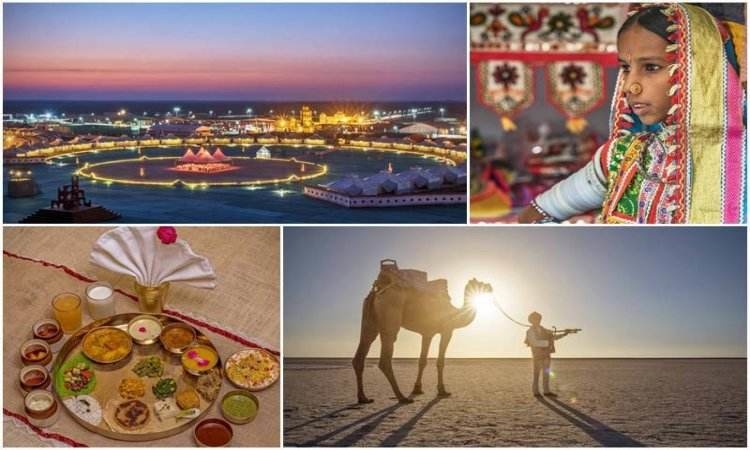 Rann Utsav Package with Train Tickets – Tent City
Duration: 5 Days/ 4 Nights
Tour Itinerary: Mumbai – Bhuj – Tent City – Bhuj – Mumbai
Package Inclusions:
Confirmed train tickets from Bandra to Bhuj and back in 3AC class.

A/c accommodation in Deluxe Tents as per the itinerary.

Internal Road transfers and sightseeing as per the itinerary.

All sightseeing and excursions as per the itinerary.

Meals as mentioned in the itinerary.

Travel insurance

Toll, parking, and all applicable GST.
Fun Things To Expect At Rann Utsav 2022
Explore the expanse of Indian culture
Among all the fascinating things to do at the Great Rann of Kutch festival 2021, attending the cultural fiesta hosting folk artists from all corners of Gujarat is a must. They perform almost everywhere and every moment. You can live those imaginations of a bonfire in the desert while you dance to the tunes of true folk music the fervour of which extends beyond all things to do.
Relax in the shadow of calming moonlight
It doesn't get more romantic than a white expanse of serene sand under the full bloom of the moon. Add to that a cultural festival. Rann Utsav of Kutch will leave you speechless. You can spend time looking at the moon.
Pro tip- Check out the full moon dates on Rann of Kutch's official website and book your IRCTC train ticket online accordingly.
Adventure tours coupled with sightseeing
The Rann Utsav offers a diverse range of experiences. A DPV can be used for a solo ride through the desert (Desert Patrol Vehicle). Another thrilling activity to look out for is a desert safari. There are also moderate adventure rides for children at the festival. And the fun doesn't stop there; for an added thrill, you can also enjoy a hot air balloon Kutch, which is priced differently by different operators.
Activities: Desert safari, visit Skyzilla for aerial adventure sports like ziplining and more, Chess, Carrom, Camel ride, paintball, star gazing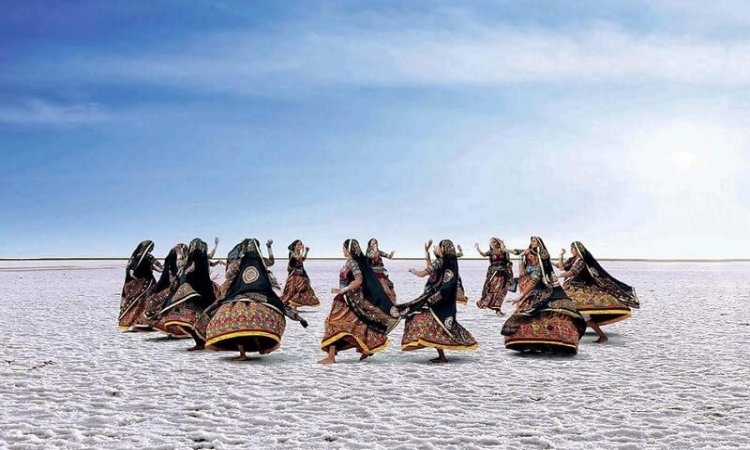 Hover above the Rann of Kutch
We dare you to recover from a hot air balloon ride. The experience of looking down from the top at the vibrant hues of the salt and is so enthralling that you will feel compelled to talk and think about it. Have the most exciting winter in Gujarat this year at Rann Utsav 2022. It's going to be a lot of fun!
Spend some time with the blues
Spend some time at the horizon as the blues touch the sky. Do not miss out on visiting the nearby villages of Bhirandiyra, Khavda, and Gandhi-Nigam, which host workshops for amazing handcrafted textiles and fabrics. Remember the dates for Rann Utsav 2021-22 and plan accordingly to avoid missing out on such events. How exciting would it be to welcome the New Year at Rann of Kutch?
Pro tip- Visit the local villages to learn about the art and craft industries. Handicrafts are also available at slightly lower prices.
Shop with the best artisans
Exotic handcrafted Gujarati articles, leather articles, splendid silverware, intricate Kutchi embroidery, and exquisitely crafted ornaments – let them feast on your wallet or feast on your eyes.
Main markets of Kutch:
Roopalee Handicrafts

Bandhini Bazar

Khamir crafts store in Bhuj

Rainbow Textiles in Gandhara

Shrujan-threads of life

Aslam's collection on the outskirts of Bhuj
Enjoy the delicious food
This is a must because the fantastic food options here are exactly what you need to make your experience memorable. We have a feeling the organizers are passionate foodies who understand the needs of ravenous appetites and hungry taste buds. Two magnificent dining halls serve delectable authentic Kutchi cuisine. Furthermore, there are food stands open at all hours of the night to satisfy hunger.
When is the best time to go to Rann Utsav
?
Rann Utsav is held every year during the winter season, which lasts from November to February. We recommend capturing these lovely moments on film to remember because the Rann festival will be the happiest event of your life every year. Kutch Rann Utsav is a sparkling scenery that offers delightful moments of this Fest that feels like a bonus. Rann's white sand glows like white exquisite diamonds on a Full Moon night, giving it an out-of-this-world appearance.
Rann Utsav Tour Packages
Currently, there are different packages available for this rann Utsav to choose from:
1 Night 2 Days package starts from INR 3199/-

2 Night 3 Days package starts from INR 6399/-

3 Night 4 Days package starts from INR 9599/-
Besides, there are various packages available for group tours. Based upon the number of travelers, days, choice, and budget you can plan to visit areas and destinations in and around Kutch.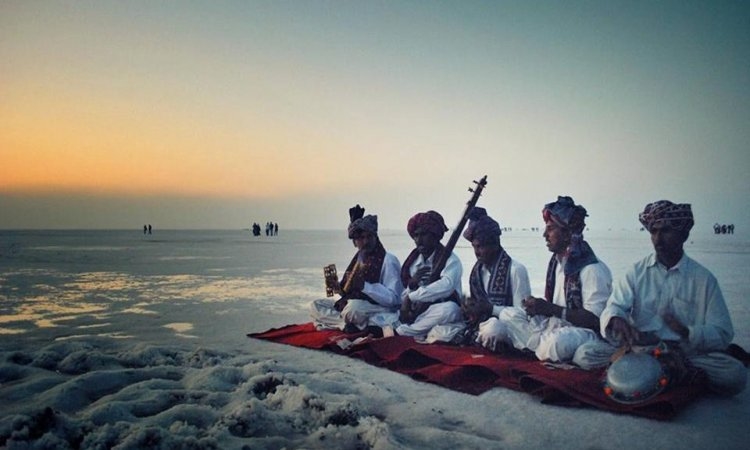 FAQs
What is the most affordable way to commute to Rann of Kutch?
A train journey will give you the most scenic and affordable experience you can have. Besides delightful food, you can witness the beauty of Gujrat unfolding before your eyes. From huge terrains to breathtaking villages, you will have it all. Now you can book your train ticket online seamlessly along with checking your PNR status and Live Running Status offline.
Is Rann Utsav safe for couples?
Couples, families with children, and groups of friends are all warmly welcomed at The Rann Utsav. They also understand and respect the privacy that couples require, so many couple-friendly tour packages provide a variety of complementary and on-demand services.
What festivals are celebrated during Rann Utsav?
As mentioned above, every day during Rann Utsav is a day of celebration. The New Year is celebrated here with bonfires, camel safaris, dunes, and the winter coolness of the White Desert under the shadow of the Kutch. Fireworks, dance, and music are enjoyed all night to ring in the New Year.
What are some important points to remember during your visit to Kutch?
It is advised to always pre-book everything needed for your journey since the Rann Festival draws tourists from all over the world. You can easily

pre-book IRCTC train tickets online

with Trainman App on

Android

and

iOS

and avail tons of exciting features.

Make sure to carry enough warm as well as light fabric clothes as there is a major difference between the temperature of the day and that of the night in the desert.

Since Kutch is located near the border of Pakistan and India a Government Pass is needed to visit this place. You need to carry your ID cards to show at the check post at Bhirandiyara to avail of the pass.
Gujarat's Rann Utsav will undoubtedly be a one-of-a-kind experience for visitors, as this grand festival allows them to enjoy their vacations to the fullest by providing a variety of appealing entertainments and exciting activities to keep you enthralled at all times during the celebration.
Enjoyed reading this? Follow our blog for more information related to trains and IRCTC ticket booking online. Don't forget to explore Trainman app available on both Android and iOS to book your next train tickets online.