If you have ever watched "Charlie and the Chocolate Factory" and thought that such a magical place didn't exist then get ready for a pleasant surprise. Lindt the world-famous chocolate manufacturer has opened the world's largest chocolate museum in Zurich, Switzerland. Well, there are a whole lot of museums in the world but this one is special because it screams chocolate from every nook and corner. While we wait for a chance to fly to Switzerland and see this sugary oasis for ourselves. Let us have a look at the details about the museum that we know so far.
The museum is home to the world's largest chocolate fountain. The show-stopping chocolate fountain stands at a whopping height of 30 feet consisting of a huge stirring spoon from which 1,500 litres of real chocolate pours down into a giant Lindor. The fountain is said to be the museum's highlight thereby setting the tone for a chocolaty experience ahead.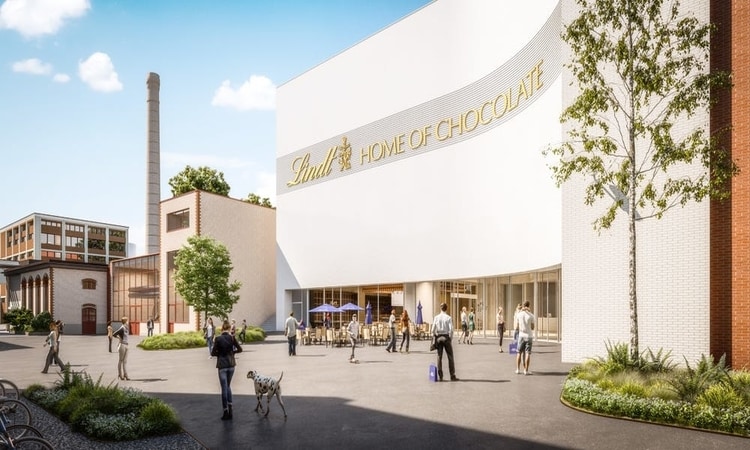 The Lindt Home of Chocolate is spread at an area of 65,000 square feet and boasts the world's largest Lindt chocolate shop- 'Chocolateria'. Chocolate lovers can also hop around and join interactive exhibitions, learn about the history of the Swiss chocolate making and take home some yummy goodies. There is also a spot in the museum where visitors can get a sneak peak into chocolate making - from cultivation to its production. Apart from this it also houses Lindt cafe and tasting room called 'Chocolate Heaven' with specialities including a chilli and Tabasco hot chocolate as well as savoury options including salads, toasties and quiches.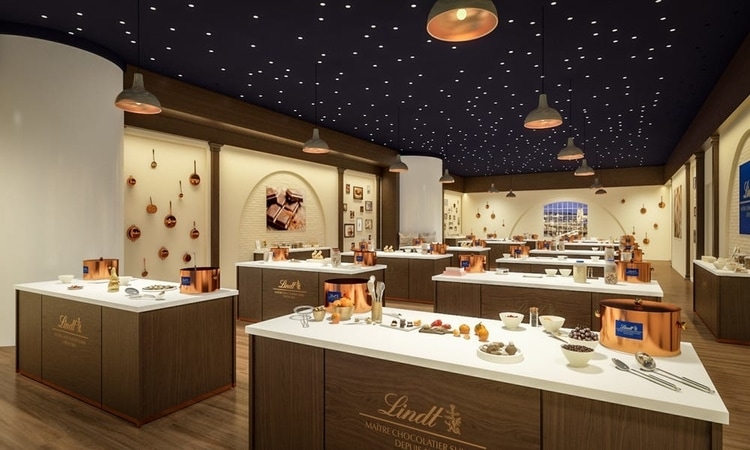 The Lindt Home of Chocolate takes guests on a journey in the museum bringing them through "seven chocolate worlds". The exhibits will also teach visitors about the history of Swiss chocolate making, teaching them not only about Lindt but also about its famous predecessors.
And that's not all, the Chocolate Home also features other attractions to keep chocolate lovers busy. At the Chocolateria visitors can take part in chocolate-making class and create their own tasty confections while the research facility will allow one to experience what goes into the Lindt production process. For an extra personal touch you can design your own praline packaging for a unique gift (even if it's only from you to you).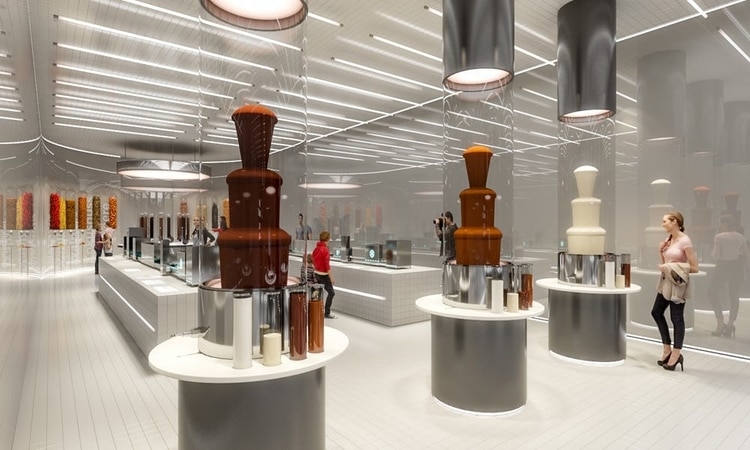 The Lindt & Sprüngli factory has been in Zurich since 1899. However the Lindt Home of Chocolate is a project that has been in the making for seven years and was designed to perfectly serve as a paradise for chocolate lovers and complement the historic building at the same time.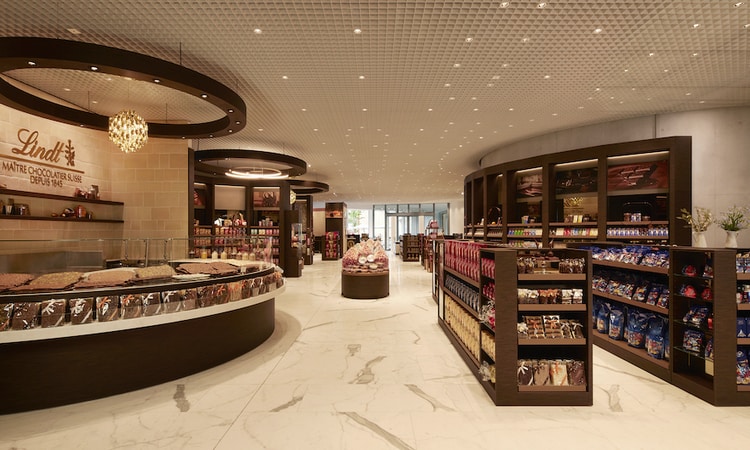 The only downside is that Switzerland remains on the UK quarantine list meaning a trip to the Willy Wonka-style attraction will result in a two-week isolation when back in the country.
Chocolate Museum in India
Don't get disheartened as India also houses a dedicated chocolate museum nestled in a corner of Tamil Nadu's Ooty - the M&N Chocolate Museum is the first of its kind in the country. Dating back to 2013 this cocoa lover's heaven is run by a local family who aims to create awareness about the benefits of chocolates its production processes and pay tribute to nature's sweetest blessing.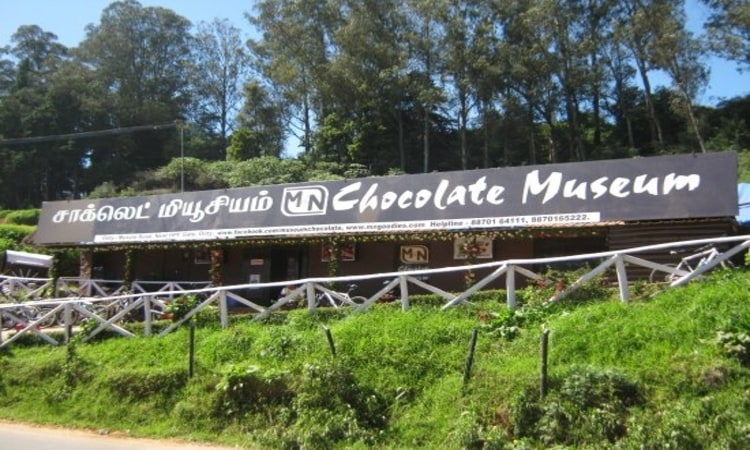 The M&N Chocolate Museum has over 100 chocolates on display making sure that every guest who enters this museum is left with a salivating mouth by the end of the tour. The museum has also earned a spot in LIMCA Book of Records for creating India's longest chocolate bar which is 18 metres in length. The best part is that the museum also has a life-size mannequin which is dressed in clothes made out of chocolate. Apart from this, the museum contains structures and models prepared out of different kinds of chocolates. Unleash your inner Willy Wonka at this chocolate paradise now!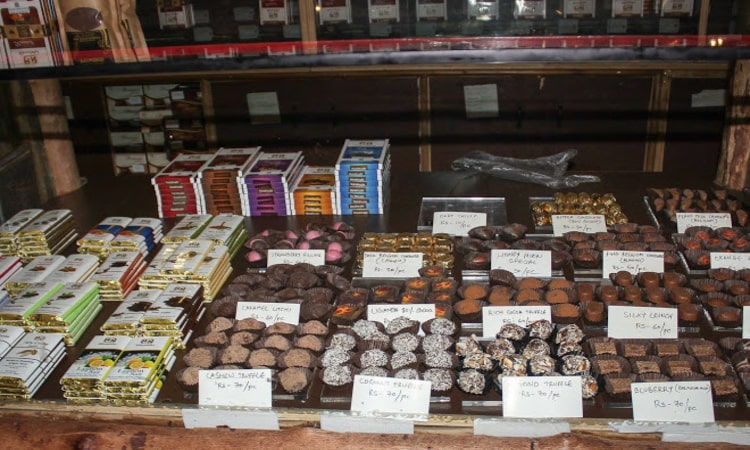 How to reach
Ooty is the most admired hill station in South India. The picturesque hill station is easily accessible by various means of transport. If you are travelling by air then the nearest airport is Coimbatore International Airport that is located 92 km away from the museum. From there you can hire a cab that will take you directly to the chocolate museum. The nearest railhead is Coimbatore (CBE) that is 91 km away from M&N chocolate museum. You can board any train that runs between Delhi (national capital) and Coimbatore. After that you can hire a taxi from the station to reach here directly. You can also travel by road from other major cities like Bengaluru, Calicut, Coorg and Munnar.
Chocolate lovers, do yourselves a favour and add these to your bucket list. Do let us know about your favourite chocolates in the comments below. For a hassle-free experience, book your train tickets instantly through the Trainman app. Download the Trainman app and check PNR Status of the booked ticket, Seat Availability, Running Status and many such exciting features.