In view of the continuous rainfall and floods in Andhra Pradesh, several trains were cancelled or diverted while hundreds of vehicles were stranded on Sunday as the main road and rail routes in the state remained cut off. The Indian Railways announced the cancellation of 42 trains on the Chennai-Vijayawada grand trunk route. While several other trains were partially cancelled or diverted.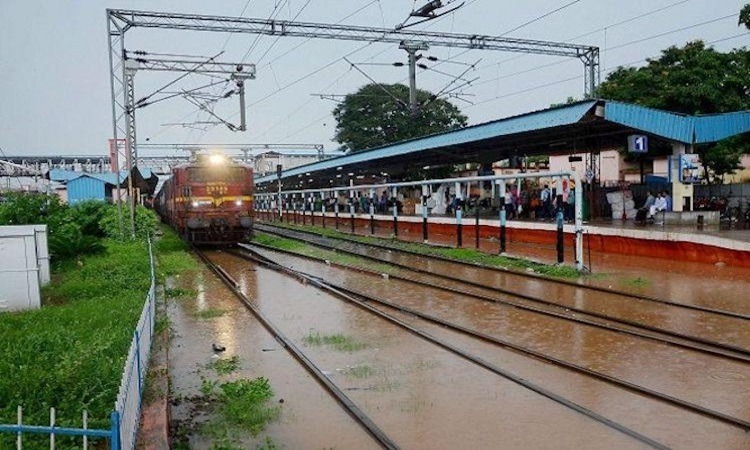 According to the South Central Railway (SCR), the trains were cancelled due to heavy inflow of water between the Nellore - Padugupadu section of the Vijayawada Division and Razampet-Nandalur of Guntakal Division. The movement of trains came to a standstill as the railway tracks were submerged in Nellore district, one of the four districts hit by floods.
The cancelled trains include Visakhapatnam-Kadapa, Tirupati-Hazrat Nizamuddin trains numbers 12643,12645, 16317, 16787, 12707, Tirupati-Nizamabad trains numbers 12765, 17417, 16733, Chittoor-Kacheguda train number 17616, Chennai Central-LTT Mumbai trains numbers 20919, 22919, 20953, 22180 and Vijayawada-Chennai Central trains numbers 22801, 12851, 12830, 22869, 12270, 12434, 12612, 12898, 22536, 12968, 20896.
Vehicles from Tirupati to Srikalhasti were diverted at Tottembedu, leading to huge traffic jams on the national highway. Police were advising motorists to divert their vehicles through Kadapa, Pamuru and Darsi.
According to officials, nearly 24 lakh people were affected by the floods. A total of 1,316 villages were hit by the heavy rains. The rains and floods damaged 1,549 houses. The authorities evacuated nearly 21,000 people and set up 243 relief camps. The natural calamity has damaged agriculture and horticulture crops over 6.33 lakh acres.
Let's hope that everything will be okay soon in Andhra Pradesh, Till then, you can book alternative trains tickets through Trainman App. Go download the apps available in Google Play Store and App Store. Both the Apps comes with more useful features like checking the PNR Status of the booked ticket, Seat Availability, Running Status and many more. Also, stay tuned to the Trainman Blog to know all the latest updates on Indian Railways.