Overview
India is well known for its cultural diversity, so each region has unique festivals along with those shared throughout the country. Those looking to explore the culture of India would do well to attend these unique lesser-known festivals of the country.
Having the world's second-largest population, the country offers an endless variety of beliefs and cultures. It is a country that allows one to come across different kinds of cultural communities every few hundred kilometers. This variety also extends to celebrations and customs.
Numerous important festivals are celebrated across the country. These include Ganesh Chathurthi, Dussehra, Holi, Diwali, and many more.
With over 1.3 billion people living in India with various unique cultural identities, one can easily be overwhelmed by the diversity. For anyone looking to understand a particular region or culture, these festivals are the key.
Bikaner Camel Festival - Bikaner, Rajasthan
The festival is a two-day-long celebration indigenous to the northwestern Indian state of Rajasthan. It is held in honour of the camel an animal that has been faithfully serving desert communities for centuries.
Often called "The Ship Of The Desert", the camel has been an essential mode of transport and the primary means of sustaining a livelihood in this region. The festival sees brightly attired camels marching in the sandy backdrop of Junagarh Fort.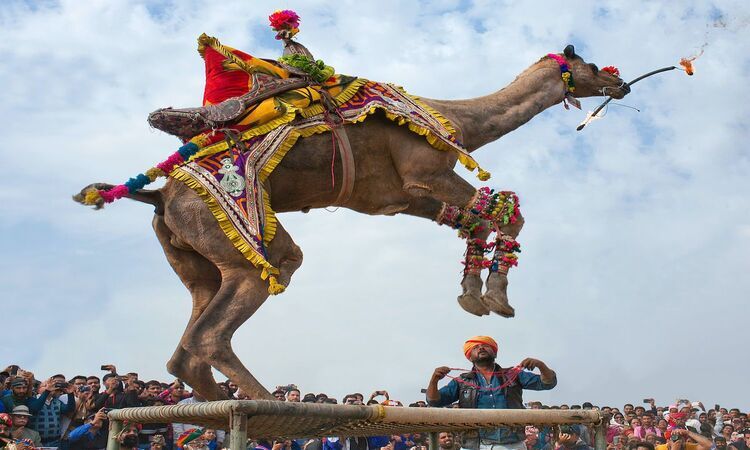 (Image Credit: Dainik Bhaskar)
The camels along with their owners will present themselves in their best attires. The occasion is celebrated with local music, folk dances, breed competitions, camel races, and more. Travellers may experience the tradition while also enjoying Rajasthani delicacies such as Bikaner Bhujia.
Details of Bikaner Camel Festival
When

- January

Nearest Railway Station

- Bikaner
Trains To Bikaner
Kerala Village Fair - Kovalam, Kerala
Celebrated in Mid-January every year, this festival gives seeking travellers an insight into the unique culture of the lush villages of Kovalam. The festival showcases a typical village of Kerala being recreated with Chayakkada, Nalukettu house, and much more.
This is the chance for one to witness several classical traditions taking center stage through music, folk dances, and other festivities. You can also see artisans on spinning wheels and traditional handlooms. Those visiting the Kerala Village Fair must make sure to savour the "Kappa" and "Meen".
Details of Kerala Village Fair
(Image Credit: Adotrip)
When -

January

Nearest Train Station

- Trivandrum
Trains To Trivandrum
Mumbai To Trivandrum
Chennai To Trivandrum
Goa Carnival - Goa
The Goa Carnival takes place in Mid-February every year and is a week-long event consisting of new age festivities. You will get to see rock bands performing alongside folk music artists in the carnival. The celebration was first introduced by the Portuguese who were the colonial rulers of Goa before it joined Independent India.
(Image Credit: The Statesman)
Visitors at the Goa Carnival will get to experience vibrant music, western dances, live performances, and more. The festival's main event takes place on the last day and will see performers dancing in customary red and black dresses.
Details of Goa Carnival
When

- February

Nearest Train Station

- Various Stations in Goa
Trains To Goa
Sula Festival - Nashik
The Sula Festival is one of the most underrated celebrations in the country. It is held in Sula Vineyard adjacent to Nashik City. The festival was first inaugurated by Sula in 2007. Sula is India's leading winery and features an exciting mix of wine, food, fashion, music, and shopping.
The festival invites leading artists from India as well as other countries to perform at the festival. Music from a wide range of genres is featured including blues, rock, jazz, reggae, and electronic music.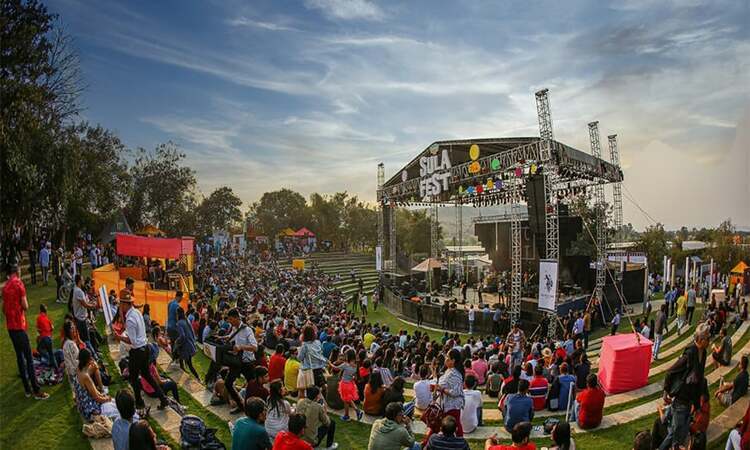 (Image Credit: BW Hostelier)
Visitors to the festival can look forward to wine tastings, dancing, grape stomping, music concerts, body art, and much more. All are welcome to attend the festival, except for young children.
Details of Sula Festival
When

- February

Nearest Train Station

- Nashik
Trains To Nashik
Delhi To Nashik
Mumbai To Nashik
Tulip Festival - Srinagar
Ever stepped under an alcove and been completely mesmerised by its beauty? Well, try to visualize the same sight, but on a scale that is far grander. That is what the Tulip Festival in Srinagar offers visitors. Any vacation in Kashmir would be incomplete without visiting this beautiful garden known as the Indira Gandhi Memorial Tulip Garden.
(Image Credit: TOI)
The Tulip Festival is held in Srinagar at the beginning of Spring between March and May when the tulip buds are about to blossom. The festival goes on for anywhere between fifteen days to a month as different flowers blossom in turn, creating a rainbow of colors.
The start date of the festival is determined by the weather each year. So, those who may have missed it the previous year can plan for it this year.
Details of Tulip Festival
When

- Between March and May

Nearest Train Station

- Jammu
Trains To Jammu
Delhi to Jammu
Chandigarh to Jammu
14503 | KLK SVDK EXP - Chandigarh (CDG) To Jammu (JAT)