In a recent development by Indian Railways, Vikalp scheme has been launched under which a waitlisted passenger might get a confirmed berth in next alternate train including premium trains like Rajdhani, Shatabdi, Duronto or other special trains without paying any extra cost. Under this scheme a passenger who remains in waiting list after chart preparation could be allotted a confirmed berth in next train that falls on the same route within 12 hours from the departure time of origin train, if one opts for Vikalp option while booking the ticket.
Starting from April 01, Vikalp option which is currently available in only 3 routes namely Delhi-Jammu, Delhi-Mumbai and Delhi-Lucknow would be made available for all the routes nationwide. However, the destination might not be same in alternate accommodation as that of origin ticket, but can be allotted a nearby destination ticket. This scheme would be available for e-tickets for now and would roll out to counter tickets soon. Passengers opting for vikalp should check their PNR Status after chart is prepared and before boarding the train.
According to the officials, after the introduction of flexi-fare system in premium trains, there has been a dip in the number of ticket booking for these trains. So in order to utilise vacant seats and to reduce waiting refund amounts this scheme is in place. Railways had to refund huge amounts every year to the customers who cancel their ticket due to various reasons. So with this scheme, railways aim to achieve twin objective of providing confirmed accommodation to waiting passengers as well as optimum utilisation of available seats. Since there is no extra cost involved to levy this scheme for the government as well as for the passengers, it seems to be a win-win case for both of them.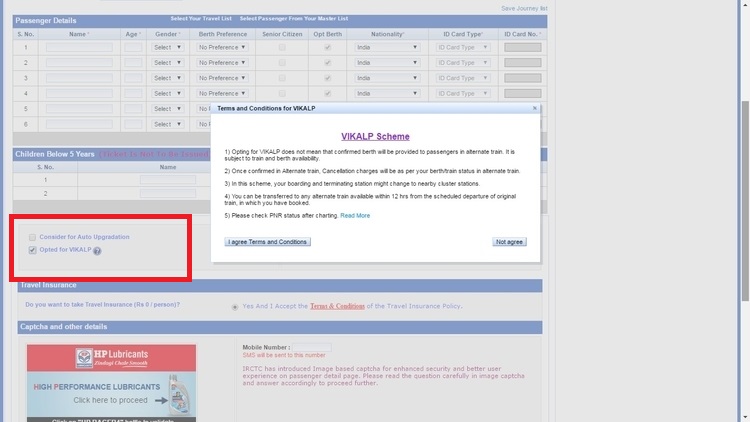 However, the catch here is that if a passenger does not like alternative option, he/she can cancel their ticket, but it would be considered as a fully confirmed ticket. As per the rules of cancellation, a confirmed ticket levy heavy cuts upon its cancellation. If a passenger cancels their ticket between 12 to 4 hours prior to the train departure time, 50% cost is deducted and if it is cancelled 4 hours prior to train departure time, no amount is refunded. Since alternative option would be provided within 12 hours of the train departure time of the original train, there is a heavy chance cancellation of vikalp option would cost minimum 50% to the passengers. Hence, a passenger will have to opt for the alternate accommodation provided by the railways.
We would be able to understand the success or failure of this scheme only after some time. Do let us know your view on this scheme under the comments section below!