The train and railway system in India is very demanding and complex. To understand its procedures, one requires a fair amount of patience. You will have a vast amount of options when you are going to book a ticket. The process of ticket booking can also be fairly complicated with factors such as waitlist, seat confirmations, tatkal tickets, etc.
The two most commonly available classes for train travel for long journeys are the AC-2 Tier and AC-3 Tier. Each of these classes offers passengers its characteristics.
In the following sections, we shall examine their respective characteristics.
AC 3 Tier
The coaches of AC 3 Tier are air-conditioned coaches usually consisting of 64 sleeping berths with each consisting of levels - lower, middle, and upper berths. There are no reading lights for each birth and the gangways are not curtained off.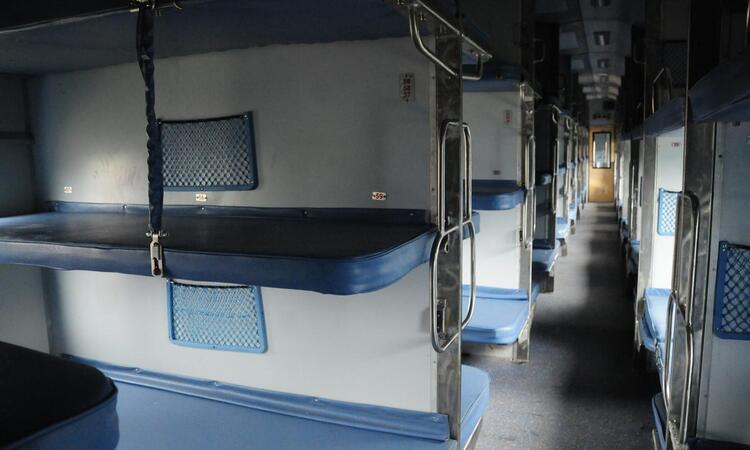 (Image Credit: The Hindu)
Pros
Price-sensitive and budget travellers will find 3-tier travel to be quite cost-effective.

More adventurous travellers whether local or foreign travellers will have the chance to have a more intimate or exotic experience of travel in India.
Cons
Those allotted the top berth are certainly not going to have the best of times. Besides being cramped, you can expect a freezing blizzard blowing right at your face as you will be right next to the AC.

You can also expect rather cramped seating, due to a higher number of passengers. There is a chance this may get aggravated in case any of your co-passengers have visitors from other berths or compartments.
AC 2 Tier
These are air-conditioned coaches that have sleeping berths in two tiers across eight bays. Generally, the berths are arranged in bays of six with four being across the width of the coach and two across the length on the other side of the compartment. Bedding comes free with the ticket. The full coach capacity is 48 passengers and the half-coach capacity is 20 passengers.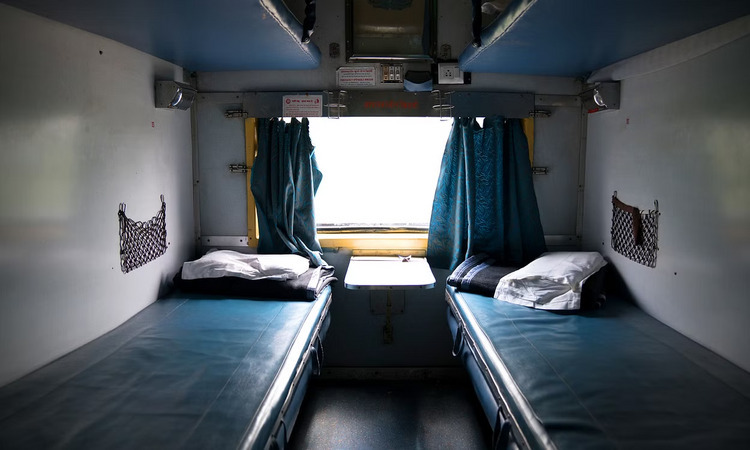 (Image Credit: Newslaundry)
Pros
More comfortable seating. The bench in AC 2 Tier is the same size as AC 3 Tier but seats only two people each instead of three.

Passengers will also have more headroom at bedtime since there is no middle berth.

You can also expect some better facilities in AC 2 Tier such as reading lights in all of the berths, along with more changing points. Not to mention most often you have a better guarantee that these charging points will all be functional.
Cons
The tickets can be relatively pricey, so consider the length of your journey before booking. AC 3 Tier may be more suitable for short journeys, especially if it's just a few hours and not overnight.

Last-minute bookings are a lot tougher despite higher ticket prices. This is mainly owing to a lower number of seats.
Conclusion
We have examined the essential characteristics of train travel in AC 2 Tier and AC 3 Tier respectively. While to most, it may seem rather like an open-and-shut case that the only real benefit of AC 3 Tier is cost, the reality is more nuanced than one might expect.
For instance, extroverts and those looking to connect with as many other travellers as possible will find 3 tiers to be bustling with activity chatter. What's more at every other stop, you will get to meet new people which means new conversations and new stories. In any case, the services and facilities provided by Indian Railways have seen tremendous improvement in recent years. Additionally, train travel in general is more eco-friendly than flying.
AC-2 or AC-3 no matter which class you travel, you can avail the Trip Assurance feature of Trainman to make your journeys even more comfortable. At present, there are more than a thousand trains that offer Trip Assurance.