Overview
The festival of colours is a much-awaited time of the year for Indians across the country and the world. Mathura along with Vrindavan is said to be the birthplace of Holi, where Krishna had smeared the colour on Radha and the Gopis.
Besides being the birthplace of the festival, Mathura is known to host the most vibrant and spectacular celebration of the festival. Here, Holi is celebrated for an entire week, and for the year 2023, the festivities will begin on March 2nd. People from all across India and even other parts of the world gather here annually, and this year will likely be the same.
Types of Holi Celebrated in Mathura
Krishna was known to have been an avid prankster who would tease the Gopis as he smeared colour on them. The latter would in turn retaliate by hitting Krishna and his friends with bamboo sticks.
Through the ages, this has been commemorated by men from Nandgaon visiting Barsana to play Holi with local women. All visitors are welcome to join in the fun and festivities as well.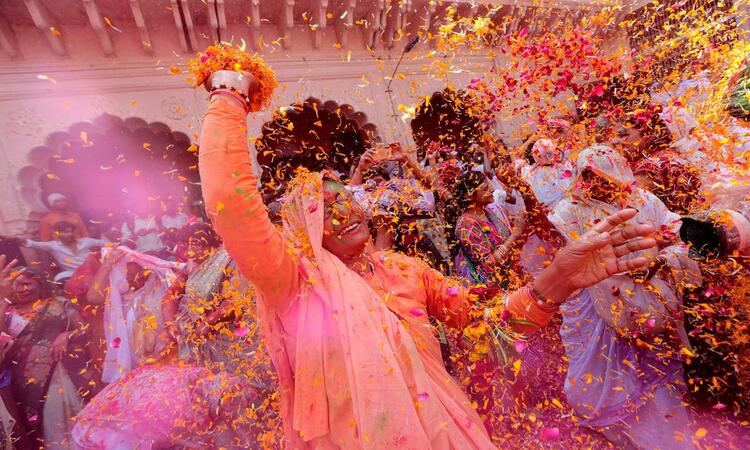 Phoolon Ki Holi is celebrated on Ekadashi which is the eleventh that occurs twice in the Vedic calendar month. Revellers play with fresh flower petals with great fervor in Banke Bihari temple in Vrindavan. The exquisite and fragrant ambience will take you to a different world. Unlike the usual Holi festival which is played with water and colours, it is more about a divine communion of love and joy by showering God with flowers.
It is a good idea to prepare for the journey at the earliest to have the best experience. There are several trains from most parts of the country to Mathura. Here, we have compiled a list of the best trains from five major cities in India.
Delhi To Mathura Trains
Mumbai To Mathura Trains
Kolkata To Mathura Trains
Chennai To Mathura Trains
Bengaluru To Mathura Trains
In short, no matter from which part of India you are planning to visit Mathura, you will have an option for the train. And just to fill more colors in your Holi Celebrations, we have a special offer for you. Use code RANG200 and save up to Rs. 200 upon booking your train ticket for Holi.
Other than Mathura, there are various types of Holi that are celebrated across India, get more detailed information about the same by following this link: Shades of Holi In India