Travelling by train with kids in India can be an exhilarating experience, with the country's vast railway network connecting diverse regions and cultures. Children can enjoy the scenic beauty of the countryside and interact with fellow passengers, creating lifelong memories.
Indian Railways also offers a range of child-friendly amenities, such as baby food, milk, and hot water, to make the journey comfortable and convenient for families.
However, travelling by train in India with children can also present some unique challenges, particularly if you are unfamiliar with the railway system. Firstly, long-distance train journeys can be tiring and exhausting for kids, so it is essential to plan the trip well and bring along sufficient items for their care and to keep them occupied.
Here are some tips to help you prepare for a comfortable and safe train journey with kids while travelling on the Indian Railways.
Choose The Right Train
Several trains in India have baby-changing stations that are convenient for parents travelling with infants. These stations are equipped with a changing table, washbasin, and water supply, making it easy for parents to attend to their babies needs.
The Vande Bharat Express, Indian Railways recently introduced the popular board game "Snakes and Ladders", to amuse the travellers onboard, during the journey. And this is sure to be a welcome pastime for children and the whole family alike.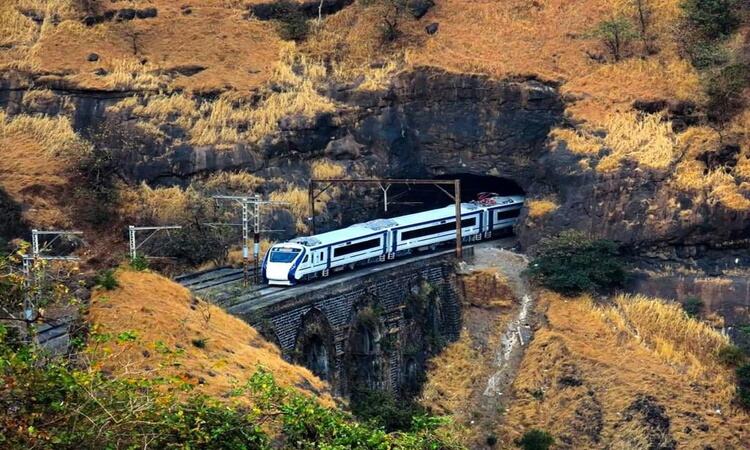 Undoubtedly, when traveling with children, it is important for people to carefully consider various factors related to their health, meals, and other aspects. As per the current regulations, free services are been offered by the railways for kids below 5 years of age on all trains.
Kids between the ages of 5 to 12 years are charged half of the adult fee on trains. Many premium trains including Shatabdi and Rajdhani were offering free meals to those kids as well.
Notable Vande Bharat Express Trains
Notable Shatabdi Express Trains
Notable Rajdhani Express Trains
Pack Appropriately
To ensure a relaxed and memorable trip, it is recommended that you carefully consider what you need to bring with you and avoid overloading your baggage with unnecessary items. Creating a list of essential items can be a smart way to ensure that you don't forget anything important.
When travelling with children, it is important to carry a bag that is easily accessible and can hold items that may be needed while on the go. A canvas tote or backpack can be useful for this purpose.
There are certain essential items that should be packed for the trip, including snacks like cupcakes, chocolates, milk products, gums, candies, and other items such as colour pencils, colouring sheets, mobile adaptors, hand towels, headphones, extensions, power bank, etc.
It is also a good idea to involve children in the planning process and allow them to choose their favourite toys and games to bring along while keeping in mind the space available in the bag and ensuring that the toys are practical and will be used during the trip.
Entertainment options, such as paperback books, colouring materials, puzzle books, and card games, can also be included in the bag to keep children occupied during the journey. By involving children in the planning process and packing smartly, you can ensure a pleasant and memorable holiday with your little ones.
Be Prepared For Delays
Trains in India can sometimes run late, so be prepared for unexpected delays and plan accordingly. It's important to remain calm and patient during a train delay, as this can help to prevent your kids from becoming anxious or upset. Explain the situation to them in a calm and reassuring manner, and let them know that the delay is out of your control.
Also be sure to keep a close eye on your kids, as they may tend to get restless while waiting for the train. This may cause a high likelihood of them getting lost as they run around the station and platform. Not to mention, there is also a risk of accidents if your children are not properly monitored.
Carry a power bank or charger: Long train journeys can drain the batteries of electronic devices such as tablets and smartphones. Carry a power bank or charger to ensure that your kids' devices are fully charged throughout the journey, keeping them entertained and engaged.
In case of especially lengthy delays, you can even use the retiring rooms to allow your kids to rest. Retiring Rooms are rooms, which are available at Railway Stations across India and can be booked for a minimum of an hour to a maximum of 48 hours.
These accommodations come in different types of occupancy, such as Single, Double, and Dormitory, and can be either air-conditioned or non-air-conditioned. You can encourage your kids to take a nap and even do so yourself as you wait.
Use Luggage Locks
When travelling by train with kids, it's important to keep your luggage secure and safe. One of the easiest and most effective ways to do this is by using luggage locks or security straps. This will help prevent your kids from opening your luggage anytime during the trip, especially while you are asleep or perhaps in the restroom.
Luggage locks and security straps are widely available and can be purchased online or at travel stores. They come in different styles and sizes, so it's important to choose one that fits your luggage and can withstand wear and tear. For added security, consider using multiple locks or straps on your luggage.
When using luggage locks or security straps, make sure to keep the keys or combination in a safe and accessible place. It's also a good idea to label your luggage with your name and contact information in case it gets lost or misplaced during the journey.
Engage Your Kids in the Journey
To avoid cramps and stiffness during long train journeys, it's a good idea to encourage your kids to stand up and stretch their legs. This can also provide an opportunity to see new surroundings and scenery.
In addition, it can be beneficial to encourage your kids to be curious and engage with other travellers, ask questions, and observe the passing scenery. You can have discussions on various topics such as those pertaining to subjects they are studying in school.
Of course, it goes without saying that it would be better to converse or discuss casually and not as if you are testing or assessing them. The passing scenery too could throw up interesting topics of conversation. Alternatively, if you are in the mood for a nap, the passing sights could simply be objects of quiet contemplation for the kids.
All of this can help make the journey more interesting and educational for them, and create long-lasting memories.
Conclusion
Train travel with kids can be a unique and exciting adventure that offers numerous benefits for families. From the opportunity to witness breathtaking scenery to the chance to bond with fellow travellers and create lasting memories, train journeys can be a memorable experience for kids of all ages. However, it's important to be prepared and plan ahead to ensure a smooth and enjoyable trip.
By choosing the right train, packing strategically, and considering child-friendly facilities and menus, you can make the most out of your train travel with kids in India. Additionally, engaging kids with interactive games and activities, providing educational opportunities, and promoting social interaction can help keep them entertained, engaged, and enriched during the journey.
Remember to be mindful of safety, keep your kids' comfort and needs in mind, and involve them in the planning process to make the trip more enjoyable for everyone. With proper planning, preparation, and a positive mindset, train travel with kids in India can be a wonderful adventure that creates lasting memories for the whole family. So, hop on board and embark on an unforgettable train journey with your little ones!