As the blazing summer spreads across the country bringing sweltering heat in its wake, the thing most prominent on one's mind are ways to cool down. During such days the idea of lush green hills with a cool breeze and perhaps even the occasional drizzle is very enticing indeed.
This is usually the time when many heads for the hills to beat the heat, even if only for a few days. And it is an ideal time to visit Ooty which offers not only refreshing weather but also plenty of exciting activities to complete your day.
The picturesque hill station is nestled amidst the enchanting Nilgiri Hills in the lap of Tamil Nadu's western Ghats. It has popularly been called the "Queen of the Hill Stations", and has long been a top attraction for travellers from all across the country.
Here are 5 fun things to do in Ooty during the summer
Ride The Nilgiri Mountain Toy Train
Want a scenic view of the picturesque valleys, lush green hills, verdant meadows, and forested landscapes? Well, the Nilgri Mountain Toy Train, also known as the Ooty Toy Train allows you to take in the beauty of the Nilgiri Mountains at a leisurely pace.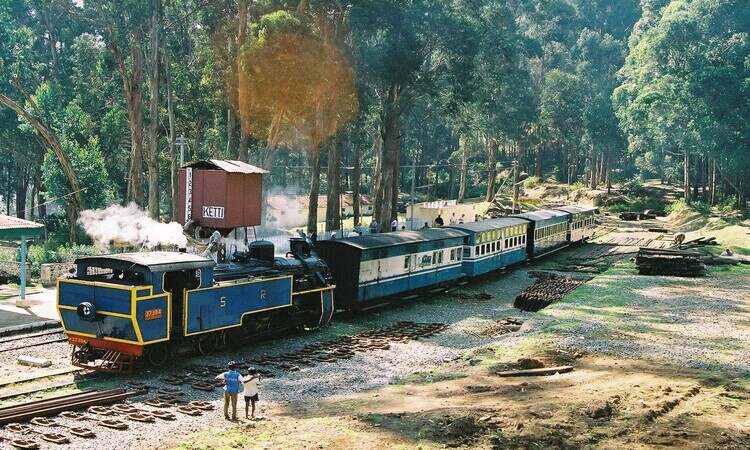 (Image Credit: Wikipedia)
It is the best way to get to Ooty from Mettupalyam and gives tourists an experience they will not likely find anywhere else. Along the way, you will pass through 16 tunnels, 250 beautiful bridges, and 208 steep curves covering an approximate total distance of 46 kilometres in 5 hours.
You are guaranteed a ride so enthralling that you will likely not even be thinking about reaching your destination. Additionally, the experience of ascending from an altitude of 300 to 7,200 meters above sea level is an experience to are not likely to ever forget.
Stroll Across The Botanical Gardens
Located on the slope of the well-known Doddabeta Peak, the well-organized and maintained Government Botanical Garden is home to over 650 species of trees and flowers. It is a perfect spot for photographers, sightseeing couples, and families to enjoy an idyllic day of natural beauty.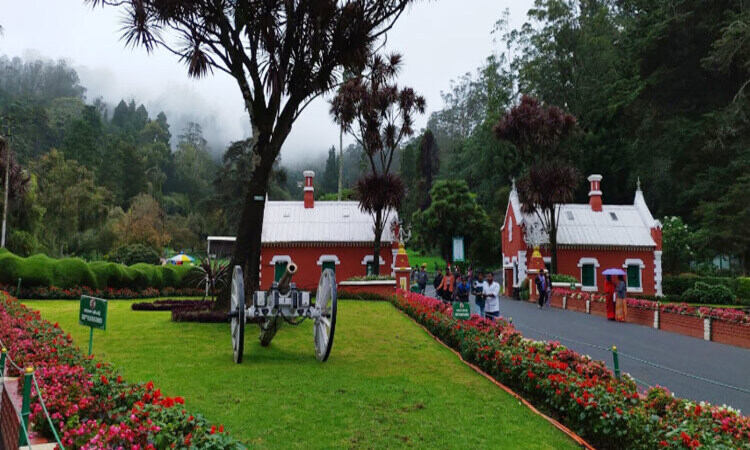 (Image Credit: Ooty Tourism)
The garden is divided into five sections namely the Lower Garden, New Garden, Italian Garden, The Conservatory, and The Nurseries which are spread across 55 hectares of land. It features a diverse array of spectacular lawns, manmade ponds with lilies, exotic woods, and more.
Another well-known attraction of the botanical garden is its flower show that takes place during Ooty's famous summer festival every year in May. The two-day affair that features a beautiful collection of flowering plants attracts hundreds of thousands of tourists every year. Be sure not to miss out on the marvellous festival if you are visiting Ooty.
Ride Across the Ooty Lake
A trip to Ooty would certainly not be complete without a ride across the magnificent Ooty Lake. Measuring around 65 acres, the lake is one of the main attractions of the hill station that allows visitors to enjoy serene evenings with loved ones in a peaceful and serene atmosphere.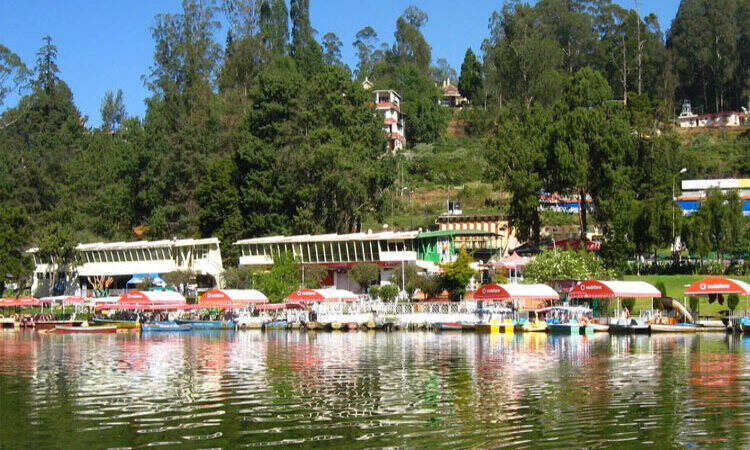 (Image Credit: Ooty Tourism)
And the experience is further enhanced by the mesmerizing ambiance provided by the lush green background of the trees of the Nilgiri Hills.
There are many options for boat rides available to you, including paddle boats, motor boats, and row boats. Other activities at the lake that are worth checking out include cycling, photography, and horse riding.
For the kids, there is a great amusement park along with a deer park. The amusement park offers many fun rides including a mini-train ride that will take the kids on a quick tour of the lake and the park. Overall, you can expect a fun-filled day with something for everyone in the family at Ooty Lake.
Trek To Doddabeta Peak
Picturesque beauty, lush greenery, and the romantic setting of the Nilgiris Mountains make for an unforgettable experience. A trek to Doddabeta Peak allows you not only to lose yourself in a magical setting but also offers several other activities to enjoy.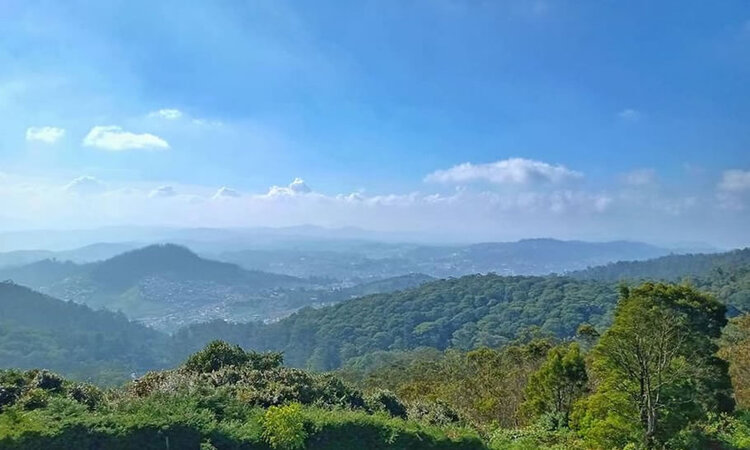 (Image Credit: Travel2ooty)
Situated conveniently between the Eastern and Western Ghats, and just 10 km from the heart of Ooty, the Doddabeta Peak is also an excellent sightseeing spot for families and couples. You will be able to immerse yourself in the oasis of the stunning beauty of surrounding areas that are encompassed by dense forests.
A hiker's haven perched at a height of 8,606 feet, Doddabeta Peak is the highest mountain in South India. Trekkers can expect a spectacular panoramic view at the summit upon completing the trek, which provides brisk activity and yet is suitable for all people. You will also be able to see the marvelous vistas of Karnatakas Bandipur National Park from here.
Mudumalai National Park Safari
Most would agree that a safari across Mudumalai National Park would be the highlight of a trip to Ooty. With the many twists and turns in the safari, there will be no shortage of things to do and see throughout the day.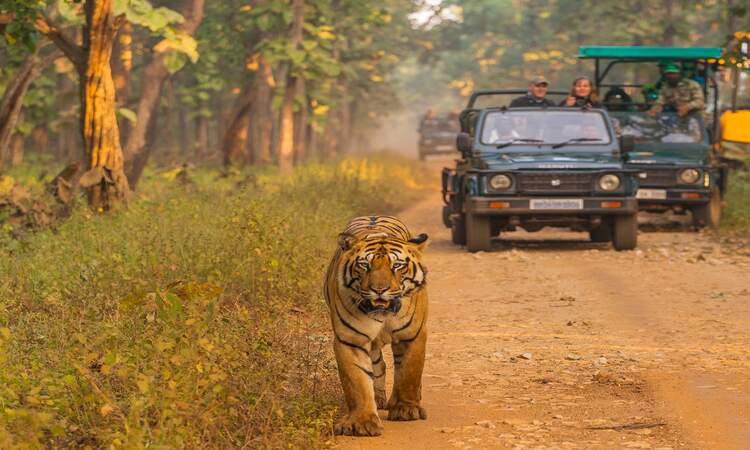 (Image Credit: Thrillophillia)
Visitors will have the choice of going on safari using a bus, jeep, or even on the elephant back. Another exciting option at Mudumalai National Park is to go on a nighttime safari. Whichever option you may choose you are guaranteed a wild and unforgettable ride.
The national park is home to more than 500 different species of wild animals including endangered animals of species such as reptiles, birds, mammals, etc. The park is particularly notable for its tiger population.
All-in-all a must-visit for wildlife enthusiasts, the Mudumalai National Park guarantees visitors the best safari experience to all tourists allowing them to get closer to nature.
Trains To Ooty (Nearest Railway Station - Coimbatore)
Conclusion
As the mercury rises so does our desire for a cool respite from the scorching summer heat. While most usually think of heading for Himalayan destinations such as Manali of Nainital during this time, South India does also offer its fair share of retreats to beat the heat.
Ooty with its strategic location between the Eastern and Western Ghats offers the perfect getaway this summer. And as we have seen there are plenty of exciting endeavours waiting for you in this scenic town in the Nilgiris, plus plenty more!