Silk has long been considered a luxurious and coveted fabric, known for its softness, smooth texture, and rich history. India, with its vibrant cultural heritage and diverse geographical landscapes, holds a significant place in the production of silk.
The country holds the impressive position of being the world's second-largest contributor to raw silk production, surpassed only by China. India is renowned for producing and exporting a wide variety of silk on the global stage.
In this article, we embark on a captivating journey through India's silk-producing regions, exploring the historical significance and beauty of the Silk Route.
Varanasi, Uttar Pradesh
The art of weaving thrives within the confines of households, with a significant number of Varanasi-based weavers belonging to the Momin Ansari Muslim community. Many Muslims in Varanasi are part of the Ansari community, which derives its name from the Arabic word for "helper."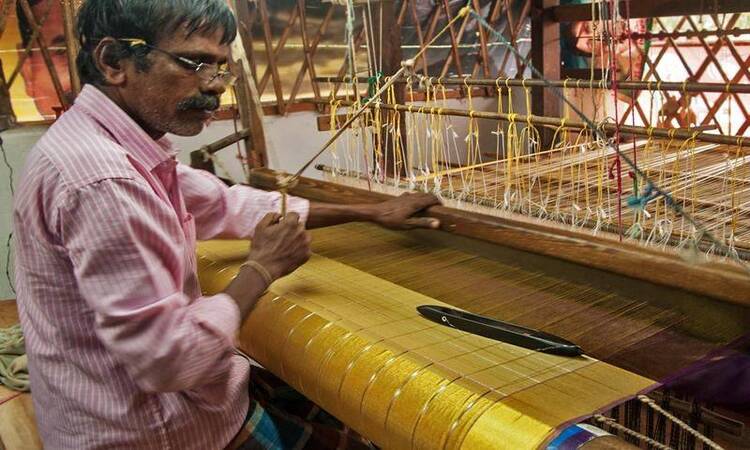 (Image Credit: Authindia)
For generations, they have meticulously handed down their craft from fathers to sons, skillfully weaving silk on traditional, foot-powered looms that occupy entire rooms. The exquisite result of their labour is embodied in the form of sarees, reserved for special occasions, and cherished by countless Indian women who dream of adorning a Varanasi silk saree on their wedding day.
Varanasi sarees are adorned with intricate designs and ornate zari work, making them highly sought after for traditional events and weddings. In the past, saree embroidery often featured threads of pure gold.
Getting Here
Mysore, Karnataka
Mysore, in the southern state of Karnataka, holds the title of the Silk Capital of South India. The Mysore silk sarees, characterized by their vibrant colours and delicate zari work, are sought after by silk enthusiasts worldwide.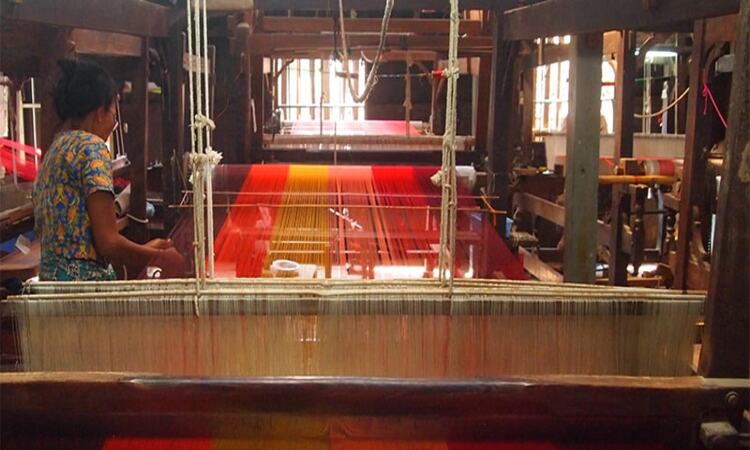 (Image Credit: Apparel Resources)
Mysore silk, a luxurious fabric, originates from the state of Karnataka, India, and is perfectly crafted by the Karnataka Silk Industries Corporation Limited (KSIC). With its establishment dating back to 1912, the credit for founding this renowned factory goes to Sri Nalvadi Krishnaraja Wodeyar, the illustrious Maharaja of Mysore.
Nestled in the heart of Mysore, the sprawling Mysore Silk Factory covers acres of land and serves as a prominent hub for silk weaving and the distribution of exquisite silk products.
Getting Here
Kanchipuram, Tamil Nadu
Kanchipuram, a temple town in Tamil Nadu, is synonymous with Kanchipuram silk sarees. Woven with pure silk threads and adorned with intricate designs inspired by temple architecture and nature, these sarees are a symbol of elegance and grace. A journey to Kanchipuram allows you to witness the skill of weavers and explore the temples that inspire their artistry.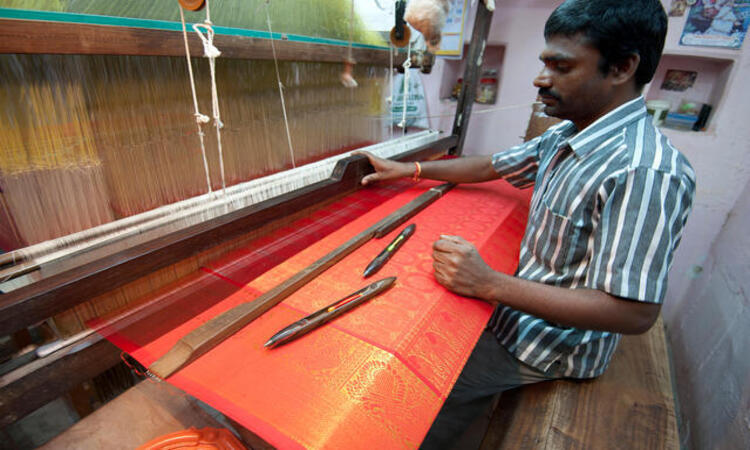 (Image Credit: Alamy)
The Kanchipuram silk saree, hailing from the Kanchipuram region in Tamil Nadu, India, is a beloved traditional attire for weddings and special occasions among women in Tamil Nadu, Kerala, Karnataka, and Andhra Pradesh.
Exquisitely crafted, these sarees are meticulously woven using the finest mulberry silk threads sourced from South India, accompanied by the shimmering touch of Zari. What sets the Kanchipuram saree apart is its striking borders that offer a captivating contrast. Drawing inspiration from South Indian temples, as well as the beauty of nature with its intricate depictions of leaves, birds, and animals, the patterns and designs adorning these sarees truly captivate the senses.
Getting Here (Nearest Railway Stations - Kanchipuram & Katpadi)
Sualkuchi, Assam
Sualkuchi, a quaint town in Assam, is often referred to as the Manchester of the East due to its thriving silk industry. The town specializes in the production of Muga silk, known for its golden hue and resilience. A visit to Sualkuchi offers a unique opportunity to witness the traditional looms at work and witness the magic of creating silk by hand.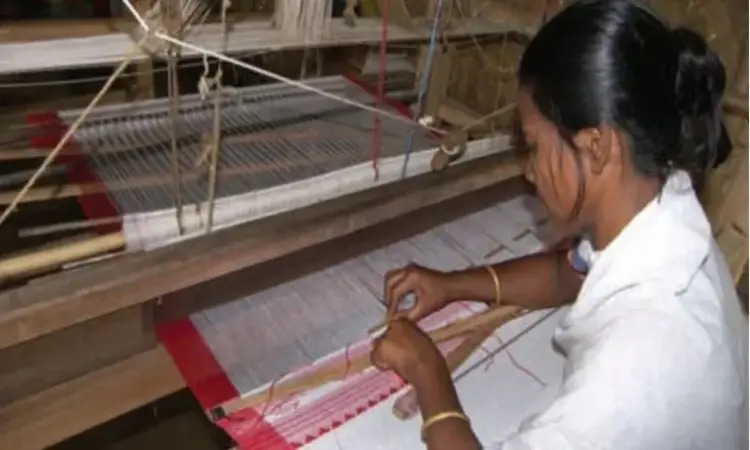 (Image Credit: Press Information Bureau)
Initially, Sualkuchi thrived as a "craft village" that nurtured various cottage industries, including handloom weaving, oil processing, pottery, and gold making. However, over time, all these industries, except for weaving, faded into obscurity. The art of weaving in Sualkuchi was primarily practised by the Tanti community until the 1930s. Subsequently, individuals from diverse communities also embraced silk weaving as a means of livelihood.
Getting Here (Nearest railway Station - Guwahati)
Bhagalpur, Bihar
Bhagalpur, situated in the eastern state of Bihar, is renowned as the Silk City of India. It is famous for its Tussar silk, which is prized for its natural golden sheen and durability. The artisans of Bhagalpur employ traditional techniques to create beautiful Tussar silk sarees and fabrics, reflecting the rich cultural heritage of the region.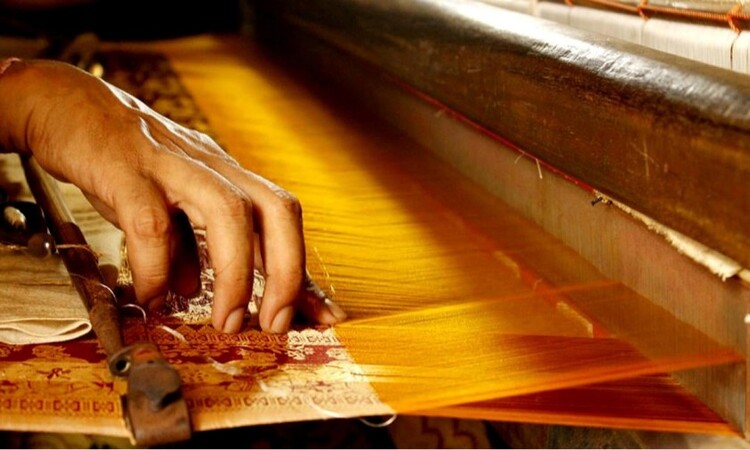 (Image Credit: Fashinza)
The history of Bhagalpur weavers stretches back over a century, with a rich tradition passed down through generations. These skilled craftsmen, numbering over 35,000 and working on 25,000 looms, are the backbone of the industry. With an annual trade value of around 100 crores, split evenly between domestic and export markets, Bhagalpur has long been renowned for its handloom textiles.
The exquisite silk fabrics produced in Bhagalpur have found their way to countries across the globe, from West Asia to Europe, the United States, and Japan. In particular, home furnishings made with this exclusive silk fabric have gained immense popularity in international markets. The unique designs and high-quality craftsmanship have made Bhagalpur silk a staple in ramp shows and fashion weeks.
Getting Here
Conclusion
Embarking on a journey through India's silk-producing regions allows us to witness the timeless beauty and cultural significance of this exquisite fabric. From Varanasi to Kanchipuram, each region has its unique weaving techniques, designs, and stories to tell. The Silk Route continues to enchant travellers and silk enthusiasts, providing a window into India's rich textile heritage.