India, renowned for its ancient deities, rich heritage, and age-old customs, is adorned with an abundance of temples and water bodies. These water bodies, accompanied by meticulously constructed steps known as "ghats," hold immense sanctity and serve as vital sources of water and sacred sanctuaries for devotees.
These architectural marvels often find themselves nestled beside sacred water bodies. The sacred waters of these sites have not only quenched the physical thirst of countless generations but have also provided a sanctified refuge for devout souls.
The "ghats," serve as the medium guiding individuals towards the serenity and purity that lie beyond, whether it be a humble pond or a grand river.
Har ki Pauri Ghat, Haridwar
The very name "Har Ki Pauri" evokes a sense of divine connection, as it translates to "Steps of Lord Shiva." Legend has it that both Lord Shiva and Lord Vishnu once graced the Brahmakund, a sacred spot within Har Ki Pauri.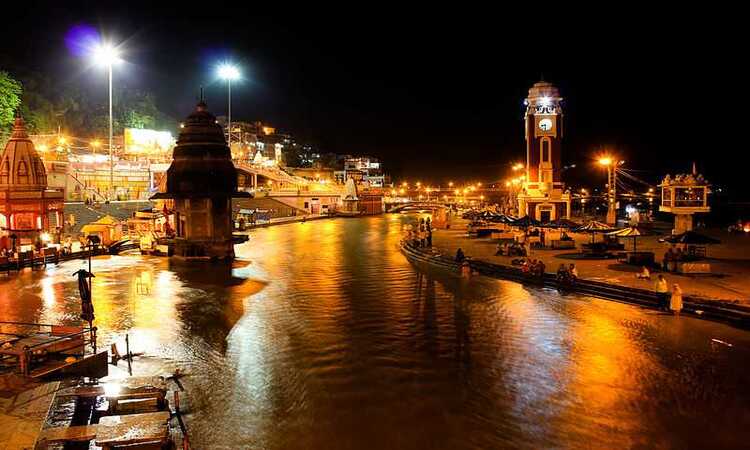 (Image Credit: Holidify)
The ghat stands at the precise point where the majestic Ganges flows forth from the majestic mountains and embraces the serene plains. Har Ki Pauri bears witness to a multitude of devotees seeking solace and spiritual purification by immersing themselves in the holy waters of the Ganges. The blissful spectacle unfolds each day, as the sun casts its radiant glow upon the devotees who flock to this sacred ghat.
However, the true allure of Har Ki Pauri reveals itself during the magical Evening Ganga Aarti. Prepare to be enthralled as you witness a mesmerizing symphony of devotion and faith. And, on the opposite side, devotees gather in silent reverence, their hearts filled with awe and gratitude.
Getting Here
Dashashwamedh Ghat, Varanasi
Dashashwamedh Ghat, situated on the banks of the Ganges near the revered Vishwanath Temple in Kashi, holds the distinction of being one of the oldest, most breathtaking, and most significant ghats. The name "Dashashwamedh" translates to the "Ghat of the Ten Sacrificed Horses," with "dash" denoting ten, "Ashawa" signifying horse, and "medh" representing sacrifice.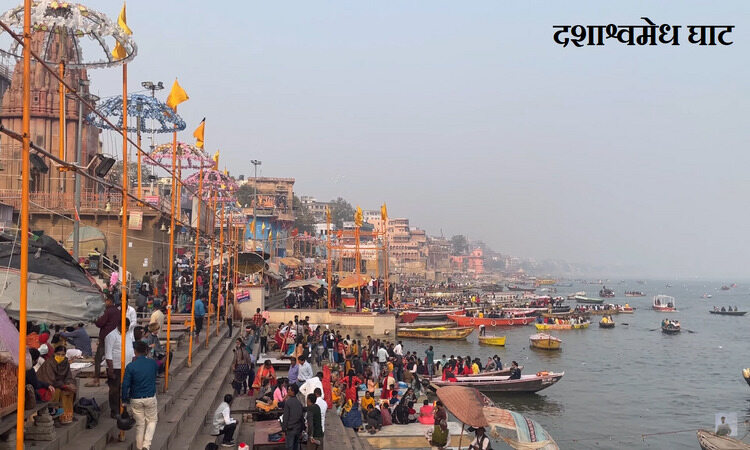 (Image Credit: www.varanasi.org.in)
Adorned with Hindu temples and sacred sites, the ghat has maintained its splendour over time. Pilgrims visit this revered place to partake in a variety of rituals and religious observances. The evening Ganga Aarti held at this ghat draws an enormous crowd from all corners of the city.
Getting Here
Sangam Ghat, Prayagraj
In the realm of India's most captivating and sacred ghats, one cannot overlook the resplendence of Sangam Ghat. Nestled in Prayagraj (Allahabad), Uttar Pradesh, this ghat holds a position of unparalleled sanctity not only within the boundaries of Prayagraj but throughout the entire nation.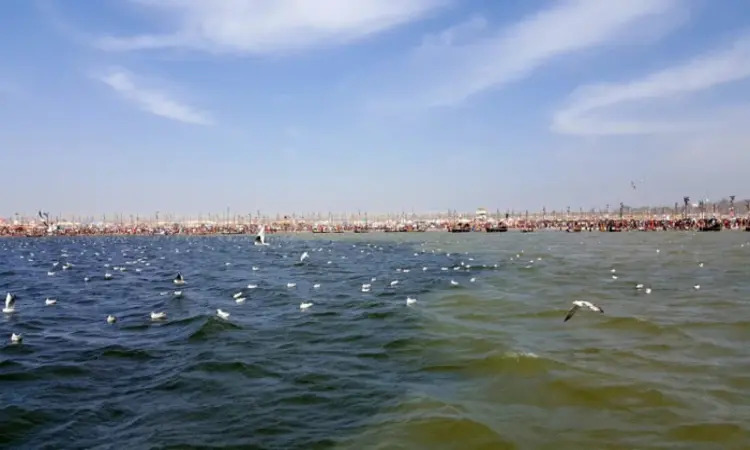 (Image Credit: Zee News)
Sangam Ghat derives its eminence from the majestic convergence of three hallowed rivers: Ganga, Yamuna, and Saraswati. Aptly named Triveni Sangam Ghat, it stands as a testament to the harmonious union of India's revered waterways. Every day, the ambience of Sangam Ghat teems with bustling activity, casting an enchanting spell upon all who visit.
However, it is during the grand celebration of the Kumbh Mela, hosted in Prayagraj, that the splendour of Triveni Sangam Ghat truly captivates the hearts of millions. As this sacred festival unfolds, countless locals and foreigners flock to the ghat, eager to partake in the ceremonial bathing rituals. The sight of the sun's descent at Sangam Ghat is nothing short of awe-inspiring, drawing a flow of tourists who gather in anticipation of witnessing its ethereal beauty.
Getting Here
Shipra Ghat, Ujjain
Ujjain, often referred to as Dev Bhoomi, holds great significance in the state of Madhya Pradesh and stands as one of the oldest cities in India, providing a glimpse into ancient times. Situated on the banks of the Shipra River, Ujjain is adorned with numerous beautiful ghats, among which Ramghat holds a special place.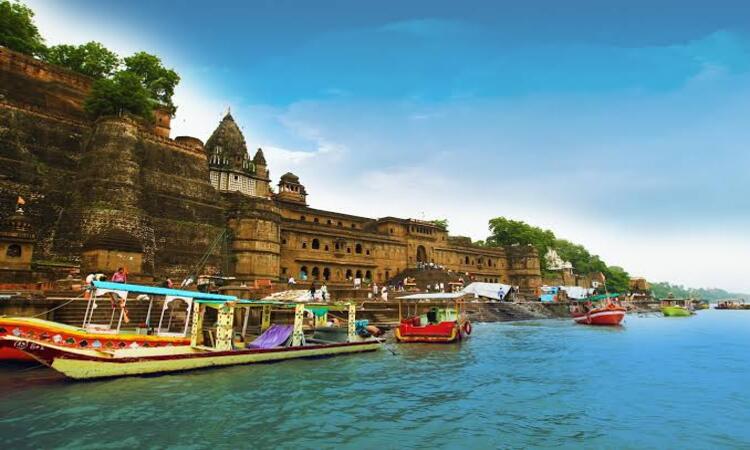 (Image Credit: Connecting Traveller)
The entire city of Ujjain is renowned as a revered pilgrimage destination, with its spiritual essence emanating from the ghats along the Shipra River. One of the most significant religious sites in Ujjain is the Jyotirlinga, a sacred shrine dedicated to Lord Shiva. This Jyotirlinga attracts devotees from far and wide, seeking divine blessings.
Every 12 years, Ujjain becomes the host of the Kumbh Mela, a grand gathering of people who converge at Ram Ghat on the banks of the Shipra River. During this auspicious event, pilgrims take holy dips in the river and engage in various religious rituals. The Ram Ghat itself is home to ancient and modern temples, which serve as focal points for daily worship and devotion.
Getting Here
Ramghat, Chitrakoot
Ramghat, located in the city of Chitrakoot, Uttar Pradesh, is an ancient and revered pilgrimage site with an important place in India's religious heritage. Its historical and spiritual importance can be traced back to the times of the Mahabharata and Ramayana, making it a site of immense reverence.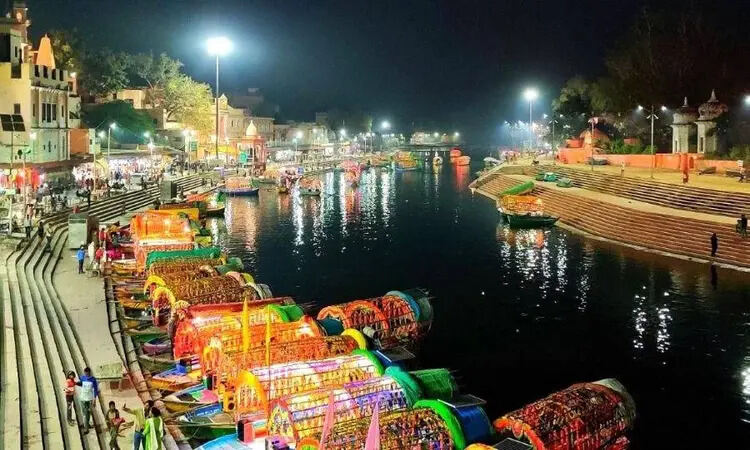 (Image Credit: Bundelkhand Explorer)
According to the Ramayana, a significant Hindu scripture, Ramghat in Chitrakoot is where Lord Shri Ram used to take holy baths during his exile in Chitrakoot. Surrounded by the serene waters of the Mandakini River, Ramghat offers a mesmerizing and tranquil environment for devotees and visitors.
What adds to the allure of Ramghat is the presence of several exquisite temples dedicated to Lord Shri Ram. These temples serve as focal points for devotion and worship, attracting devotees from all corners of the country. The atmosphere is filled with religious fervour and devotion, making Ramghat a highly revered and sacred pilgrimage destination in India.
Getting Here
Bhedaghat, Jabalpur
Bhedaghat, a spectacular ghat situated along the majestic Narmada River, showcases a remarkable display of magnificent marble rocks. Serenely positioned approximately 20 to 25 kilometres from the vibrant city of Jabalpur, this ghat is adorned with the graceful allure of the marble rocks, elevating its splendour to unparalleled heights.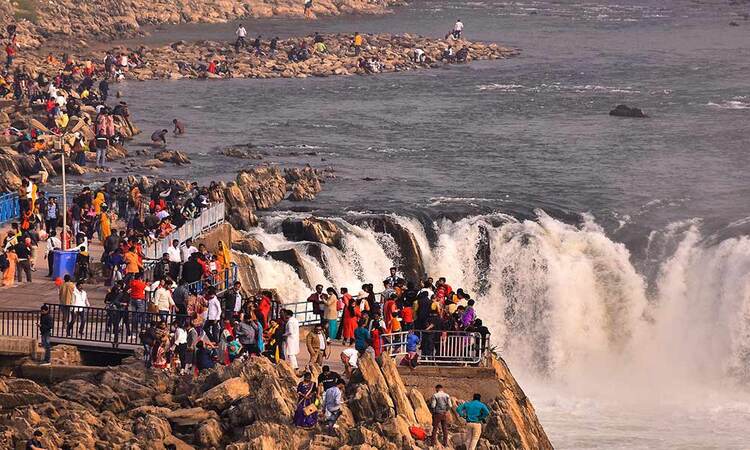 (Image Credit: Punjab Kesari)
As you traverse the scenic path along the Narmada River on a scorching summer day, a profound sense of enchantment washes over you, granting a glimpse into the sheer magnificence of Bhedaghat.
Getting Here
Narmada Ghat, Omkareshwar
The Narmada River, coursing through several states and cities, holds immense significance as one of India's most revered and renowned rivers. Its touch bestows upon the places it graces an ethereal beauty and an aura of sanctity. In the state of Madhya Pradesh, nestled amidst awe-inspiring hills and ghats, lies the town of Omkareshwar, a paradise for pilgrims and tourists alike.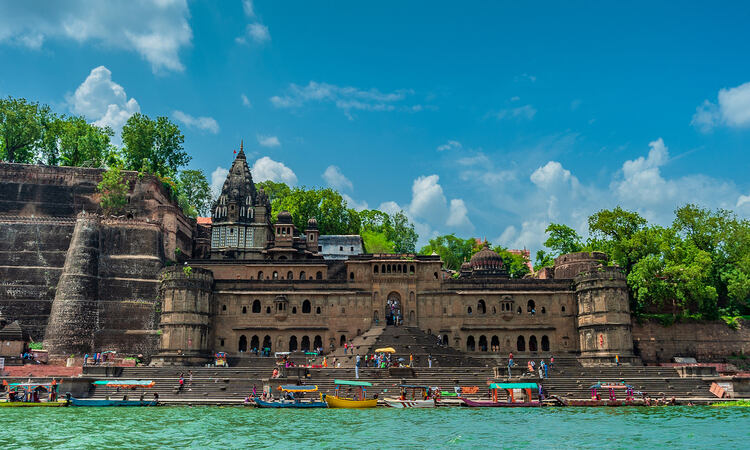 (Image Credit: Outlook India)
Omkareshwar, situated in the Khandwa district, beckons visitors with its idyllic charm, offering a remarkable blend of spirituality and natural splendour. The Narmada River Ghat in Omkareshwar stands as a testament to this unique allure, accentuated by its serene ambience and its proximity to the majestic mountains.
Not only does it captivate the hearts of Madhya Pradesh's residents, but it also entices travellers from all corners of the country, who seek solace and tranquillity within its hallowed confines.
Embarking on a boat ride during the evening hours presents a breathtaking panorama of Omkareshwar town, unravelling its hidden treasures. Getting Here (Nearest Railway Station - Khandwa)
Conclusion
The sacred ghats of India hold immense significance as revered destinations that seamlessly blend spirituality, natural beauty, and ancient traditions. These ghats serve as timeless symbols of India's spiritual heritage, offering devotees a sanctuary to seek solace, engage in sacred rituals, and experience a profound connection with the divine.
With their captivating beauty, sanctity, and cultural richness, these ghats have become cherished destinations for both religious devotees and adventurers eager to explore the spiritual and natural wonders of India.
Trainman, the IRCTC authorised partner that caters to 10 million+ train passengers, has been acquired by Adani Digital Labs. However, we will continue to provide the best ticket-booking experience like earlier. We respect your privacy and rest-assured that all your data is secured with us. Download the Trainman app, and avail all the services we offer.
Other than that, our users do not need to look anywhere else if they want to book flight tickets or bus tickets. We are now equipped as a one-stop solution for our customers.