The Jaynagar-Bijalpura-Bardibas cross-border rail line, linking India and Nepal, commenced its operations on Sunday, 16 July 2023.
Prakash Jwala, the Minister of Physical Infrastructure and Transport of Nepal, inaugurated the Kurtha-Bijalpura section of this significant cross-border railway line. The inauguration ceremony witnessed a distinguished gathering that includes Prasanna Srivastava, Deputy Chief of the Indian Embassy of Nepal, local leaders of Madhesh Pradesh, and government officials.
Covering a distance of 17.3 km, the Kurtha-Bijalpura rail line includes three stoppages: Pipradi, Loharpatti, and Singyahi. This stretch constitutes the second phase of the Jaynagar-Bardibas cross-border rail line project, which spans a total of 68.7 km and is being constructed with India's grant assistance of INR 783.83 crore, as mentioned in the press release.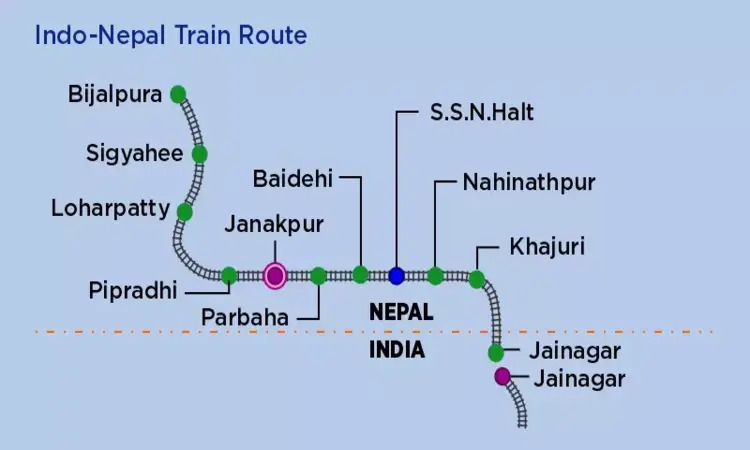 (Image Credit: RailMitra)
In April of the preceding year, the first phase of the railway project, which links Jaynagar and Kurtha, was officially inaugurated and has been in operation ever since. Currently, efforts are underway to acquire land for the third phase, which will ultimately connect Bijalpura to Bardibas.
Prime Minister of Nepal Puspakamal Dahal "Prachanda" visited India last month, during which the Kurtha-Bijalpura rail section was formally handed over to the Nepal Government, strengthening bilateral ties in transportation infrastructure.
The railway line will serve as a catalyst for improved connectivity between India and Nepal, offering tremendous potential to stimulate trade and tourism, ultimately contributing to the growth and development of Nepal's economy.
Ticket Price from Jaynagar to Kurtha
Indian Currency
For General Coaches (Indian Currency): NPR 56.25

For AC Coaches (Indian Currency): INR 281
Nepali Currency
For General Coaches: INR 90

For AC Coaches: INR 450
Booking Tickets for India-Nepal Rail
It is important to note that tickets for this particular railway network are only available offline. Online ticket booking through the IRCTC website for the Jaynagar-Kurtha route is not available. Passengers can easily book their tickets offline at Jaynagar Railway station or the en-route halts and stations. At the newly constructed platform of the railway network, a dedicated ticket booking service is available for passengers. A special reservation counter has been set up to facilitate enthusiastic travellers in booking their tickets.