Indian Railways is all set to launch their Make in India Smart Coaches having several new features. These newly formed coaches are equipped with contemporary state of the art technology. Around 100 such coaches are to be launched in the near future. Soon the Indian Railway's coaches will match the standards of smartness with the trains running across the world.
These trains will be equipped with modern technologies like Artificial Intelligence to enhance the security of passengers and improve train efficiency. First such state-of-the-art coach was unveiled at the Modern Coach Factory in Rae Barelli on Tuesday, and the railways plans to make 100 such trains as a pilot project. Called Smart Trains, these coaches will have sensors that can detect defects on bearings, wheels and railway track, giving authorities constant feedback. Early detection of these faults will enable railways to plan maintenance in advance, and avoid accidents, which will boost train efficiency. Besides, the modern infotainment system installed, it will enable you to locate train in real time. Artificial Intelligence -powered CCTVs would help officials keep a tab on any untoward incident. People will also be able to communicate with the railway staff regarding any assistance. Let's have a look at the smart features of these coaches:
Black Box:
These coaches are equipped with black boxes and coach information & diagnostic systems. This is the first time Railways has included the black box. The black boxes will have a powerful multi-dimensional communication interface to provide information on coach condition, queries related to passenger information on a real-time basis. The black box will act as a coach control unit with communication interfaces for:

Passenger Announcement/Information
GPS based announcement triggers
Emergency intercom for passengers
Digital destination boards
Train reservation display modules
CCTVs with remote monitoring

IOT based coach diagnostic system:
For the wheel, coach and track monitoring railways has implemented the IOT based system. The vibrating energy harvester based sensor monitors the condition of wheel, bearing and hard spots on the Track. The same is fed to the data concentrator and transmitted via GPS/GPRS to a remote server. The data can be used for diagnosis. This will provide the information in advance if the tracks they are about to run on are weak. The sensors in these coaches have energy harvester which means they will be charged by the jerks.

PICCU(Passenger information and coach computing unit):
The Central Processing Unit, known as 'PICCU' (Passenger Information and Coach Computing Unit), an industrial grade computer has been provided with GSM network and will primarily monitor the important area of coach maintenance and passenger interface. The passenger information system will inform the passengers about the current location of the train and also the expected time of arrival at the next station. This system can also show the speed of the train, the statement said. Arun Arora, Principal CME, Railways, said: "This is an age of the smart device. From mobile phones to music systems, everything is smart these days. We have tried to leverage on this technology. We hope to soon install it in the Kaifiyat Express.

Surveillance and Security:
6 cameras fitted on the coach give live recording. With PICCU, footage can be accessed from control centre itself. CCTV with artificial intelligence capability will enhance the security of the passengers and also monitor the behaviour and activities of on board railway staff. "The footage will also help in an investigation into any untoward incident during the journey and identifying the culprits and indirect intervention from a remote control centre," the ministry said. The coach is also provided with the emergency talk back system for communication between the passengers (especially woman and child) and the guard of the train so that necessary assistance can be provided. It also has Wi-Fi hotspot information system.

Water Level Indicator:
Smart coaches are also laden with WLI or Water Level Indicator technology. It will tell if the water in the coach is sufficient or not and when it needs to be filled. SMS shall be sent to the next watering station when the water level falls below half. This can be programmed at the base monitoring unit. For one of these smart coaches, railways have to pay Rs 15 Lakh.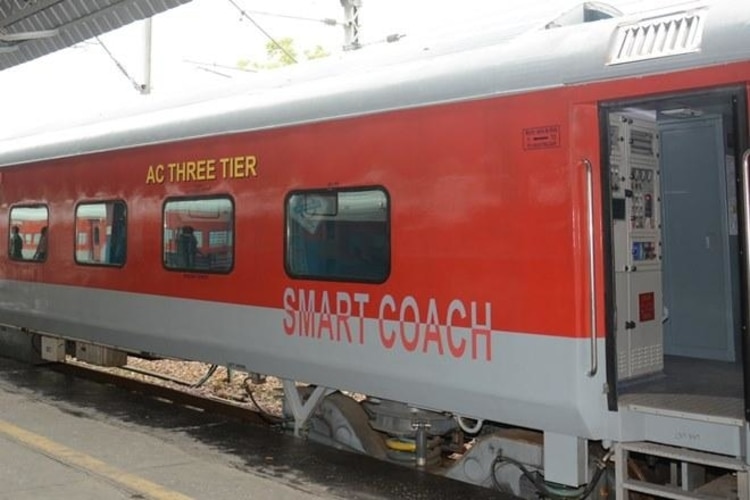 Also further improvements have been planned in the Version 2.0 of these coaches such as:
HEPA Clogged filter indicator, Air quality index particulate pollution PM 10, PM 2.5CO2, SO2 level monitoring, Electrostatic filter, UV filter, Power consumption compressor, Cycle monitoring, Fresh air monitoring.
Video analytics with face detection feature & unusual occurrence feature.Fire and smoke detection unit with integration to PICCU, PA/PIS system for emergency evacuation.
Energy metering module to measure the energy consumption of coach.
Logging of passenger's need/complaint.
Rajesh Agarwal, General Manager, Modern Coach Factory, said, "Basically, we made this coach intelligent, which means we turn it into a coach that can sense passengers' requirements, react according to that. Similarly, this coach will alert authorities on maintenance, safety and security front too. This infotainment system will not only provide analytics-based passenger information, entertainment facilities like Wi-Fi but will also keep air conditioning and water levels at a check." These smart features definitely will shift Indian Railways a step forward. They are going to provide a lot of superior facilities in reach of the common people. Do you know you can check PNR Status on Trainman app. Not only this, you can also book train ticket through this app. Just download the app and experience such smart coaches when you travel next.