In order to ensure connectivity to the people living in smaller towns, Indian Railways is introducing 10 Sewa service train from today, October 15, 2019. The Union Railway Minister, Piyush Goyal is going to flag off Delhi-Shamli daily passenger train from New Delhi (NDLS) today. Rest other trains will be flagged off by him through video conferencing. Tamil Nadu is going to be the biggest beneficiary as three trains out of ten Sewa express trains will run under the Southern Railways division.
The main aim behind launching the Sewa express trains is to create connectivity between small towns and important cities. Out of the total 10 trains, six of them will run on a daily basis and remaining will be running six days a week. With effect from October 15, 2019, the trains which will run daily are 51917 Delhi Shamli Passenger (Unreserved) is expected to depart from Delhi at 8:40 AM and will reach its destination station Shamli at 11:50 AM. Another train, 18423 Bhubaneshwar Nayagarh will depart from Bhubaneshwar at 6:40 PM and will arrive Nayagarh at 8:45 PM. In addition to this, Train 55606 Murkongselek Dibrugarh Passenger (Unreserved) will depart from Murkongselek at 8:45 AM and will reach Dibrugarh at 12:15 PM. Train 76802 Karur-Salem will depart from Karur at 11:40 AM and will arrive at its destination station Salem at 1:25 PM. Along with this, there are two more trains which are going to run on a daily basis between Kota-Jhalawar City and Coimbatore-Palani corridor.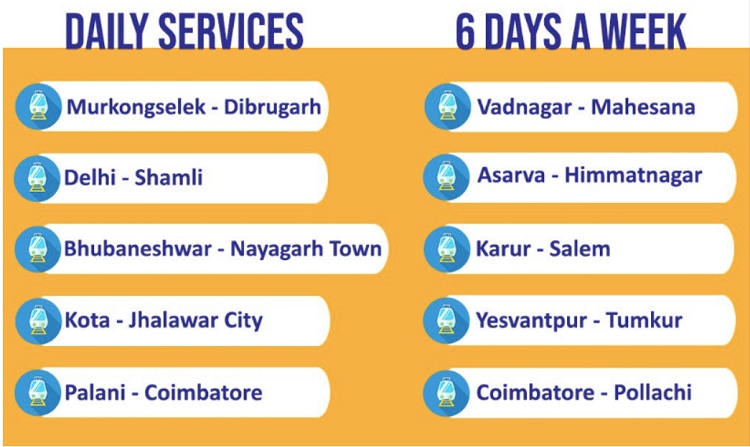 Besides this, train which will be running six days a week is, 76527 Yesvantpur Tumkur DEMU that will depart from Yesvantpur at 7:50 PM and will reach Tumkur at 9:25 PM. Train 79402 Himmatnagar Asarva DEMU will start from its source station Himmatnagar at 6:00 AM and will arrive Asarva at 8:20 AM. Train 79405 Mahasena Vadnagar DEMU will depart from Mahasena at 8:50 AM and is expected to reach its destination station, Vadnagar at 10:20 AM. Apart from this, a Sewa express train will also be running on Coimbatore-Pollachi route.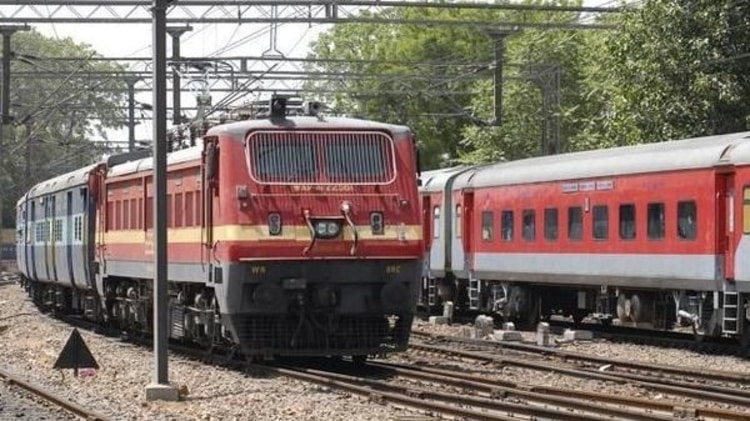 Know what are DEMU trains?
DEMU (Diesel Electric Multiple Unit) trains are run by the Ministry of Railways in smaller towns. Such trains are powered by on-board diesel engines. A diesel multiple unit (DMU) is further classified into three types, diesel-electric (DEMU), diesel-mechanical (DMMU), and diesel-hydraulic (DHMU). These trains do not need a separate locomotive to run as engines are subsumed in more than one carriage.
Do you think these trains will prove to be a boon for the daily passengers who travel from Bengaluru, Coimbatore and Delhi? Let us know your views in the comments below. For your one-stop solution, book your train and flight tickets through Trainman app. Download the Trainman App (IRCTC Official Partner) and check PNR Status of your booked ticket, Seat Availability, train between station and a lot more spellbound features.