After seeing the successful run of the first private train 82501 Lucknow Jn. New Delhi IRCTC Tejas Express, Indian Railways has launched the second premium Tejas express train on Mumbai-Ahmedabad route. The commercial run of train 82901 Mumbai Central Ahmedabad IRCTC Tejas Express started from January 19, 2020. Passengers can now book their tickets online in the semi-high speed train, 82901 Mumbai Central Ahmedabad IRCTC Tejas Express and 82902 Ahmedabad Mumbai Central IRCTC Tejas Express. The booking in the Tejas express cannot be done from the PRS counters.
It is the second train that is completely operated by IRCTC (Indian Railways Catering and Tourism Corporation). The train is equipped with all modern facilities onboard to ensure a comfortable journey to the passengers. Tejas Express is a fully air-conditioned train consisting of two executive class coaches with 56 seats in each coach and eight ac chair car coaches with 78 seats in each coach. It can accommodate a total of 736 passengers. Besides this, each seat in the train is furnished with reading lights, mobile charging sockets, CCTV cameras, bio-toilets, LED TV sets and automatic doors.
Ticket Fare
The ticket price of 82901 Mumbai Central Ahmedabad IRCTC Tejas Express is Rs 2,409 for executive chair car and Rs 1,583 for ac chair car. On the reverse journey, ticket fare of train 82902 Ahmedabad Mumbai Central IRCTC Tejas Express is Rs 2,419 for executive chair car and Rs 1,415 for ac chair car. The ticket fare of Tejas Express is inclusive of the catering charges. Since Tejas Express is a premium train, the ticket prices are subjected to vary as it is operated under Flexi-fare scheme. Passengers can also do current booking in train after the first chart preparation which usually takes place 4 hours before the scheduled departure of train.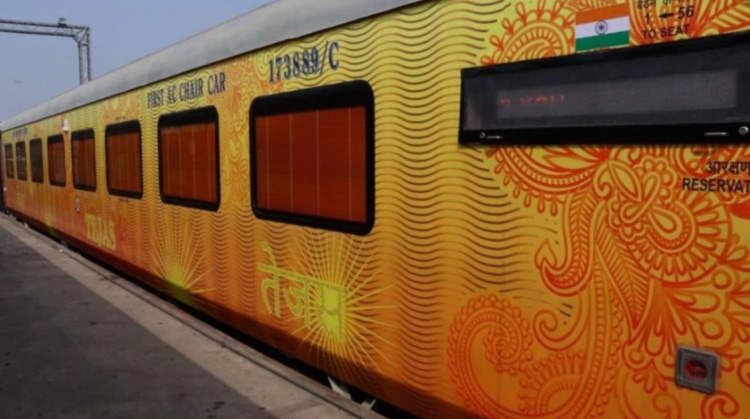 Train time-table
This train starts from Mumbai Central (MMCT) at 15:40 and reaches its destination station, Ahmedabad (ADI) at 21:55. On its way back, it leaves from its source station Ahmedabad (ADI) at 06:40 and reaches Mumbai Central (MMCT) at 13:10. It runs on all days of the week except Thursday. Passengers can book their tickets in this Tejas train a maximum of 60 days in advance.
Train 82901 Mumbai Central Ahmedabad IRCTC Tejas Express is the fastest train between Mumbai to Ahmedabad and covers a distance of 493 km in 6 hours and 15 minutes with six commercial stoppages at Borivali, Vapi, Surat, Bharuch, Vadodara and Nadiad. If we compare it with other premium trains then train 12267 Mumbai Central Rajkot AC Duronto Express covers the same distance in 6 hours 30 minutes.
Quota
Tatkal and premium tatkal quota is not applicable in the Tejas Express train. It only has general and foreign tourist quota. Foreign tourist quota incorporates six seats in executive class (EC) and twelve seats in ac chair car (CC).
Concession
Passengers in Tejas Express are not eligible for concessions on the ticket fares. Children under five years of age are exempted from the fare and they are only allowed to board the train with their parent/guardian.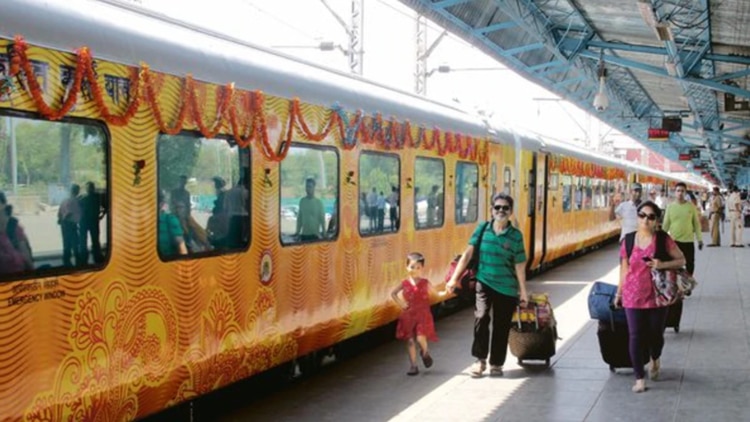 Train Delay
IRCTC will also pay compensation to its travellers in case of train delay. If the train is delayed by more than an hour then compensation of Rs 100 is paid to the passengers. If the train is delayed for more than two hours then passengers are going to get Rs 250 as the compensation fee. To claim compensation, travellers need to fill a claim form either online or by calling toll free number with the insurance company. Passengers would need to give details like PNR number, train delay (in hours) and bank account details when calling after which insurance company will transfer compensation amount to respective bank account.
Cancellation norms
The cancellation rules of Tejas Express differ from other trains.
If the ticket remains in fully waitlisted or partially waitlisted after the chart preparation then full refund is granted to the passengers.

In the case of train cancellation, full refund is granted to the confirmed as well as waitlisted passengers. In such a situation, travellers do not need to cancel the ticket or file TDR.
Key Features
Let us now have a look at the staggering features of this train.
Passengers onboard are provided infotainment services. In addition to this, good quality food and beverages are offered to travellers. Regional delicacies from local and ethnic cuisines would also be introduced by IRCTC.

Apart from serving the packaged drinking water bottle, each coach has an RO water filter from where travellers can refill the water bottles.

Free rail travel insurance of up to Rs 25 lakh is given to the passengers which include exclusive coverage of Rs 1 lakh against robbery or theft during the travel.
Aren't you excited to travel in the second private train that is run and managed by IRCTC? Book your tickets now through Trainman app. Download Trainman App to check PNR Status of your ticket, Train between station, Running Status and many such features.