From now onwards, millions of passengers will be easily able to access data and information related to Indian Railways and get details of freight trains and passenger trains as well as rail time tables. People would also to be able to see live feeds of different railway kitchens spread across the nation, with regular complaints regarding the quality of food served on trains. The dashboard has also been linked to the base kitchens of the Indian Rail Catering and Tourism Corporation (IRCTC) to allow monitoring of the goings-on in IRCTC kitchens through live video and other services provided by the newly introduced website of Rail Drishti Dashboard. Passengers would now be able to get to watch the live feed of how their food is being cooked and packed at railway kitchens on the online dashboard, which was introduced by Railway Minister Piyush Goyal on Monday. The portal, Rail Drishti, will likewise have data about the movement of trains, cargo and passenger earnings, stations and tickets.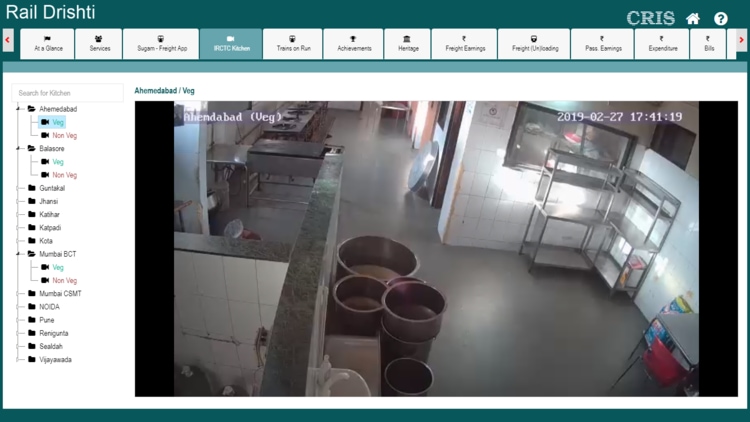 The site is easy to use and people can intently watch the state of various facilities and lodge complaints on the portals. The portal can be accessed through desktop, laptop, mobile phones or tablets. PNR enquiry, the status of Mail/Express trains or any real-time data about Indian Railways is now accessible at the click of a button on a newly launched digital portal –raildrishti.cris.org.in. In addition, data on passenger reservation, unreserved ticketing, freight earnings and so many more can likewise be accessed to through the portal, which has been developed by the Center for Railway Information Systems (CRIS). We have rounded up some of the features of the portal below-
Freight earnings- This segment shows income of Freight across the Indian Railways Network. Income can be seen for a day, for a week, for a month and for a year alongside the zones and commodity wise breakup. Performance of nine noteworthy freight commodities has been made accessible.

Freight Loading/Unloading- Number of rakes and amount of freight loaded and unloaded in a week, in a month and in a year alongside their zones and commodity wise breakup is given.

Passenger Earnings- This area indicates earnings of Passenger Reservations and Unreserved Ticketing. Number of passengers, tickets, and income can be seen. Further, in Unreserved Ticketing the performance of rural, urban and mobile bookings can be seen.

Expenditure- Details of the expenditure and works by the Indian Railways can be seen. Figures of four unique periods are shown - execution amid the day, amid the week, amid the month and for the year.

Sugam- The Freight App- This tab offers access to Indian Railways freight business data. It enables customer to monitor their consignment. It gives data on different terminals and related nodal officers, indents status, prevailing freight rates, rake allocation plans, resrictions applicable and so on. Freight performance and different statististics are likewise accessible on the tab.

At A Glance- Under this section, users will be able to access Passenger Reservation, Unreserved Ticketing, Freight Earnings and Freight Loading data. Likewise, information about any station on Indian Railways can be seen in this tab also.

Services- Passengers would now be able to view and avail the status of any digital service offered by the Railways specifically, PNR enquiry, ODC application enquiry, Complaint Enquiry, Tender Enquiry, Shramik Enquiry and Freight related enquiries. For resident's benefit, links to eight essential railway sites are also available here.

Trains On Run- Passengers would now be able to track any train on the Indian Railways Network. They will likewise be able to get data about the train as well as the contact numbers of the housekeeping staff. Filters are available to view specific trains.

IRCTC Kitchens- You would now be able to ensure whether the food made in IRCTC kitchens is hygienic. The dashboard provides the facility to see live feeds from the cameras installed in different IRCTC base kitchens. Travelers can see how the food being served to them in trains is being cooked and packed in real time.

Complaints- This area will show the status of grievances reported through the Complaint Management System (COMS). It will likewise show the number of complaints resolved and pending.
This is all for now. Let's hope the newly launched portal reaches new heights and proves to bring whole lot of transparency. Download the Trainman App, to check train seat availability or running status of any train and much more.