Indian Railways coach manufacturing unit - the Rail Coach Factory (RCF) Kapurthala has rolled out a semi high-speed double-decker coach that can run at a top speed of up to 160 kilometres per hour (kmph). As soon as these coaches get approval from the Research Design and Standards Organisation (RDSO) it will be operated in the busiest routes of Indian Railways.
Before putting these double-decker coaches into the commercial service, it will be sent to the RDSO (Research Design and Standards Organisation) Lucknow for further oscillation trials. Let us know have a look at the key features of the semi high-speed double-decker coach with 160 kmph speed potential.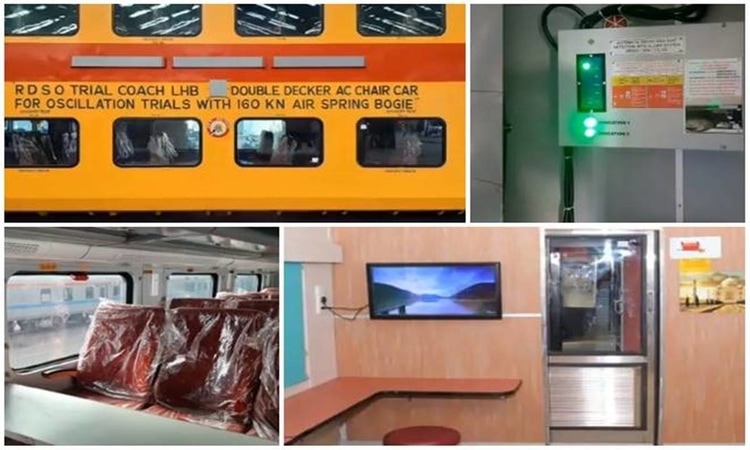 Suspension System
The new double-decker coach is fitted with state of the art air spring suspension system on the advanced design of the bogies.
Seating Capacity
The newly developed double-decker coach has a capacity of 120 seats. The upper deck of the coach can accommodate as many as 50 passengers, while the lower deck of the coach has the capacity of 48 passengers. The middle deck of the coach on the rear ends has 16 seats on one side and 6 seats on the other end.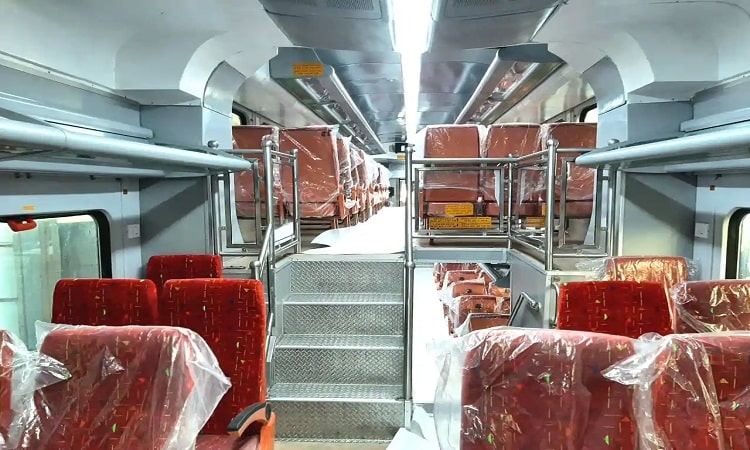 Other Amenities
The double-decker coach has been provided with an optimized aisle width for a comfortable journey, overhead luggage rack, plush interiors, laptop and mobile charging sockets, LED destination board, GPS-based passenger information system among other passenger-centric features.
These coaches are furnished with automatic sliding doors. In each coach, a mini pantry has also been built to store and serve chilled or hot refreshments to passengers. Additionally fire and smoke detection systems, as well as CCTV cameras, have been installed for the safety and security of onboard passengers.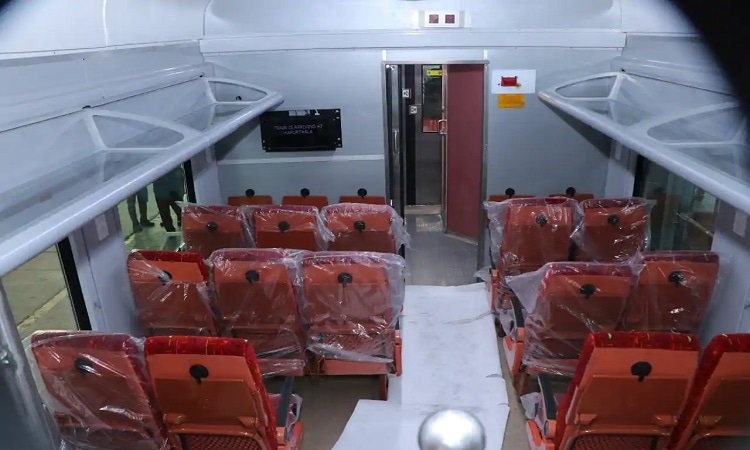 About Rail Coach Factory (RCF)
RCF is the one and only Indian Railways production unit in the country which has produced double-decker coaches for the national transporter. It produced non-ac double-decker coaches on conventional ICF-design pattern in 1990. It has also produced the first ac double-decker coach in March 2010 that has a speed potential of 130kmph. Later in March 2019, the RCF produced 'UDAY Express' double-decker coaches with more features.
That's all for today! Keep reading the Trainman blog to know the latest news on railways and COVID-19 virus. For an easy-peasy experience, book your train tickets through the Trainman app. Download the Trainman App to check PNR Status of the booked ticket, Running Status of special trains, Train between stations and many such spellbound features.