Kalka-Shimla route comes under the category of most beautiful rail routes of India. What if you get to enjoy the beautiful ride through the mountains inside a luxury coach? Yes, you heard it right. Now you will be able to enjoy the luxurious ride at more affordable costs.
In order to boost tourism on Kalka - Shimla Rail section, Northern Railway zone introduced chartering of individual seats in Jharoka, RA-100 self-propelled train coach and Rail Motor Car during summer season from 13th June, 2019 to 10th September 2019. Now the passengers can book tickets in these coaches and trains on a chartered seat basis. Presently the facility of booking of Jharokha, RA-100 self-propelled coach and Rail Motor Car is available on a full charter basis.
The Ambala division will run a self-propelled RA-100, Jharokha (CT/14) and Rail Motor Car (RMC) on the concept of allocating an individual seat. In the earlier system, tourists had to book an entire coach which was termed a lot unaffordable by the tourists. Those who are interested can book tickets on chartered seat basis from booking counters at Kalka and Shimla railway stations.
According to a press release issued by Indian Railways, in RA-100 self-propelled coach and Jharokha coach, at most eight passengers can book their tickets. While in Rail Motor Car 12 to 14 passengers can book their tickets. All these services will be operated on a demand basis. Therefore, the services will be available when at least six passengers have booked tickets for RA-100 and Jharokha. In case of Rail Motor Car, only after eight passengers have purchased the ticket, the service is made available within two hours.
However, the tickets once purchased cannot be refunded. However, in case of RA-100, Jharokha, if at least six passengers and in case of Rail Motor Car, eight passengers are not available, then railway cannot provide the service and the full fare shall be refunded from ticket counters at Kalka and Shimla railway stations.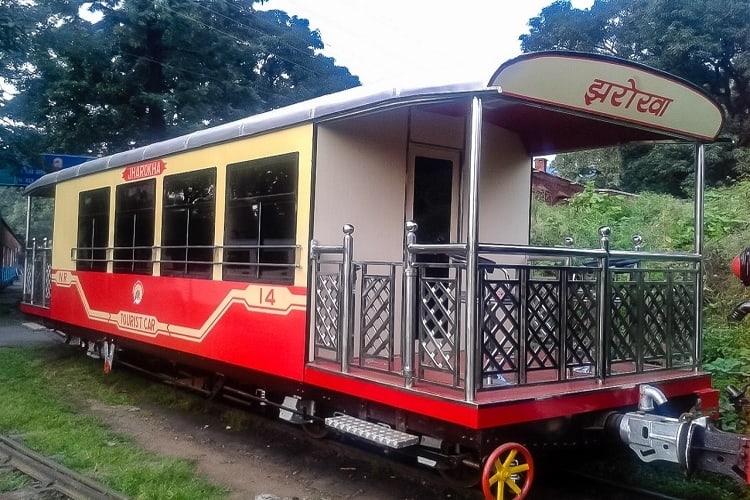 Revised Fares and Timings for Kalka-Shimla rail charter services:
As per the fare structure, total fare of Rs 2,200 is charged for an individual seat in RA-100 and Rs 1,600 is charged for RMC. While a total sum of Rs 3,500 per passenger is charged for Jharokha. As per the timings, for RA-100 and RMC, no services will be available after 1:00 PM from Shimla and Kalka railway stations and en route, it will halt at Barog. The Jharokha service will be available at 8:15 AM with UP Mix passenger train and 8:15 AM with DN Mix passenger and will halt at all stoppages as per UP and DN Mix passenger train, the press release stated. Earlier, the charges for Jharokha coach (round trip for a group of eight passengers) used to be Rs.29,000 and for the Rail Motor Car (round trip for a group of eight passengers) used to be Rs.36,000. Seeing these fares, the revised fares will surely lead to a boost in tourism in Kalka-Shimla section.
Proposed fare of RA-100, Jharokha, and Rail Motor Car: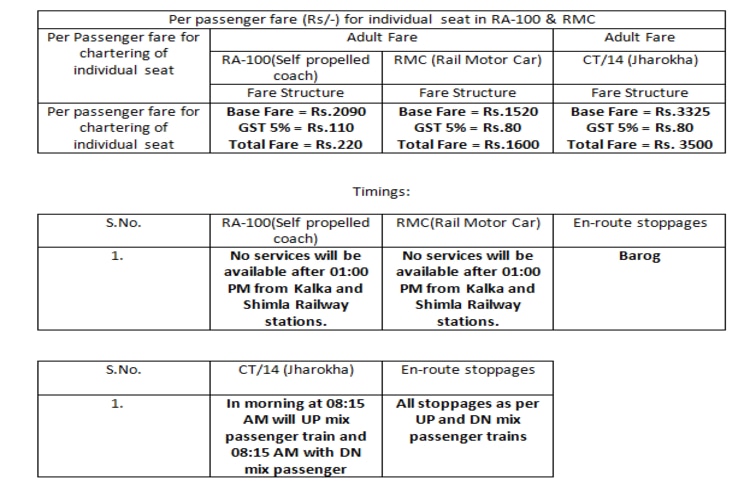 The railway tickets purchased by passengers for these services are not transferable. At the time of booking, passengers will have to provide original ID proof, a copy of which will be submitted at the time of booking. If the passenger fails to provide the same during the journey, he/she will be treated as without ticket and will be charged as per the rules. In case of advance booking, passengers will be confirmed one day in advance and these services will only run subject to the availability of stock. In case, say for example on a particular date, Jharokha is booked in advance so on that date due to non-availability, the service shall not be available on seat displacement basis. As per the child policy, a child above five years of age would be treated as an adult fare. While a child below five years would be able to travel free of cost but no seat would be given.
The five and half hour journey on a Narrow Gauge Line from Kalka to Shimla takes one through 102 tunnels, many arch bridges and several picturesque stations like Koti, Dharampur, Barog, Salogra, Kandaghat, Tara Devi, etc. The luxury options such as Jharokha, RA-100, and Rail Motor Car have special features different from normal trains that ply on that route.
The self-propelled RA-100 is an air-conditioned coach equipped with modular kitchen, attendant and crockery which will make tourists feel like home on wheels.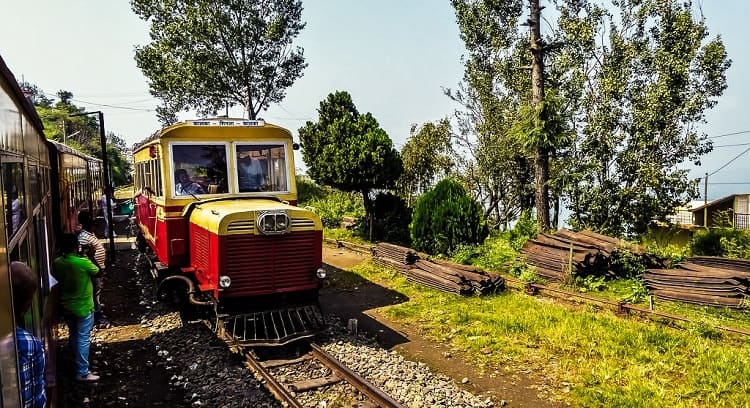 Jharokha (CT-14) is an air-conditioned coach with a plush interior and environment-friendly exterior. There are balconies on both sides, with seating arrangements. The balcony at both ends of the coach has a seating capacity of 4 passengers.
Rail Motor car is beautifully designed with decorated tube light fittings, transparent fiberglass roof and designed cushioned chairs. The ambience of the Rail Motor is comfortable and pleasing and assures a memorable journey to its passengers.
This effort by railways will surely enhance tourism in the state of Himachal Pradesh. The Kalka-Shimla Railway is a perfect engineering marvel that offers a breathtaking journey through the Himalayan mountains. This railway was built in 1898 to connect Shimla, the summer capital of India during the British Raj, with the rest of the Indian rail system. The train covers 96 kilometers and climbs more than 4,800 feet!!
With 109 tunnels, 969 bridges, 919 curves and crossing 20 railway stations, the Kalka Shimla railways is an engineering masterpiece. If you haven't yet visited this alluring place then, book your tickets through Trainman app. Download the Trainman App and check the Running Status of the train, PNR Status of the booked ticket, train inquiry and much more.