Train number 17411 Mumbai Kolhapur Mahalaxmi Express with 700 travellers on board were left stranded on Saturday morning after travelling only for a distance of 60 kilometers due to incessant rains which have resulted in bursting of river banks. The train was on hold between Badlapur and Vangani in Maharashtra since 3 am on Saturday morning.
As per the media reports, it said that around 2000 passengers have been stranded. But Central Railway officer confirmed that the total number of people who were on the train is 700. The train was stuck around 12 hours in Thane district. Helicopters and boats are deployed on the rescue operations in Mumbai. The pregnant women who were on board were also rescued with utmost care and taken to a nearby hospital.
Ministry of Railways reported that train was emptied in around five hours. The Central Railways also tried to tow train out of tracks but due to the flooding of rail tracks, it could not happen. Rescue operations are carried out by National Disaster Response Force (NDRF) team to save passengers. Around 8 flood rescue teams of Navy are a part of this operation.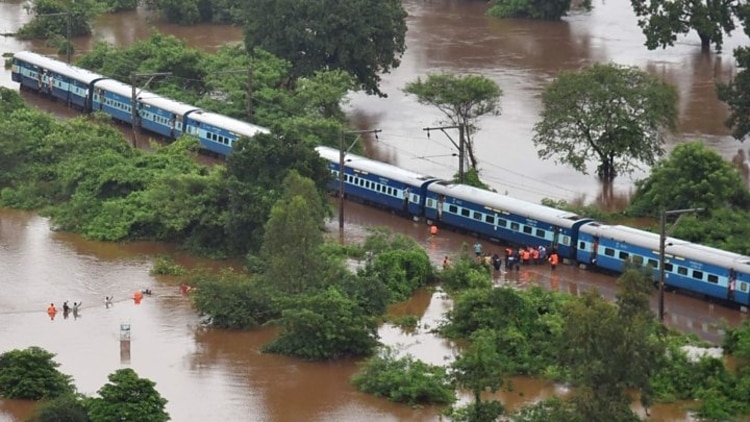 Till now, 700 travellers are rescued from Mumbai Kolhapur Mahalaxmi Express train. Passengers have been taken in 1.5km from the site. Medical, food and water aids have been arranged for the people who have been rescued. Ambulance and 37 doctors were sent to provide medical facilities to travellers. A spokesman also stated that a 'special relief train' will take people on their journey.
Devendra Fadnavis, Chief Minister of Maharashtra has ordered chief secretary to carry out the rescue operations at Vangani. The number of teams that have been deployed in this process is 7 Navy teams, 2 Indian Air Force helicopters, 2 military columns, and other local administrations.
Book your train tickets through Trainman app. Download Trainman App and check PNR Status of the booked ticket, Seat Availability, Running Status for your train, and much more.