Delhi's iconic Mughal Garden has now opened its door for visitors. The garden is open for public viewing from February 5 to March 8 2020. The chief attraction of this year's "Udyanotsav" beside tulips and exotic flowers are bulbous flowers. Mughal Gardens are located in the Rashtrapati Bhavan complex. It constitutes both Mughal and English landscaping styles. Over 250 varieties of roses and more than 100 types of bougainvillaea are found in the garden. Thus, known as one of the best Rose Gardens in the world. The President Estate's heart (Mughal Gardens) will be exclusively open for farmers, differently-abled persons, defence, paramilitary forces, and Delhi police personnel on March 11, 2020. Let us delve deeper and know more about the best flower exhibit in town.
In 2020, the dominant colour scheme of the flowers is white, yellow, red and orange. In addition to this, small cactus plants, air-purifying plants and succulents are also showcased in the garden.
How to reach
The nearest metro station for Mughal Gardens is the Central Secretariat. You can board either yellow line or violet line metro and get down at Central Secretariat. After that, take a rickshaw or walk to gate no. 35 Mughal Garden. You can also book a cab to drop you off at Mughal Gardens.
Entry fee
The entry fee to visit Mughal Gardens is NIL. You can take a tour of this garden without paying a single penny.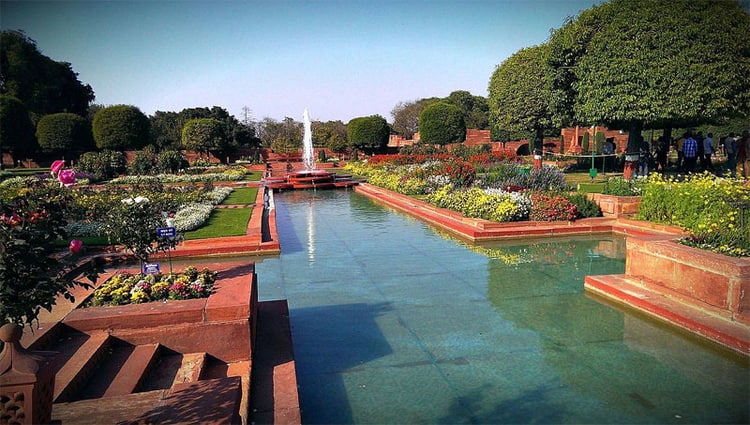 Online Booking
Visitors can use the online booking facility for Mughal Gardens which started last year. Online booking can be done by visiting rb.nic.in. Booking facility is available 7 days in advance and a maximum of 10 visitors can be booked in a single booking for weekdays. A maximum of 5 visitors can be booked in a single booking during weekends and holidays. If you do not want to book online tickets then you can join the queue of direct walk-in (offline) visitors.
Timings
People can visit the garden between 10 AM to 4 PM (except on Mondays which are maintenance days).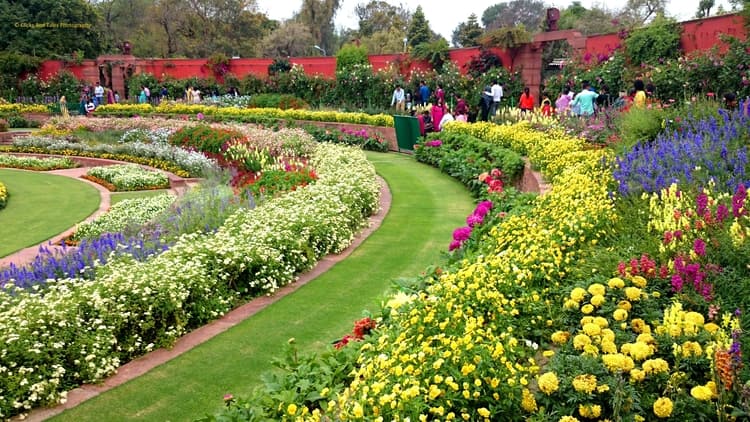 History of Mughal Gardens
Mughal Gardens (known as charbagh) were founded by Babur. During the reign of the Mughal empire, bageecha or baug was the term used for gardens. Situated in the premises of Rashtrapati Bhawan, Mughal Gardens boasts exquisite beauty of climbing roses, symmetrical lawns, fountains, wandering peacocks. Louis Mountbatten who was the last British viceroy of India recruited 418 gardeners for the garden. This palace-like garden remains open for visitors in February and March. If you are in town during these months then do visit the breathtaking Mughal Gardens, it is truly a delightful place for the anthophiles.
Attractions of Mughal Gardens
The Mughal Gardens are divided into six gardens. Let us have a look at the striking features of each garden.
Rectangular Garden: The main lawn of this garden is the Central lawn where the President of India hosts ceremonies on Republic Day and Independence Day. This garden witnesses eminent figures, politicians and celebrities.

Long Garden: Walls of the long garden are as high as 12 feet and are covered with creepers like Flame vine, Trumpet vine, Lassan bel and Jasmine and China orange trees. This garden leads to the Circular Garden.

Circular Garden A circular pond forms the centre of this garden. The pond consists of Lotus flowers and is edged with calendula and marigold. A distillation unit is also set up next to the Circular garden for the distillation of essential oils.

Herbal Garden Established by Dr APJ Abdul Kalam in 2002, herbal garden has 33 medicinal and aromatic plants. The herbs at the herbal garden of the Rashtrapati Bhavan are also used for different Ayurveda and Unani therapies.

Spiritual Garden It has 40 different types of plants and trees such as Sandalwood, Heena, Sita Ashoka, Jasmine, Reetha, Temple tree, Kadamba tree, Paras Peepal, Fig, Date palms, Krishna Burgad, Butter tree, Khair, Bamboo and Shami.

Musical Garden It is set up in an area which was earlier a nursery. Musical garden has three large water fountains in which the light, colours and music are synchronized with the tunes of Vande Mataram.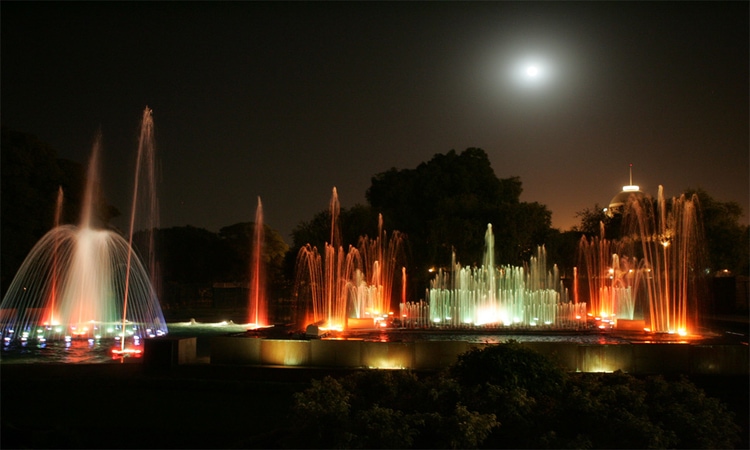 Key features
Here are some of the chief features about the garden which makes it worth a visit.
It has Six lotus-shaped fountains that are situated at the crossing of the two channels in Mughal Garden. The fountains rise to a height of around 12 feet while producing murmuring sounds.

In the evening, you could also get a chance to spot peacocks in the garden.

There are over 15 evergreen fragrant shrubs and creepers that are planted along the terrace walls.

Around 10,000 Tulips are cultivated in the garden of varied colours like red, white, orange, red and pink mixed with yellow.

Flower Carpets in magnificent designs are displayed in the central lawns and unveil the creativity skills of the gardeners at the Rashtrapati Bhavan.

Last year, 5.18 lakh people visited the Mughal gardens. Since 2003, it has been receiving 3-6 lakh tourists annually.

Aren't you excited to take a break from the rising levels of pollution in the city and see the awe-inspiring blooming affair? It'll definitely be worth it! Plan a trip with your friends or family to the national capital and book your tickets through Trainman app. Download Trainman App to check PNR Status of your ticket, Running Status, Train Inquiry and a lot more.