Overview
On Wednesday, the Railway Ministers of India and Bangladesh virtually launched the Jalpaiguri-Dhaka Mitali Express, which connects the two countries. The express, which runs between New Jalpaiguri in West Bengal and Dhaka in Bangladesh, is the third train between the two countries, following the Bandhan Express (Kolkata–Khulna–Kolkata) and the Maitree Express (Kolkata–Dhaka–Kolkata). The passenger train began its journey from West Bengal's New Jalpaiguri Railway Station.
Anshul Gupta, general manager of the Northeast Frontier Railway (NFR), who was present at New Jalpaiguri station for the inaugural run of the international service, stated that the train connectivity will increase opportunities for tourism and trade between Bangladesh and northern West Bengal, which is blessed with several destinations in the Darjeeling Hills and forests and tea gardens in the Dooars.
All About Mitali Express Train
The express train will travel 513 kilometers in nine hours between New Jalpaiguri and Dhaka (Dhaka Cantonment station). The train's total distance is 69 kilometers, with the remaining kilometers in Bangladesh. On Sundays and Wednesdays, the train will run from India to Bangladesh. It is scheduled to return from Bangladesh on Monday and Thursday.
Mitali Express: Fare, Travel Class, Coach
The Mitali Express will leave New Jalpaiguri at 11.45 a.m. on Sunday and Wednesday and arrive at Dhaka Cantonment at 10.30 p.m. on the same days. It will leave Dhaka Cantonment at 9.50 p.m. on Monday and Thursday and arrive in New Jalpaiguri at 7.15 a.m. on Tuesday and Friday.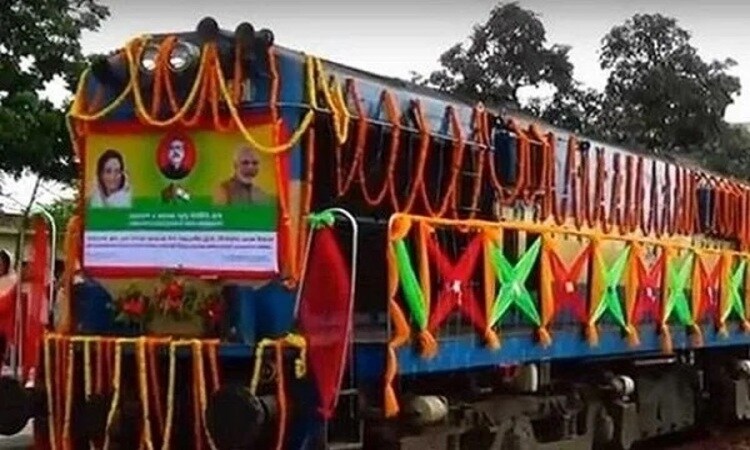 The train's LHB rake consists of four First AC cars, four AC Chair Cars, and two Power cars. The fare will be USD 44, USD 33, and USD 22 for AC First (Cabin) Sleeper, AC First (Cabin) seat, and AC Chair car, according to a statement from the Railways Ministry.
AC cabin berth tickets are Rs 4,905, AC cabin chair car tickets are Rs 3,805, and AC chair car tickets are Rs 2,707.
Mitali Express Train Stops
It will only stop for 10 minutes at Haldibari, the last station on the Indian side, and Chilahati, the first station on the Bangladesh side, for a driver change.
Suvendhu Kumar Chaudhury, DRM of the Northeast Frontier Railway's Katihar division, said "We are ready to begin services, and the train is fully equipped. Around 15-20 passengers have already purchased tickets for the first trip."
Safety Measures
"It is a direct service with no pantry car. We have also installed CCTV cameras on the platform, and our Railway Protection Force (RPF) personnel will be stationed in every corner. The Border Security Force (BSF) will board the train at Haldibari and deliver it to Bangladesh at the Zero line."
Don't forget to book your IRCTC train tickets online with us to enjoy exciting features like PNR status prediction, Train Time Table and much more!!