The North Eastern Railway's Subhagpur-Pachperwa Broad Gauge route has been electrified, resulting in the complete electrification of Uttar Pradesh's railway network. This development will lead to improved rail connectivity and faster train speed in the region. Indian Railways is quickly advancing towards becoming the world's largest eco-friendly network. The Prime Minister lauded the railways' effort in a tweet, saying, "Very good."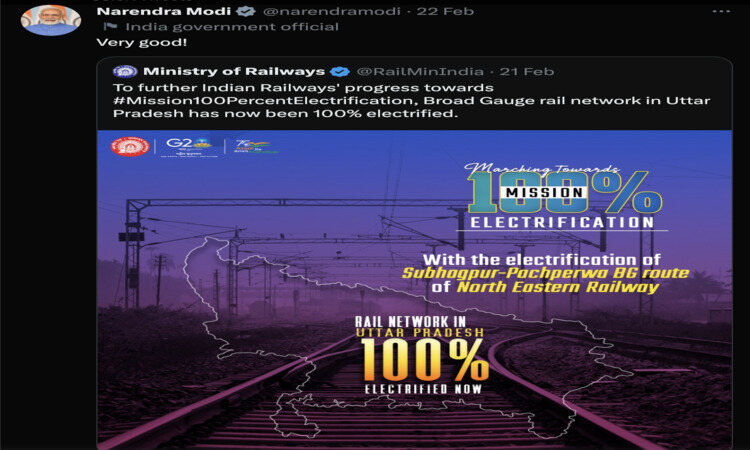 Six railway zones fully electrified
In Northern Eastern Railways, the Broad Gauge routes of six zonal railways have been electrified after the railway electrification project has been completed so far, namely:
East Coast Railway (ECoR)

North Central Railway (NCR)

North Eastern Railway (NER)

Eastern Railway (ER)

South Eastern Railway (SER)

West Central Railway (WCR)
Other than that, the Highly Utilized Network (HUN) which extended from Jhansi to Muzaffarpur and Katni is now fully electrified. With this, the connectivity between various cities, including Jhansi-Lucknow-Barabanki-Burhwal, Gonda-Anandnagar-Gorakhpur-Valmikinagar-Sugauli, Muzzaffarpur-Bachwara, and Narkatiyaganj-Raxual-Sitamarhi-Darbhanga-Samastipur, Sitamarhi-Muzzaffarpur-Hazipur, and Chhapra-Varanasi is set to significantly improve in the coming days.
Railway electrification over East Central Railway
As of February 01, 2023, the zonal railway has electrified 3,910.99 RKM out of the total 4,124.979 RKM, achieving a remarkable 94.81 percent of the electrification work in the ECR. The ECR is divided into five divisions, namely Dhanbad, Deen Dayal Upadhyay, Danapur, Sonpur, and Samastipur.
The electrification work in the Dhanbad division covers 1,213.789 RKM out of the total of 1,224.614 RKM.

In Danapur, 872.643 RKM out of 905.827 RKM has been electrified.

Similarly, Samastipur has 883.175 RKM of 1,053.146 RKM electrified.

On the other hand, both Deen Dayal Upadhyay and Sonpur divisions have completed full electrification.
With its sights set on achieving Mission100Percent Electrification, Indian Railways is making great strides toward becoming the leading green railway network in the world.