Imagine the night being lit up - only instead of the stars and moon, the light is emanating from fireflies from under the sea at the shoreline. This is made possible by an extraordinary natural phenomenon known as bioluminescence.
This phenomenon is caused by living organisms such as bacteria, algae, fungi, insects, and in some instances, aquatic animals. It is caused by a chemical reaction that takes place within these organisms known as chemiluminescence. This process produces light by converting chemical energy into radiant energy.
All of these organisms contain a molecule known as luciferin which upon reacting with oxygen produces light. Let us take a closer look at this phenomenon and the notable locations across India where one can experience the magic of bioluminescence.
Ahupe Village, Maharashtra
Located near Bhimaskar Wildlife Sanctuary, Ahupe is a charming hamlet where the forest lights up at night. A fungus known as Mycena is what causes the glows when it comes in contact with a lot of moisture. Since the fungus grows on a wide range of foliage including leaves, wet rotting barks, and roots of trees, the entire forest has a radiant glow at night.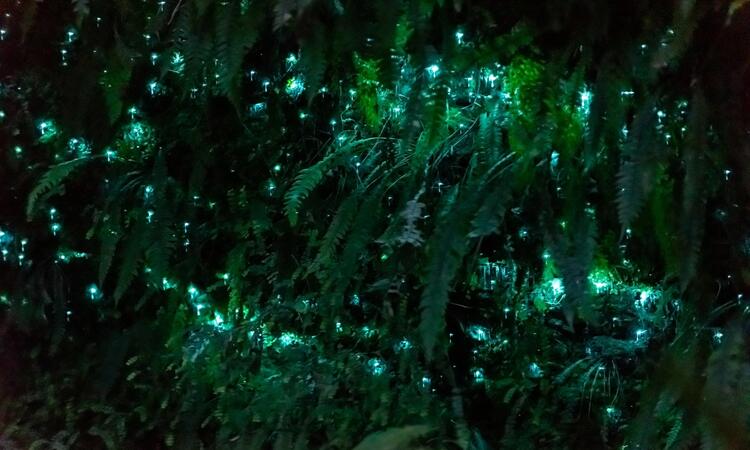 (Image Credit: whatshot.in)
Aside from this enchanting experience, the forest also has plenty of excellent trekking routes making it an ideal destination for adventure enthusiasts. The numerous waterfalls and deep valleys, along with a magnificent view of the twin mountain of Gorakhgad and Machindragad make for excellent nature photography.
Ahupe is an excellent place to drop by at any time of the year. However, the monsoon season between July and September is the best time to have the best taste of its bioluminescence. The humidity will be highest at this time which will result in more growth of the Mycena fungus that results in this spectacular phenomenon.
Getting Here (Nearest Railway Station - Pune)
Mattu & Padukere Beaches, Karnataka
These are twin beaches that are located in the Udupi district of Karnataka. Mattu Beach is around 10 km from Udupi town and Padukere beach is around 29 km. Both beaches radiate a surreal bluish glow every night.
(Image Credit: Bangalore 247)
The bioluminescence at these beaches emanates from rather enigmatic marine organisms known as dinoflagellates. This species has numerous sub-varieties and play an important role in the biology of coral reefs.
At least 18 varieties of dinoflagellates are bioluminescent with the majority of them emitting a bluish-green light. While many might find the radiant glow mystical and eye-catching, it does have practical purposes for the creature. One important function is to help ward off would-be predators.
This incredible maritime phenomenon can be glimpsed equally at both Mattu and Padukere beaches throughout the year. Having said that, the months between October to February are the best time to visit the Udupi district. Padukere beach is so less frequented by tourists so offers an additional benefit of a quiet getaway.
Getting Here (Nearest Railway Station - Udupi)
Mhadei Wildlife Sanctuary, Goa
While Goa may be best renowned for its beautiful beaches, stylish cafes, laid-back shacks, and glamorous parties, it is also a great destination to explore the wilderness. And Mhadei wildlife sanctuary has plenty of special treats to offer visitors.
Every night during the monsoon, which takes place beginning in June and extending till September, the forest comes alight with glowing mushrooms that seem like stars among the trees. The season causes such an abundance that one need not even carry a torch or lamp while strolling through at night.
Bioluminescence is by no means the only appealing feature of this forest. Mhadei Wildlife sanctuary is characterized by rich biodiversity which includes its Sacred Groves that contain a wide variety of flora. You will find towering trees like Shidam that are a sustaining life force for organisms ranging from creepers to bees.
The forest is home to a diverse range of animal species including mammals such as barking deer, Asian palm civet, and Indian pangolin. Many species of birds also reside in the Mhadei forest with over 255 bird species being recorded by researchers along with a wide variety of reptiles.
These include the "big four" of Indian snakes namely Russell vipers, Common Krait, Indian Cobra, and Indian Saw-scaled vipers.
Getting Here (Nearest Railway Station - Goa)
Purushwadi, Maharashtra
The tribal hamlet of Purushwadi situated in the Ahmednagar District of Maharashtra is an ideal weekend getaway from Pune or Mumbai. Over here the bioluminescence is celebrated by the local community and of course, visitors are more than welcome to join in.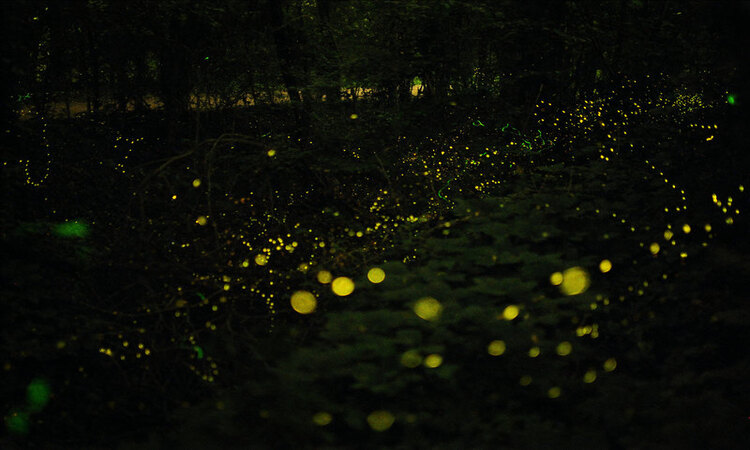 (Image Credit: Towno.in)
In fact, the Purushwadi Fireflies Festival rapidly growing in popularity among travellers from all over the country and many other parts of the world. The festival offers a refreshing getaway and is one of the most memorable experiences you will ever have.
You will completely forget city life upon experiencing the delicious home-cooked food and charming rustic lifestyle of Purushwadi at the festival. And what better way to spend the night than to take a tour of the forest for the main highlight of the festival - the Fireflies!
Getting Here (Nearest Railway Station - Mumbai)
Bangaram Island, Lakshadweep
The small teardrop-shaped island of Bangaram is one of the most beautiful islands of the Lakshadweep archipelago in the Arabian Sea. Every night on this island you will be taken to dreamland while being wide awake.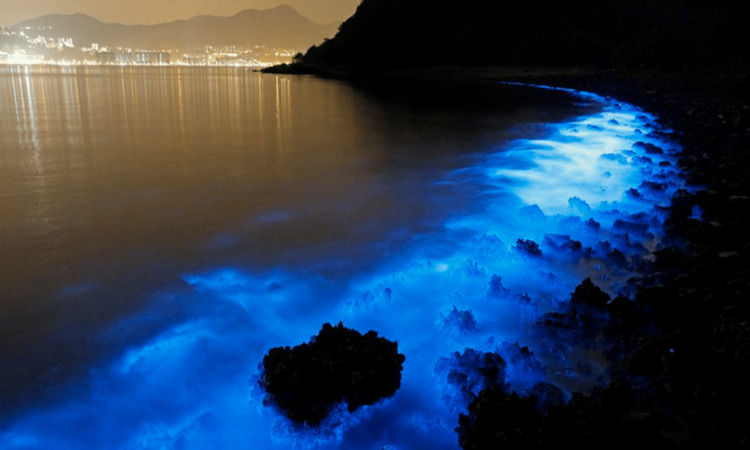 (Image Credit: Travelpedia)
The beach will light up with hues of iridescent blue both under the waves and on the shoreline. In this case, the luminescence emanates from more than one source including aquatic plant species such as phytoplankton and marine animals such as jellyfish. While the former is largely found underwater, the latter often washes up on shore bringing the glow to the beaches as well.
And besides taking in this dreamlike imagery there are plenty more things to do at Bangaram Islands during the daytime as well. You can enjoy boat rides, scuba diving, or snorkelling which will also allow you to glimpse some of the other marine life like turtles in the surrounding sea. Additionally, there are also many shacks that allow you the luxury of dining by the beach.
You can reach Lakshadweep Island by catching either a flight or a ferry from Kochi, the state capital of Kerala.
Getting Here (Nearest Railway Station - Kochi)
Be Enchanted By Nature's Lanterns
There is certainly no shortage of wonders offered by nature and people from all walks of life are drawn to it including travellers, photographers, and researchers. From lush green forests to rocky mountains to relaxing beaches, nature gives it all.
India is already a renowned destination for travellers from all across the world due to the spectacles and wonders it contains. Bioluminescence is one such natural wonder that many not be aware of or have considered. However, once experienced it is sure to remain etched permanently in one's memory.