Guinness World Records recognized Indian Railways' South Western Railway (SWR) zone's Hubballi for building the world's longest railway platform at Shree Siddharoodha Swamiji station, constructed as part of the remodelling of the Hubballi yard, costing Rs. 20.1 crores. Additionally, the yard remodelling was commissioned with electronic interlocking in February 2021 to facilitate the easy receipt and dispatch of trains at Shree Siddharoodha Swamiji Hubballi Station.
Connecting railway lines towards Bengaluru (Davanagere side), Hosapete (Gadag side), and Vasco-Da-Gama/Belagavi (Londa side), the Shree Siddharoodha Swamiji Railway station in Hubballi, Karnataka, is a crucial junction. Hubballi's reputation as a major hub of trade and commerce in the North Karnataka region adds to the station's significance.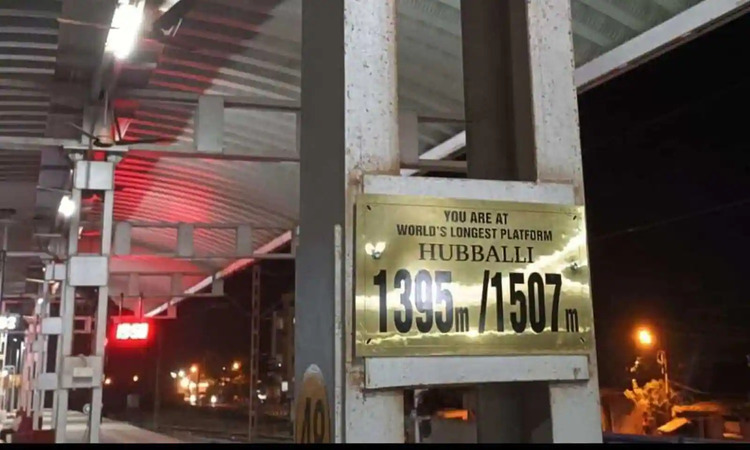 The primary reason for train detention during reception and dispatch was the bottleneck caused by single-line working towards Gadag, Davangere, and Londa. To cater to the increasing demands of the city, three new platforms were constructed, in addition to the existing five.
One of the newly constructed platforms, i.e., platform No. 8 measuring 1507m, has set a new world record as the longest railway platform. Two trains will be flagged off simultaneously, using electric engines, from this platform.
Benefits of the Hubballi Platform
The primary aim of the project is to address the future transportation needs of the Hubballi-Dharwad region.

The construction project has improved the operational capacity of the yard, thus successfully addressing the requirement to hold/run more trains in the future.

The platform's length allows for the simultaneous start of two trains in opposite directions.

With the longer platform, express trains no longer face detention during entry to the station, which in turn saves time for passengers.
On the other hand, at a cost of Rs. 519 crores, the electrification of the Hosapete - Hubballi - Tinaighat Railway line (245 RKM) has been completed by Indian Railways The double-line track runs through several districts in Karnataka, including Vijayanagar, Koppal, Gadag, Dharwad, Uttara Kannada, and Belagavi, and is a vital coal route connecting the Steel plant and Thermal power plant with Mormugao Port. The project is expected to make the route carbon neutral, preventing pollution.