Overview
India is unquestionably a land unlike any other, with everything from language to cultural practices changing in a matter of kilometers. Our population's sheer diversity results in a beautiful mingling that cannot be found anywhere else in the world. This beautiful diversity is reflected in a variety of ways, including dialect, art, practices, and of course, Food!
From the extreme food of Nagaland to the sugar-laden preparations of Gujarat, India's diverse taste palate stretches across its borders — which happen to be so vast that sampling food from all over the country is nearly impossible. This is where my favourite part of travelling, train rides, comes into play. As an avid train traveller, I have always enjoyed getting off at railway stations and indulging in local delicacies.
Here are seven of our favorite railway station foods that you can eat on the go while learning about the local food scene:
Kandha Poha At Ratlam Station
Poha is a popular breakfast item throughout Madhya Pradesh, and the busy Ratlam Junction Railway Station is no exception. Vendors here, serve their own versions of the classic Indian breakfast, enticing passengers to get off their trains and try some. Combine a plate of Poha with a cup of steaming hot tea for the ideal start to the day!
Kadhi Kachori At Ajmer Station
Kadhi kachori, a breakfast item popular in the Rajasthan-Gujarat region, combines the goodness of traditional dahi kadhi with a crispy kachori. The dish is a local favourite throughout the belt, and vendors can be found selling it almost anywhere. If the thought of kadhi kachori has you salivating, make sure you pick up a plate the next time you pass through Ajmer Railway Station. Believe us when we say, this is one of the best you'll ever come across!
Chole Bhature At Jhalandhar Station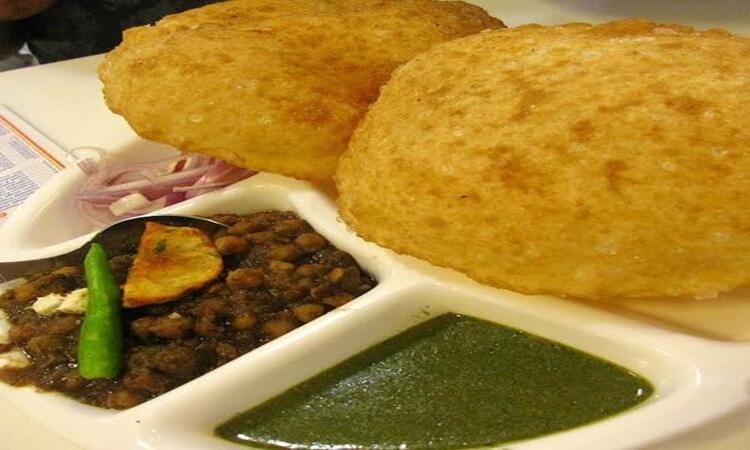 Punjab is undeniably the country's ultimate food destination, where people eat stuffed paranthas in the morning and deep-fried chicken at night. If there is one dish that embodies the spirit of Punjab, it has to be Chhole Bhature. Jalandhar Railway Station is one of the state's landmark eateries that claim to serve the best Chhole Bhature. Don't miss this one at your peril, because it's the best there is!
Famous Lassi Of Amritsar
If you're in Punjab and haven't had a glass of sweet lassi yet, you're missing out on something huge (literally!). The Amritsar Railway Station is an excellent location for visitors from all over the world to enjoy a glass of this creamy delicacy. A word of caution, the servings are massive and will definitely test your appetite, so try this with an empty stomach!
Lal Chai At Guwahati Railway Station
Tea is much more than just another crop for the people of Assam. With one of the highest production rates in the country, Assam's rolling tea gardens produce some of the world's finest teas, attracting visitors and providing a living for thousands. Lal Sah, or red tea, is a local favourite among the many exquisite varieties available in the state. The sugary tea is served without milk and is sold throughout Assam, including at the Guwahati Railway Station.
Vada Pao At Karjat Station
Traveling through Maharashtra without trying the tangy Vada-Paos at railway stations is a sin in and of itself. Deep-fried Vadas, melt-in-your-mouth Paos, and zesty chutneys come together to make the ideal snack. The picturesque setting of Karjat Railway Station only adds to the overall experience, ensuring that you can't stop at just one Vada-Pao!
Aloo Tikki At Tundla
Despite being a very remote town that you may have never heard of, the food in Tundla perfectly captures the intricate flavours of Uttar Pradesh. The extremely flavorful Aaloo Tikkis of Tundla Railway Station are legendary among India's foodies. The perfect balance of sweet and spicy is said to be so perfect that foodies have claimed to choose trains that stop at Tundla just to eat Tikkis!
We are pretty sure, you started craving for these already. And, if you're planning to try any of these snacks, don't forget to book your IRCTC train tickets online with us to enjoy exciting features like PNR status prediction, Train Time Table, and much more!!