Rameswaram lies in Ramanathapuram district on Pamban Island which is separated from mainland India. It is located on "Gulf of Mannar" connecting mainland India by the Pamban bridge. From neat and clean beaches to some amazing temples. It is an ideal place not only for Hindu worshippers but also a peaceful destination that offers a picturesque view. Here you can visit various temples and de-stress yourself with blue water on beaches, clear skies. So what are you waiting for? Go on and check out the incredible places to visit in Rameswaram.
Keep reading on to know attractions of Rameswaram in detail.
How to reach Rameswaram
Rameswaram is connected with all the major cities of South India. Chennai, which is the capital city of Tamil Nadu is 557 km from Rameswaram. In order to reach this saintly place, one can either fly or travel through train.
By Train: To reach here via train, you can come to any of stations like Chennai, Coimbatore, Madurai, Thanjavur, or Trichy. Reach any of the places mentioned above as trains are easily connected from all these railway stations to Rameswaram. You can board 22661 Sethu SF Express, 16851 Boat Mail (Rameswaram) Express that connects Chennai to Rameswaram.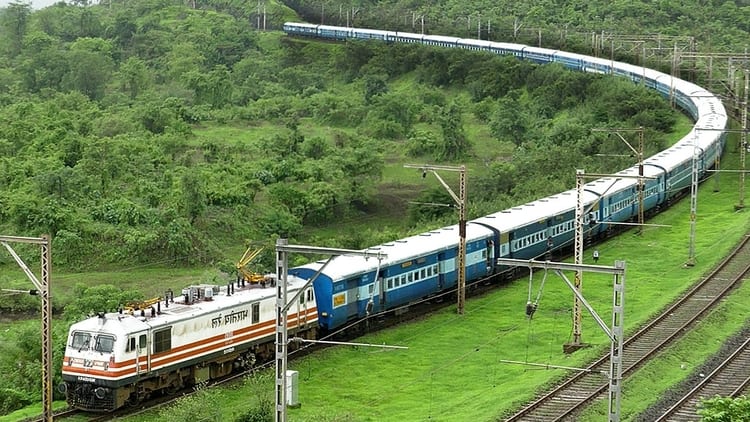 By Air: It is also easily accessible by air. You can take a flight till Madurai which is around 164 km away from Rameswaram and from there take a taxi (cab).
Ramanathswamy Temple
One of the notable features of this town is that it has a blend of historical features and mythological significance. The temple is of Dravidian style architecture that has the longest corridor of all Hindu temples. It is one among the 12 Jyotirlinga shrine which means pillar of light. A must visit place for Vaishnavites and Shaivites sects. It has mythological significance as it is believed that it was built by Lord Rama. Further, Pandya dynasty has also contributed to the construction of the temple. If you are going Rameswaram even for a day, this place should be on the top of your list.
Pamban Bridge
Pamban Bridge also known as Annai Indira Gandhi road bridge is a first sea bridge of India connecting Pamban island to India mainland and offers an exquisite view of Palk Strait. Pamban bridge also has a double-leaf bascule section which is raised to let the ships pass from beneath it. Later, a rail bridge was also built parallel to it. Do not forget to capture some perfect shots here. While going on bi-lane road, you can get to see the railway bridge. It is one of the spectacular places in Rameswaram that has 143 pillars, each around 220 long.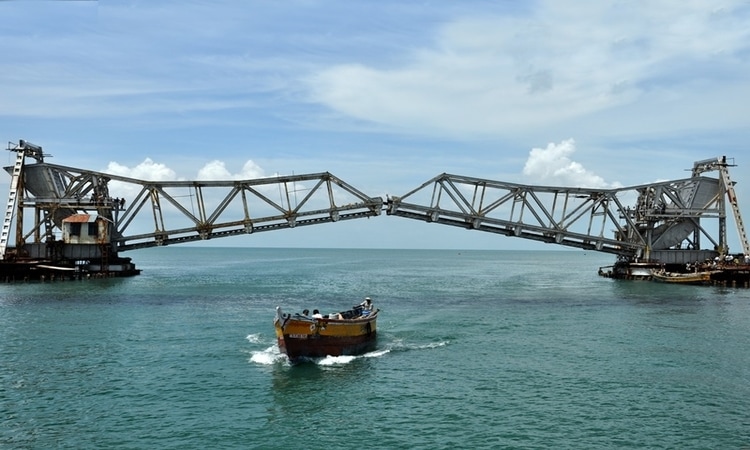 Five-faced Hanuman Temple

It is situated 2km from main city. Temple has a huge statue of Lord Hanuman built of Senthooram stone. It is considered that Lord Hanuman has revealed his five faces here which are Hanuman, Narsimha, Adivaraha, Hayagriva and, Garuda. It also encompasses statues of Ram, Sita, and Laxman. There is a floating stone in the temple which is as per the beliefs that have been used to build Ram Setu.
Ram Setu or Adam's Bridge
Adam's Bridge also known as Ram Setu, used to connect Lanka to India and was built of stones. Till now, mystery has not been resolved about the phenomenal floating of stones on water. Such stones are still in existence in Rameswaram. Hard to believe? Then, visit this place and resolve this mystery on your own. It is a debatable topic among historians and archeologists. It is a legendary bridge in the Hindu epic Ramayana in which it is said to be built by vanara sena. So, it captivates a large number of tourists from across the globe.
Ariyaman Beach
Ariyaman beach is stretching to a length of 2 Km and 150 m wide. If you are willing to spend a relaxing evening in calm and peaceful serenity of nature then, this place is for you. You can also indulge in water sports like surfing, boating, parasailing and so on. It will be very soothing as you will get to see crystal clear blue water along with patchy blue-white clouds in the sky. It is a place for family picnics. Along with it, it also has an aquarium, a children's park and museum which will keep you engaged all day long.
Agnitheertham

'Agni' means fire and 'Theertham' means holy water. By the name itself, we can interpret that it is a godly place. It is one of the 64 Sacred baths which attracts a large number of visitors every day. Agnitheertham is a holy place where Lord Rama worshipped Lord Shiva to wash off his sins after killing Ravana. It is believed that if you take a bath in this water then, he or she can get rid of all misdeeds and can become pure. People also visit this immaculate beach to perform holistic rituals of dead bodies.
Get set go and book your train as well as flight tickets on Trainman. Download Trainman App and check PNR Status of the booked ticket, Seat Availability, Train Inquiry and lot more.