As work progresses on the Delhi-Ahmedabad bullet train corridor many propositions have come forward. A station has been proposed in Manesar on the Delhi Ahmedabad Bullet train corridor that the National High-Speed Rail Corporation Limited (NHSRCL) is planning to build.
The corridor, whose detailed project report has been drawn up, is still in the planning stages and is likely to take shape only in the latter half of the decade. Travel time on this 886km route is expected to be under 4 hours, with a total of 15 stops under consideration. Rewari is the only other station proposed in Haryana.
The proposed route originates at Dwarka Sector 21 in Delhi and crosses into Gurgaon at Chauma. It then runs along the Dwarka Expressway till Ramprastha City (Sector 37D) before turning right to align with the Delhi-Jaipur railway line and crossing the KMP Expressway before joining the Delhi-Jaipur highway at Shahjahanpur toll plaza (Haryana-Rajasthan border).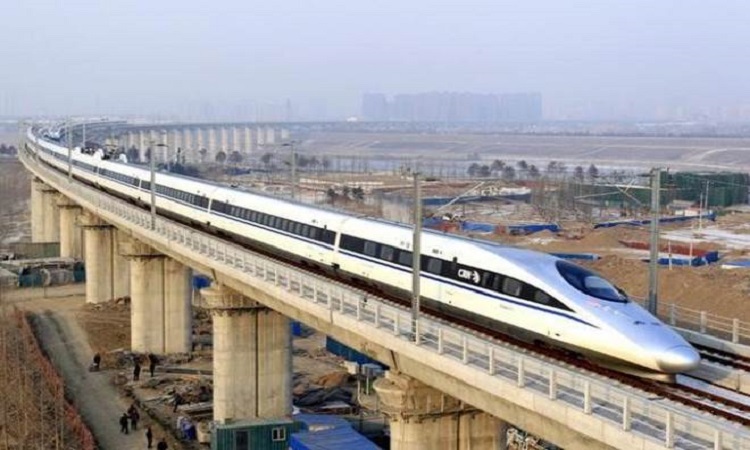 NHSRCL officials held consultations for land for the corridor. An NHSRCL informed that they have chosen this alignment (along the rail line and highway) to ensure that land acquisition is minimal. In such mega projects, maximum time gets spent in acquiring privately owned land.
While the alignment is final, acquiring land is yet to begin. Consultations with private landowners in Gurgaon and Rewari were fruitful and they all agreed to let their land be acquired for construction of the Bullet train, probably sensing the benefits this project would offer once it is ready, said the NHSRCL official.
It would need around 3 to 4 years to acquire the land, shift utilities, get necessary clearances and NOCs for various departments, permission to cut trees and several other such things before we can start construction work on ground. Once that work gets started, it would take 3 years to complete the project.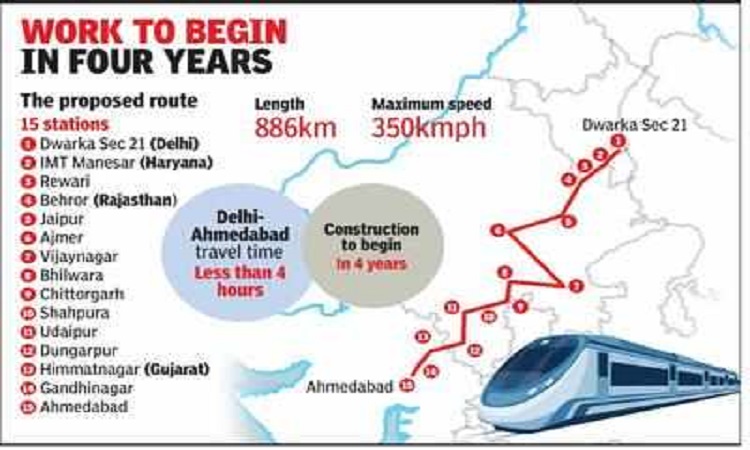 Other than Dwarka and the 2 Haryana stops, of the 15 stations proposed on the corridor, 9 are in Rajasthan and 3 in Gujarat. Officials said the corridor will be a fully elevated one. At present, it takes about 14 hours by train from Delhi to Ahmedabad. On the Bullet train, it is expected to be under 4 hours
The 15 stations have been proposed at Dwarka (Delhi), IMT Manesar (Gurgaon), Rewari, Behror, Shahpura, Jaipur, Ajmer, Vijaynagar, Bhilwara, Chittorgarh, Udaipur, Dungarpur (all Rajasthan) and Himmatnagar, Gandhinagar and Ahmedabad (Gujarat).
The groundwork for another high-speed rail corridor — Delhi-Gurgaon-Alwar RRTS (Regional Rapid Transit System) is already underway in the region. Both the Delhi and Haryana governments have approved this project and a final nod is awaited from the Centre. The preliminary work like soil testing, road widening has started with approval from the ministry of housing and urban affairs is awaited.
Stay tuned to the Trainman Blog to know all the latest updates on Railways and Covid-19. For your one-stop solution, book your train and flight tickets through the Trainman app. Download the Trainman app and check PNR Status of the booked ticket, Seat Availability, Running Status and many such exciting features.