Do you often find yourself scrolling through your social feed, daydreaming about faraway lands, inspiring photography and life-changing adventure? Then you wake up and check your bank balance…dammit. Lot of us want to travel and explore new destinations, however, a great deal of things hold us back. Among them, money is the most oft-quoted deal breaker. It's the one thing that keeps the majority of us from putting on our explorer shoes and unfortunately deters us from experiencing this incredible planet. This page is for everyone who think they should be too rich to travel. There are a few different ways to make a trip inexpensively to any state or country and set aside extra cash.
Exploring extraordinary destinations within the country or abroad doesn't need to cost a fortune and you absolutely don't have to win the lottery to venture to the far corners of the planet – not if you realize how to keep an eye on your money and spending it on the right places. To help you get the most out of your journey, here are some genius budget travel hacks for when you need to keep a check on your budget along with fuelling your wanderlust.
Plan Your Trip
Step 101 of every trip is to PLAN PLAN and PLAN beforehand. Before you set out on a trip, it is necessary to do some research about the destination you are planning to visit. Knowing a little about the state or country, its people, culture, traditions, and cuisine, and so on will spare you from a ton of issues that you might encounter and the knowledge would only do you good in the long run. Look for the bucket list destinations that are doable for a frugal and financially modest traveler. A big part of making your dream trip affordable is in the planning phase. You want to aim for a location with affordable accommodation and with the option of doing other things on your budget.

Planning in advance means you can frequently book things like airplane tickets and accommodations for less. Moreover, you should plan the spots you will visit and the amount of time you will spend there. Planning out the trip beforehand should be a necessity if you are a budget traveler which most of us are since it would save you unexpected expenditure. The planning process will help smooth out any potential bumps and help you have the experience you want.

Do Your Research
A no brainer really. One of the biggest mistakes a money-conscious traveler can make is to rush into plans. It might be tempting, and sometimes taking your time to research about the destination you are planning to visit could feel like too much work when all you want to do is hit the road already, but take a moment to read some inspiring and helpful blog posts, shop around, talk with other travellers, read reviews etc. A little research will tell you about the expensive states or cities which you should keep away from in case your wallet is not heavy enough but your explorer shoes are all ready to set you off.

Choosing Mode Of Travelling Wisely
Whether your wanderlust chooses to take you out of the country or would love to explore within the boundaries of the nation, you would have to opt for a mode of transportation to take you to the destination. Planning out on a trip and choosing to travel shortly after, whether by train or flying can cost you a ton of cash if you don't pick the correct airlines or train for your journey. Choosing your journey dates and booking in advance is going to save you a lot of money as well as save you from the hassle of it all, the reason being, the closer you get to your departure date, the more the prices increase. Buses and trains are cheaper than planes. It's that simple! A journey on an overnight train also means you have one less night in the accommodation you choose to stay over and pay for.

Coming down to traveling abroad, which is going to require you to take on your journey via flying to your destination. A budget airline is sure to spare you some money in the case that you are clever enough to maintain a strategic distance from the additional charges. You might be charged some additional amount if you are searching for better perks, like booking a seat of your choice or booking a meal, etc. You may get charged for a bag fee, regardless of whether you check your luggage or not. You could save the hard earned money that you would need to spend out on other necessities while traveling if you choose to sacrifice a little comfort.

Travelling In Off Season
Avoid planning to go on trips during the holiday season, this is the time when the whole travel industry hikes up prices to take advantage of families with children who can only travel during these weeks. Traveling during peak seasons can cost you way more money, so it is prudent to avoid peak season travel. Prices of airlines, hotels, and food hike up during the school holidays and on occasions like Christmas, Easter, Eid, and Diwali. Researching the best time to visit your planned destination is an ideal choice, however, choosing to visit your planned destination just before or after the holiday season would cut the amount by half. You can save a lot of money as airlines and hotels lower their prices to attract customers.

This is known as the 'shoulder season', where regardless you would have an incredible trip yet perhaps the sun won't sparkle splendidly as during the holiday season but looking towards the good side, it wouldn't be quite as hot or chilling. Besides, you also get to avoid too much of the crowd at your destination. Be aware of the seasonality of travel. What is considered to be "off-peak" in one country might not be in another. Various destinations have different tourist seasons so make sure to do your research.

Accomodation Savvy
This one is pretty obvious but it cannot be overstated just how much more wallet-friendly budget accommodation options like hostels are, as compared to hotels, resorts, and rental homes. Not only are you getting lower prices, but you're getting the authentic backpacker atmosphere, and memories to last a lifetime. Sharing a room naturally divides the costs and communal bunk rooms offer the opportunity to meet people who might be keen to explore with you. Trade expensive hotel suites for dorm rooms in hostels if you do not want to splurge on the accommodation but if having a comfortable stay is one of your priorities, go for it.

Other great alternatives are websites that let you simply book a spare room in a local person's house or apartment. It will halve the price and allow you an authentic snapshot of real life in the destination. You could even choose to stay with family or friends. Reach out to people you know or plan a trip to somewhere that a long-lost cousin or school friend now lives – this could take you to visit places you'd never have thought of before.

Eat The Local Food
For traveling on a budget, opting for local meals is highly advisable. Overrated bistros and restaurants are sure to cost you a great deal of money that you can generally save by going to the local spots that serve up fresh meals. This way you can get a much more authentic experience of the place you visit. Also, it is better to avoid eating near famous tourist attractions because the food there is inevitably expensive.

If eating well is a priority for your trip, there are still tons of ways to save money on meals. Know what you want out of the vacation. If you want to indulge in fancy dinners, you can offset that by having cheaper breakfasts and lunches. Prioritizing and planning which meals you will splurge on will ensure that you stay within your budget. Most of the cities have markets where you can buy fresh food and vegetables on the cheap, and if you feel brave you could even try to let your inner chef take on the spotlight and try to make the popular cuisine of the place you visit. Cooking your own food is sure to save you a lot of money that you could use for other important necessities.

Save Money On Transportation
Transportation is a major factor that eats away a lot of our money while traveling. Familiarizing with the public transport system can save you a lot of time and money. Local buses and trains are cheap and offer more opportunities to meet and know the local people. Instead of booking cabs through apps, which we know are more comfortable to travel along with, go for the local transportation instead, the perks of it being, you are charged comparatively lesser than the amount you would pay traveling on a cab and guess what? A little bargaining works wonders every time and you get to travel the local way.
We strongly believe that travel doesn't need to be expensive. These hacks would teach you to be a pro at sticking to a budget, no matter how much money is in your travel fund. It doesn't matter whether you consider yourself a backpacker or a mid-range traveler, with the right budget and the right mindset, you can make your travel dreams a reality.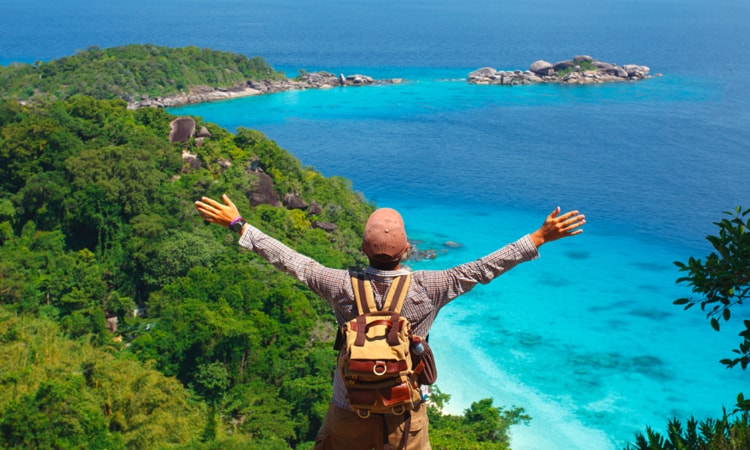 There are still plenty of ways to go see what the world has in store for you to explore and to make memories that would last a lifetime. They may not be fancy or luxurious, but if travel is your priority then you can definitely make it happen! So, fuel your wanderlust by starting off by booking your train as well as plane tickets on Trainman app. Download Trainman App, to check pnr status or train running status of any train and much more.