Ever heard about a cafe where you can have your drink and eat its cup too? Sounds interesting right! Sustainability is the need of the hour. When we think of sustainability, we think of renewable fuel sources, reduced carbon emissions and different ways to protect the environment. Sustainability focuses on meeting the needs of the present without compromising the ability of future generations to meet their own needs. Many individuals across the globe are taking efficient steps to lead us towards a sustainable future. In this blog we will be talking about two such individuals who are running zero waste cafes in India.
We'll start with a tea kiosk that serves tea in edible cups. Located in Madurai's (Tamil Nadu) West Masi Street, RS Pathy Nilgiri Tea stall sells tea in edible chocolate-flavoured biscuit cups.
Madurai tea kiosk history
RS Pathy & Co was launched in 1909 and it initially manufactured ayurvedic products such as balms and oils. To expand their customer base Vivek Sabapathy manager of R S Pathy Naturos came up with a new product RS Pathy Nilgiri tea powder. The tea powder was initially sold at the family-owned ayurvedic outlet in Madurai. When it started gaining popularity he thought of opening a tea kiosk. In 2019 government-imposed ban on single-use plastics which is when he started to think of an eco-friendly, low-cost, hygienic and user-friendly alternative. In March 2020 he came across the manufacturer of wafer products Edco India and launched the biscuit cups.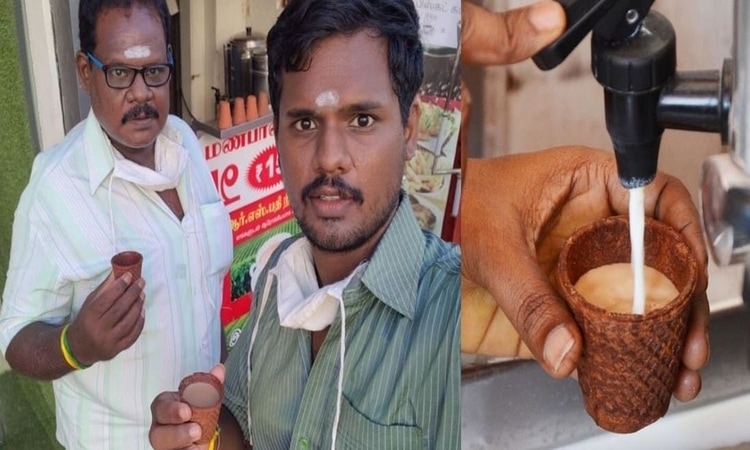 These cups can hold 60 ml of piping-hot tea for around 10 minutes. So you have to finish your tea before it melts! Due to the amazing taste of this chai the kiosk has been drawing people even during the COVID-19 pandemic. The tea is priced at Rs 20 and it sells a minimum of 500 edible cups everyday. For now the tea is served in chocolate-flavoured biscuit cups, although the company plans to introduce multiple flavours of these biscuit cups in the near future.
This is not the only initiative where food is being served in edible cutleries. There is another outlet that has happily adopted the zero-waste and eco-friendly philosophy. Eat Raja - India's first zero-waste juice bar in Malleshwaram, Bengaluru serves refreshing juices in fruit shells with straws made of banana leaves.
Zero waste juice bar
The juice shop is more than 40 years old and was first started by Anand Raaj's father. It was one of the first juice shops in the area that later became popular for its cold-pressed juices. It is a quaint juice cafe run by popular former RJ Anand Raaj. After quitting his job he turned the shop into a zero-waste policy and started serving juices in the fruit itself to avoid wastage. In no time people of Bengaluru started loving his juice.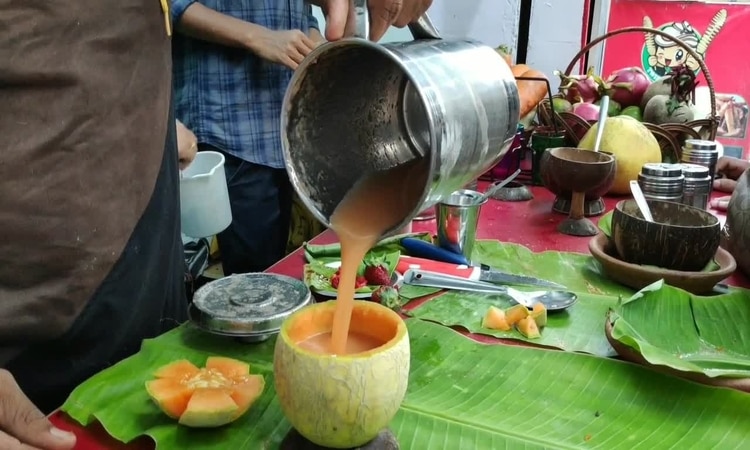 Juices are served in fruit itself ranging from pineapple, chilli guava, pine melon, cucumber lime to sun melon or small guava. All fruits are carved out for the pulp and then used as an organic container to serve the juice.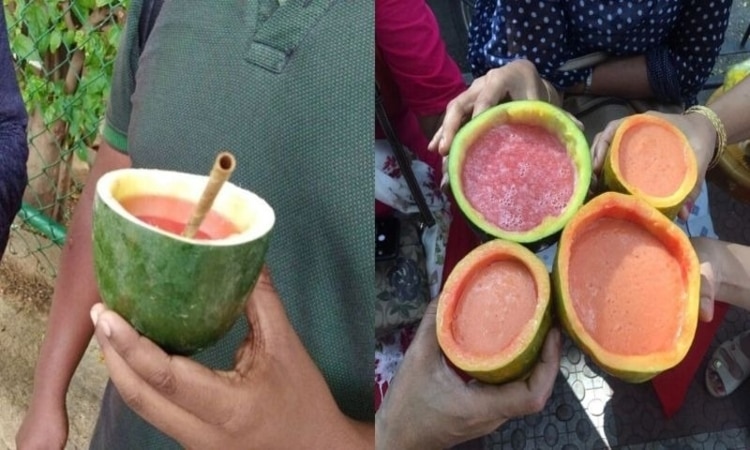 One of the most distinguishing features of this juice bar is its zero-waste policy. Eat Raja does not use any form of plastic or non-biodegradable cutlery. The straws at the juice shop are made from wheat stem, bamboo, coconut leaves, steel or copper. And that's not all, leftover peels of the fruits are used to make bio enzymes for cleaning. The rest of the fruit scrap is used to make vermicomposting or fed to the cows. At present there is no scope for take away service at the juice shop but it's completely worth a try and Insta-worthy too. Zero waste cafes might set a trend of zero waste culture in the near future.
Big or small every effort counts. What steps are you taking to keep the environment clean and green? Let us know in the comments below. Book your train tickets hassle-free through the Trainman app. Download Trainman App and check PNR Status, Live Train Running Status, Seat Availability in special trains and check out many more amazing features.