India has nurtured an array of dance forms, bestowing upon it a profound dance heritage chronicled in the Puranas throughout history. Each state in the country boasts its classical dance form, and every festival in India imparts a distinctive rhythm to the dance floor.
From Kashmir to Kanyakumari, one can witness various forms of dance in India. Some dance forms are rooted in religion, while others are performed for amusement and certain dances grace festive occasions. These classical dance forms are intricately linked to nine emotional states, known as 'Ras': anger, happiness, agony, peace, fear, courage, surprise, kindness, and disgust.
Here are the top 5 Dance Festivals of India
Khajuraho Festival - Khajuraho, Madhya Pradesh
The Khajuraho dance festival stands as the earliest traditional dance extravaganza endorsed by the government's tourism body. Held in February and March in Khajuraho, Madhya Pradesh, this cultural spectacle unfolds in an open-air amphitheatre against the picturesque backdrop of the Chitragupta temple. The presence of ancient temples adds a distinct allure to this remarkable event, truly a visual feast.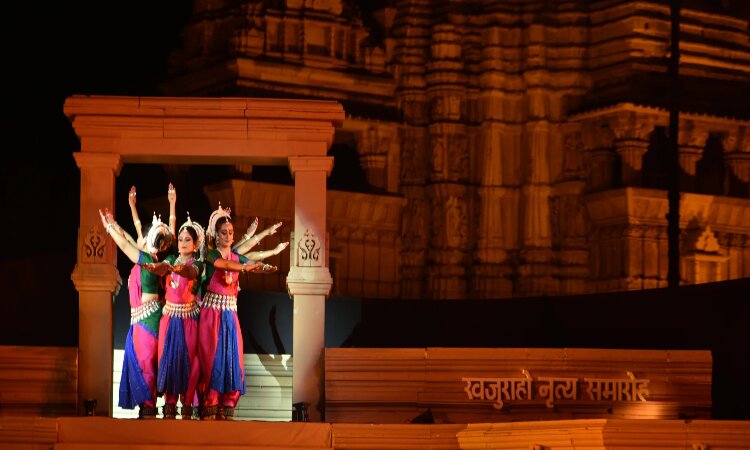 (Image Credit: Club Mahindra)
Khajuraho, a quaint village in Bundelkhand, has gained fame for showcasing a myriad of Indian classical dance forms, including Bharatanatyam, Kathakali, Kuchipudi, and many more, performed by esteemed artists from across the country. It stands as one of the most prominent festivals of Indian classical dance, drawing enormous crowds from around the world.
Best time to visit - February 20 to February 26
Trains to Khajuraho
Mamallapuram Utsav - Mamallapuram, Tamil Nadu
The Mamallapuram dance festival is growing popular with every passing year. Mamallapuram is a small beach temple city situated in the Kanchipuram district of Tamil Nadu. Mamallapuram is famous for its 7th-8th century ancient temples that attract travellers across the world every year. Arjuna's Penance looks splendid in the backdrop as the Mamallapuram dance festival occurs.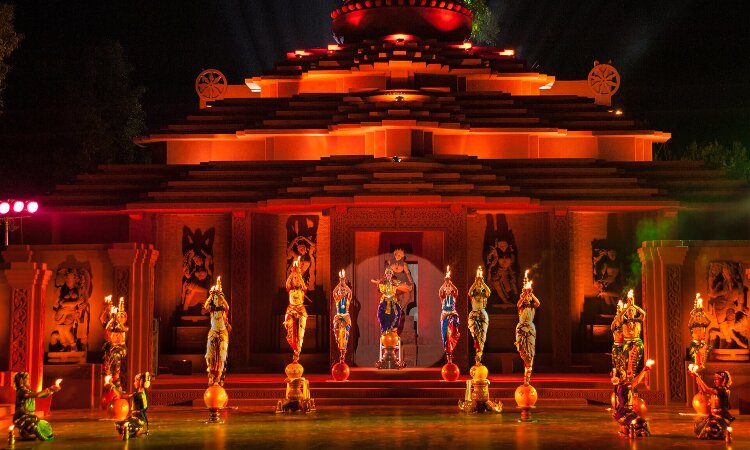 (Image Credit: https://utsav.gov.in/)
Some popular Indian dance styles that are performed in this festival include Kathakali, Bharatnatyam, Odissi, Kuchipudi, and Kathak. The town's atmosphere is suitable for festive vibes as the gentle breezes blowing over the sea set the tone.
Best time to visit - Between December and January
Trains to Mamallapuram (Nearest Railway Station - Katpadi)
Hampi Dance Festival - Hampi, Karnataka
The Hampi dance festival holds a prominent position as a tourist magnet in the state of Karnataka. This grand Indian classical dance festival takes place during October and November, paying homage to the culture and traditions of Hampi amidst the ancient rocks and ruins that bear witness to centuries gone by.
(Image Credit: https://utsav.gov.in/)
Renowned artists from across the nation and the world are drawn to this festival, as Hampi itself is a designated World Heritage Site. The event beautifully showcases the rich cultural heritage of the Kannadigas, encompassing the realms of dance, music, and art from the era of the Vijayanagar empire.
Best time to visit - November 3 to November 5
Getting Here (Nearest Railway Station - Hospet)
Soorya Dance Festival - Thiruvananthapuram, Kerala
The Soorya Dance Festival Kerala holds an esteemed position as one of India's most prominent cultural events, expertly organized by the Soorya Stage and Film Society. This festival unfolds in the capital city of Kerala, Thiruvananthapuram, spanning more than a hundred days. It attracts numerous luminaries from the realms of dance, music, and art, lending it a distinguished aura.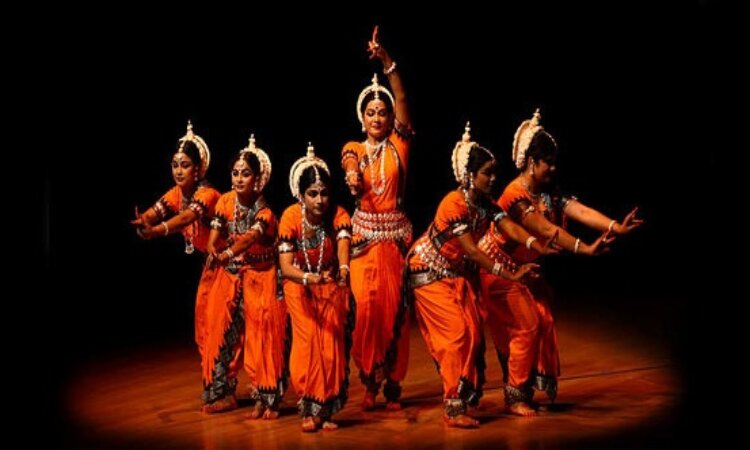 (Image Credit: www.indianeagle.com)
The festival serves as a resounding platform for promoting Indian culture, arts, and folk festivals across the country. It unfolds as a spectacular showreel, showcasing the rich artistic heritage through music, dance, poetry, cinema, drama, and documentaries, captivating audiences for a full hundred days. Adding yet another feather to its cap, the prestigious Limca Book of Record has acknowledged this festival as Asia's longest festival.
Best time to visit - September to January
Getting Here
Modhera Dance Festival - Mehsana, Gujarat
The Modhera Dance Festival in Gujarat takes centre stage at the revered Sun Temple in the district of Mehsana, Gujarat. Paying homage to the Sun God, this festival unfolds against the splendid backdrop of the temple, serving as a resplendent setting for the mesmerizing classical dances that grace its grounds for three consecutive days.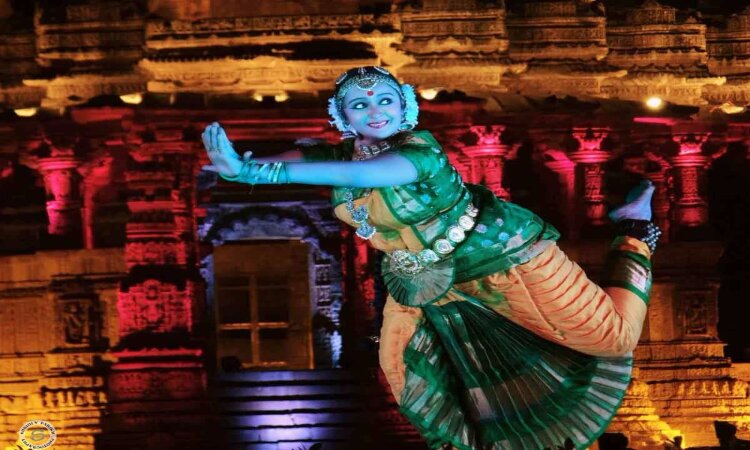 (Image Credit: Creative Yatra)
Year after year, the Modhera Dance Festival entices national and international tourists, making it a highly anticipated event. Organised by the Tourism Corporation of Gujarat, this festival takes place in January, following the conclusion of the vibrant Kite Festival. The amalgamation of the dance festival and the majestic Sun Temple forms an absolute must-visit attraction in the vibrant state of Gujarat.
When - January 3rd Weekend
Getting Here (Nearest Railway - Mahsena and Viramgam)
Conclusion
Dance festivals in India offer a captivating journey into the rich cultural heritage of the country. The festivals serve as platforms for renowned artists from all over the country to exhibit their talent, mesmerizing audiences with breathtaking performances.
Attending these dance festivals in India provides an opportunity to witness the grace, elegance, and emotions portrayed through dance, while also immersing oneself in the vibrant tapestry of Indian culture.