Indian puppetry is as diverse as its culture consisting of numerous regional varieties making it one of the country's richest heritages. And though the art is practised in varied ways across the country, all of the regional variants have their similarities.
While the origins of puppetry and when it began in the country are a mystery, at least two mythological stories attest to the importance of the art. One legend states that the first puppeteer was given life and a puppet by Brahma for the entertainment of his wife Saraswati. However, the puppeteer was banished to earth as the deity was dissatisfied with his performance.
Puppetry is mentioned in many ancient texts such as the Mahabharata as well as those by Patanjali and Panini. This ancient data confirms that puppetry may indeed have very ancient origins in India. In fact, the art is even said to pre-date theatrical plays in the subcontinent.
Let us now have a look into the varieties of puppetry that can be found across the subcontinent.
Glove Puppets
This form of puppetry involves slipping one hand into the puppet; the head is generally operated by the forefinger, while the hands are moved by the thumb and third finger. It is also often called hand puppetry and is popular in Odisha, Tamil Nadu, Kerala, West Bengal and Uttar Pradesh.
Pavakathakali or "glove puppet kathakali" is very popular in Kerala and as the name suggests it is a glove puppet version of Kathakali, the most popular traditional dance in the state. This variety first came into practice in the 18th century and died out almost completely in subsequent centuries, but was revived in 1982.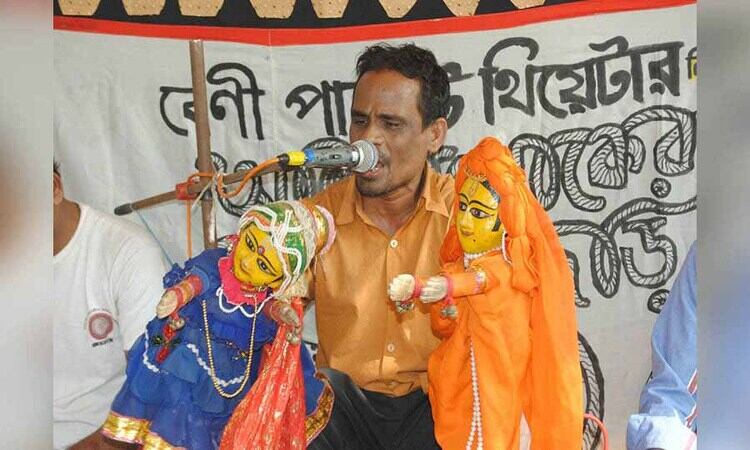 (Image Credit: Telegraph India)
Sakhi Kundhei is a form of glove puppetry that is native to Odisha with Cuttack being the stage for the maximum number of puppet shows. The puppets are usually operated by a solo performer who operates the puppets with his right hand while beating a dhol fixed on his hip with his left.
The strangely named Benir Putul (merchant puppet) is highly popular across West Bengal. The movement of the puppets is said to resemble the braiding of hair which is another meaning of the name. This style is often improvised and it is common for puppeteers to work in pairs, with one puppeteer operating the puppets and the other playing a Dumroo or traditional drum.
Notable Glove Puppet Show Destinations
Thirussur (Kerala)

Cuttack (Odisha)

Kolkata (West Bengal)
Trains To Kolkata
Trains To Cuttack
String Puppets
Also known as Marionettes, String Puppets may be made from materials like terracotta and wood. These kinds of puppets are tri-dimensional and are controlled by strings attached to their heads and limbs. The number of strings may vary and with more strings being used to enable a more complex range of motions.
Marionettes are very common all across India, with notable traditions found in West Bengal, Rajasthan, Odisha, Maharashtra, Kerala, Karnataka, Tamil Nadu, Kerala, Telangana, and Andhra Pradesh.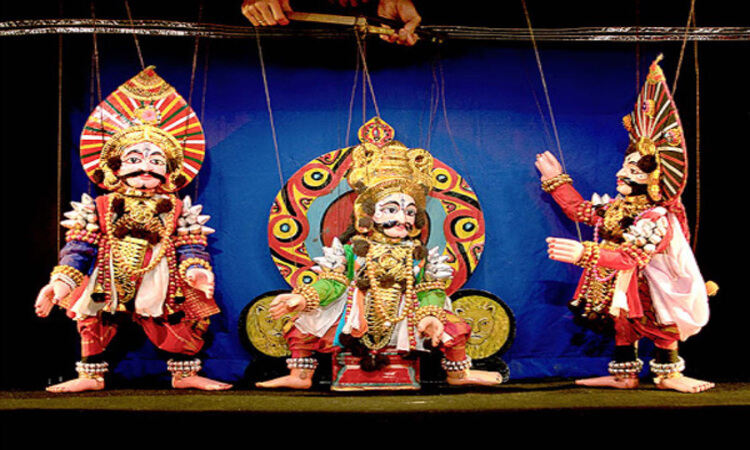 (Image Credit: Dsource)
Kathputli Marionettes from Rajasthan are notable for their attractive costumes and decorations which along with the stories they perform are inspired by medieval Rajasthani style. Kathputhli style puppetry often features stories of Rajput heroes unlike many other styles of Indian Puppetry that mainly focus on Hindu epic plots.
Bommlatam of Tamil Nadu is a variety of sting puppetry that is also popular across other southern states such as Andhra Pradesh and Karnataka. The unique feature of these puppets is that they need to be moved by strings fixed to a ring that the puppeteers wear on their heads. The limbs of the puppets are moved by rods controlled from above. Hence, Bommalatam puppetry requires a full-body effort.
Notable String Puppet Show Destinations
Varanasi

Thanjavur

Udaipur
Trains To Varanasi
Trains To Thanjavur (Nearest Station - Ariyalur)
Trains To Udaipur
Shadow Puppets
Known as Chaya Nataka in Sanskrit, Shadow puppetry is most popular in South India where it is said to have originated. While overall the origins of puppetry in the subcontinent are difficult to date, Shadow Puppetry is very likely to have begun around the second half of the first millennium BCE.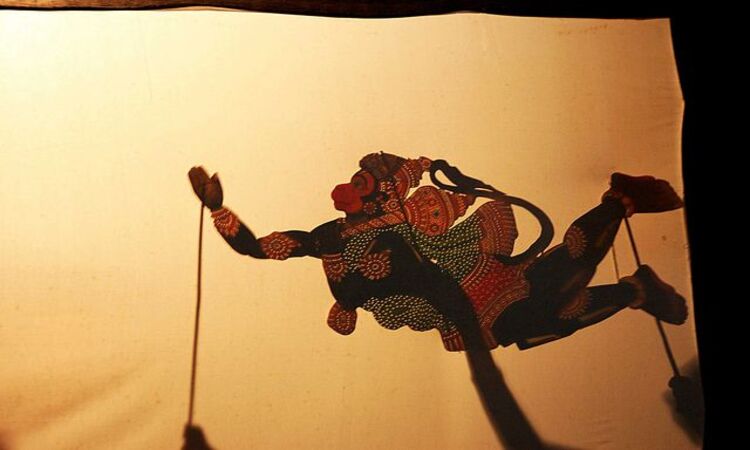 (Image Credit: Pinterest)
The common traits among the various shadow puppet traditions are reflected in their manufacturing techniques. All of them use leather that is treated in such a manner that results in sheets of stiff parchment. Aside from this common feature, shadow puppets can vary a lot across different genres as well as different villages and family traditions.
Most contemporary traditions utilize translucent papers. Except for Kerala's Thopava Kothu puppets which are opaque and cast a black-and-white shadow on a white screen. Traditional folklore says that shadow puppetry was brought to South India in Karnataka by nomads known as Killekyatas from Maharashtra.
Notable Shadow Puppet Show Destinations
Trains To Palakkad
Trains To Mysore
Rod Puppets
An extension of glove puppets, rod puppets are larger and are controlled from below using one or more sticks of various sizes. This style is particularly popular in Odisha and West Bengal. The puppets are generally composed of three joints with the main rod supporting the head while both arms and the neck are attached to the rods of the shoulder.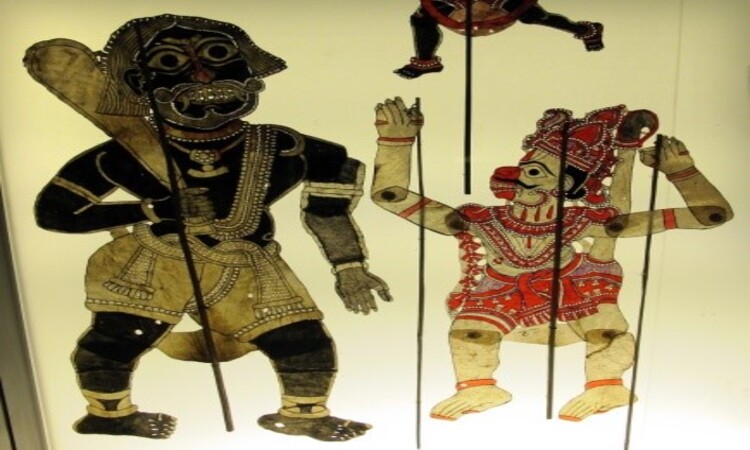 (Image Credit: Insight IAS)
This style is known as Danger Putul Nach in the southern regions of West Bengal. In this particular style, the puppets can be as tall as 1.2 meters and weigh up to 10 kg. The puppets are well-decorated and painted in the local style and dressed in elaborate costumes.
The storylines of the performances include plots of popular Bengali films besides folk and epic stories. You will find different styles of rod puppetry in various regions of the country. Each region has its own unique style that has been passed down across several generations.
Notable Rod Puppet Destinations
Trains To Cuttack
Trains To Puri
Conclusion
The varieties and styles of puppetry in India are so vast and diverse that they cannot be covered in one go. For many ages, puppetry has been a means of entertainment, artistic expression, and religious dissemination. In more recent times many of the puppetry traditions that were in decline have seen significant resurgence.
And alongside traditional puppetry, India is also home to a vibrant contemporary scene. The rise of modern styles has also opened the country up to artistic exchange, while also retaining significant influence of ancient traditions.
And, if you wish to witness this form of art, you can plan your next trip with Trainman.