Away from the bustling cities of India, lie beautiful sanctuaries teeming with a diverse variety of wildlife. The country is also home to various natural species, including grasslands, teakwood forests, deserts, and mountains.
Over a hundred national parks in India cover an approximate total of 15,600 square miles of protected land. Many of these reserves were originally hunting reserves for the rulers of the Indian princely states during British rule.
Since independence more than 50 of these royal hunting grounds have been converted to wildlife sanctuaries. According to a census carried out in 2014, there are a total of 2,226 tigers in India out of which 70% reside in tiger sanctuaries.
So, let's take a walk on the wild side as we explore the best zoological parks across the country and the wide range of biodiversity contained within.
Nagarhole National Park, Karnataka
The marshlands and lush forests of Karnataka's Nagarhole National Park are among the country's premier tiger destinations. Flanked by the western ghats, the park is filled with teak and fragrant sandalwood trees, winding streams, and thick bamboo groves.
(Image Credit: Karnataka Tourism)
Jeep Safaris are a popular option at Nagarhole, especially for spotting big cats. Those who want to catch sight of animals such as crocodiles, elephants, or any of the aquatic birds of the national park can opt for a slow drift in a coracle.
Nagarhole is known to be one of the best spots in the subcontinent to catch glimpses of leopards. You will also get to hear the chatter of giant squirrels in the trees, and catch striped mongooses trotting through the leaf litter.
Nagarhole National Park offers overnight visitors comfortable lodging, excellent food, good vehicles, and highly professional and knowledgeable naturalist guides. Drives into the park are conducted twice a day with plenty of time in between for relaxing.
The best part is you are assured a quiet serene experience free from crowds. This is because the park restricts the number of vehicles allowed to enter. Nagarhole Nationa Park is open to visitors throughout the year except for July and August when the park is closed due to monsoon flooding.
Best Visiting Time in the Year
Getting Here (Nearest Railway Station - Mysore)
Kaziranga National Park, Assam
Situated on the floodplains of the Brahmaputra River, Kaziranga National park was first opened in 1905. Its initial mission of saving the greater one-horned rhinoceros back from the brink of extinction. Rhinos are especially vulnerable to poaching because their tusks fetch a high price in the black market.
(Image Credit: kaziranga-national-park.com)
The park currently houses around two-thirds of the world's rhino population. Many tigers also side here with the elephant grass and dense forest cover providing good hiding spots from where they can hunt. You will also be able to spot endangered swamp deer, wild buffaloes, and river dolphins.
Kaziranga National Park is one of the few places in northeast India that boats of vast open wilderness which is why it is often called the "Serengeti of the East". You will also find no shortage of things to do in Karziranga.
You can go on safaris either in jeeps or even on elephant back. There is also a boat safari which allows you to catch glimpses of river dolphins as they pop up to the surface for air. In addition to many species of wild animals, you will also find a beautiful Orchid Park here.
Some excellent attractions in the nearby vicinity of Kaziranga National Park include Kakochang Waterfalls and beautiful tea estates. There are also many tribal villages in the area where visitors can observe the lifestyle and traditional practices of the local tribal communities.
Visitors can expect cheap and comfortable accommodations in the numerous guest houses in various villages around the park.
Best Visiting Time in the Year
Getting Here (Nearest Railway Station - Guwahati)
Keoladeo National Park, Rajasthan
Located in between the historic cities of Agra and Jaipur, Keoladeo National Park is an ideal location for birdwatching. In the 19th century, it was used as a duck hunting ground by maharajas up until 1972 when it was converted into a bird sanctuary and subsequently declared a national park in 1982.
It is currently a UNESCO world heritage site and plays a vital role in the conservation of migratory birds. Numerous species of birds including many endangered ones that migrate along the Central Asian Flyway spend the winter here.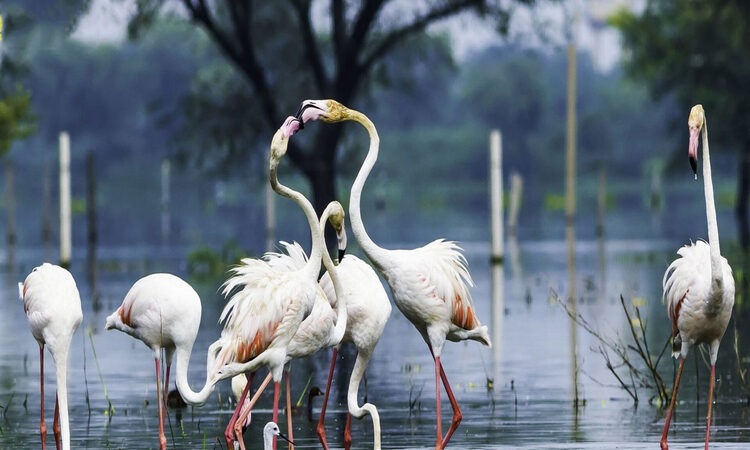 (Image Credit: The TravelShots)
The park is a combination of wetland and savannah and houses a wide range of avi fauna such as spoonbills, status cranes, and black-headed ibises. It is the only park in the country that is enclosed completely by a boundary wall that is 2 meters in height. This makes any encroachment here impossible and the inhabitants of the sanctuary are also protected from any biotic disturbances.
Eco-development activities have been organized in the surrounding villages which have had many positive results. For one, the grazing of cattle on park grounds has reduced and been significantly minimised.
The participation of local communities in efforts toward resource conservation has steadily grown and invasive alien species have been removed from the park. Locals from the surrounding villages have even been employed as guides who take visitors on cycle rickshaws.
Best Visiting Time in the Year
Getting Here (Nearest Railway Station - Jaipur)
Satpura National Park, Madhya Pradesh
Satpura National Park, a picturesque photographer's paradise is located in the highlands of Central India. It consists of Malachite Green Forests and grasslands which are riddled with slot canyons and ravines while also concealing waterfalls and temples.
It is considered one of the most beautiful wildlife sanctuaries in the country and won the TOFT Wildlife Tourism Award in 2010 for the most visitor-friendly wildlife destinations. The park also provides 550 square miles of the tiger reserve area and provides a safe haven for several threatened and endangered species.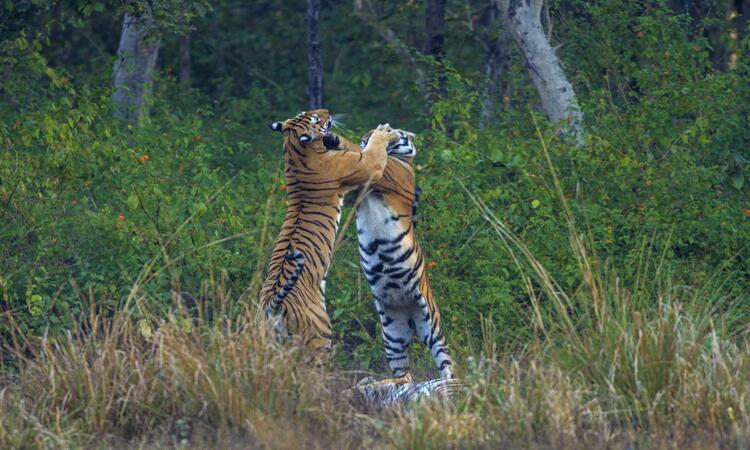 (Image Credit: Find Your Safari)
Being situated in Central India, Satpura National Park has moderate climatic conditions. During the summer season which occurs between March to June, temperatures can range between 30 to 40 degrees in the daytime. The monsoon arrives in July ending in October which is then followed by winter.
The park is endowed with fantastic biodiversity featuring diverse species of wildlife rarely found elsewhere in the country. There are around 50 species of mammals, 30 species of reptiles, 250 species of birds, and at least 50 species of beautiful butterflies found at Satpura National Park.
Best Visiting Time in the Year
Getting Here (Nearest Railway Station - Bhopal)
Chinnar Wildlife Sanctuary, Kerala
Apart from Periyar National Park, Chinnar Wildlife Sanctuary is among the largest wildlife sanctuary in Kerala. Situated on the Western Ghats the forest shares a border on the Annamalai Hills with Tamil Nadu.
Along with 17 other wildlife sanctuaries, Chinnar is among the protected areas of Kerala. It is also the only rehabilitation centre in the country for the Indian Star Tortoise. The sanctuary is contiguous with three others to its north, south, and east. These are the Indira Gandhi Wildlife Sanctuary, the Earvikulam National Park, and the Kodaikanal Wildlife Sanctuary respectively.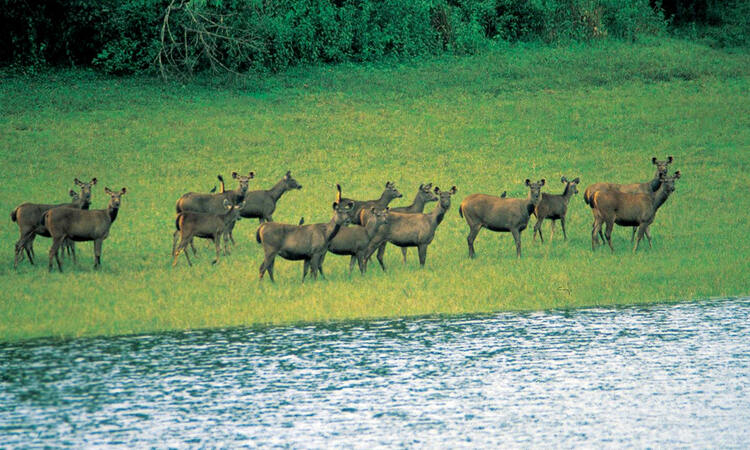 (Image Credit: Kerala Tour Packages)
The sanctuary covers an area of about 90.44 square kilometres and boasts rich vegetation along with pristine beauty. Visitors can stroll among the lush greenery while photographing wild animals along a stunning backdrop.
The biodiversity of the sanctuary is among the best in the country and features over 144 species of animals. They include Panthers, Common Langurs, Indian Elephants, Bonnet Macaques, Hanuman Monkey, Wild Elephants, and Gaurs.
Bird lovers will also have plenty to look forward to here with around 225 species of birds including the Yellow Throated Bulbul, Grey Heron, and Black Eagle.
Best Visiting Time in the Year
Getting Here (Nearest Railway Station - Coimbatore)
Have A Wild Adventure
India is home to rich biodiversity and the country is dotted with diverse wilderness with a wide variety of flora and fauna. The experience of exploring these wild domains can range from a quite stroll in the woods to exciting encounters with some of the most majestic wild animals in the country.
Whichever, the case one thing is certain is that forests and wildlife are just as much part of the geographic identity of the country, as are temples, mosques, and historical monuments. Indispensable threads in the spectacular tapestry of the subcontinent.