Marking the end of monsoons and welcoming the harvest season - Onam is the official state festival of Kerala. It is one of the major festivals celebrated by the Malayali Hindu community. Onam is a 10-day mega-festival celebrated with great enthusiasm and accompanied by multiple festivities throughout Kerala. According to the Malayalam calendar Onam is celebrated in the first month of Chingam that overlaps with August-September in the Gregorian calendar. In 2020 the festivities Onam began on 22 August and will conclude on 02 September.
This festival truly fills the heart of people with gaiety and brings them together to be a part of this vibrant and cultural festival. The festivities of Onam showcases the art and culture of Kerala in the most unique way. This year due to the ongoing global health crisis the festival is celebrated in a low-key manner but we have curated a list of fascinating facts about Onam that make this festival so special. Also, Kerala is all set to welcome the domestic tourists from September 01 onwards. If you want to know more about this in detail then do read the blog Rebooting Kerala Tourism.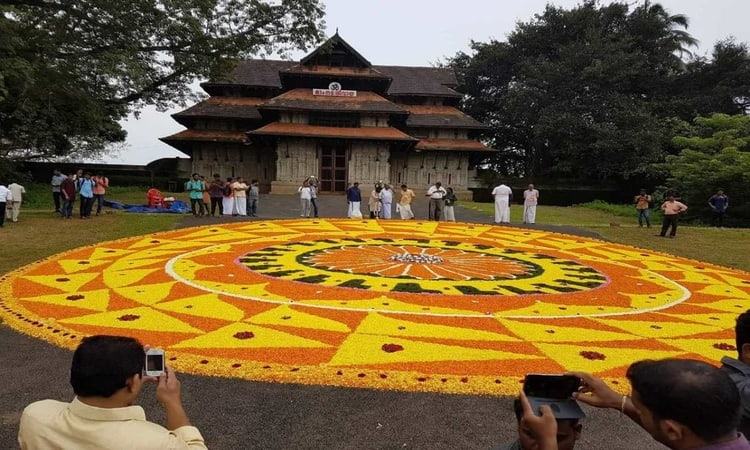 A secular festival
Onam is a secular festival. It is celebrated by people from all communities and castes, irrespective of their religion whether they are Hindus, Muslims or Christians, wealthy or the poor. Each of them celebrates this festival with utmost zeal and fervour.

Homecoming of Asura King Mahabali
According to the legends the festival marks the homecoming of Asura King Mahabali during which Keralites celebrate Onam all over the world. Just like Ganesh Chaturthi Onam is a 10-day festival, the first and the last being the most important ones.

Playing traditional games
Kayyankali, Attakalam, Kutukutu, Ambeyyal and Talappanthukali are the traditional games that are played during the Onam festival. Ambeyyal is a game of shooting whereas Kayyankali and Attakalam are combat games which are violent in nature. Talappanthukali is a ball game while Kutukutu is a Kerala version of the famous Kabaddi.

Grand Feasting
On the occasion of Onam an elaborate lunch meal known as Sadya is prepared in every household. It is served on a plantain leaf with over 26 varieties of food. Food variety that is served in the Sadya are Banana chips, Papadum, Thoran, Mezhukkupuratti, Kaalan, Olan, Avial, Sambhar, Rice, Dal, Erisheri, Rasam, Pickle, Buttermilk, Payasam etc. And that's not all even hotels in Kerala serve Sadya during Onam for lunch.

Welcome of Asura King Mahabali
To welcome King Mahabali people make pookalam (flower carpet) designs in front of their homes. Nowadays pookalam design competitions are also being held over Kerala at offices, schools and colleges etc.

Cultural events during Onam
During Onam several cultural events also take place like Thiruvathirakali, Kummattikali, Pulikkali, Thumbi Thullal and Kathakali. Thiruvathirakali is a dance performed by women around a lamp. Pulikali is performed by grown men who are dressed (including painted) as tigers and dance to beats of instruments such as Thakil and Chenda. All these dance styles are unique to Kerala and they are also performed on the streets and during public events.
Folktale of Onam
Onam dates back to the Sangam period when it used to be celebrated over a month. According to legends Onam is celebrated to commemorate the arrival of King Mahabali from Patala (the world underneath). The story revolves around the time when demon King Mahabali used to rule Kerala and was known for his generosity and kindness. This threatened the Gods and they sought Lord Vishnu's help who disguised himself as a poor Brahmin and headed to Kerala. He asked the king to grant him the land that can be covered within three feet.
Being a kind-hearted person the king granted his wish and the brahmin started to grow in size and covered the sky and earth with his first and second steps. As the brahmin was about to take the third step the demon king asked him to keep his third step on his head that led him to Patala. However Lord Vishnu then granted him a boon that he can annually visit his people that led to the celebration of the Onam festival in India. Thus, Onam marks the day of his annual visit to Earth.
I am sure you must be fascinated after knowing such intriguing facts about Onam festival. How are you celebrating the Onam festival? Tell us in the comments below. Also, Kerala is opening its doors for domestic tourists from September 01, 2020, onwards. So plan a vacation with family or friends and book your online train as well as flight tickets through Trainman app. Download Trainman App to check PNR Status of your ticket, Train between stations, Train Seat Availability and much more.