Two trains on the same track ran up to full speed toward each other. A Union minister was on one of the trains. The two locomotives did not collide, however, thanks to 'Kavach.
On Friday, Kavach, an Indian Railways-developed Automatic Train Protection (ATP) system, lived true to its name by passing a major anti-collision test with flying colors.
Kavach, which was built with the goal of zero accidents in mind, was put to the test in Secunderabad, with Union Minister for Railways Ashwini Vaishnaw at the helm, as well as the train's driver and other officials in attendance.
The train grinds to a standstill when it tries to circumvent the stop signal, and Vaishnaw claims the Kavach system prevents locomotives from moving forward.
When a signal is crossed at hazard (SPAD) or when a train crosses a stop signal when it is not allowed to, this system activates. In the event that the loco pilot fails to do so, Kavach controls the train's speed by applying brakes automatically.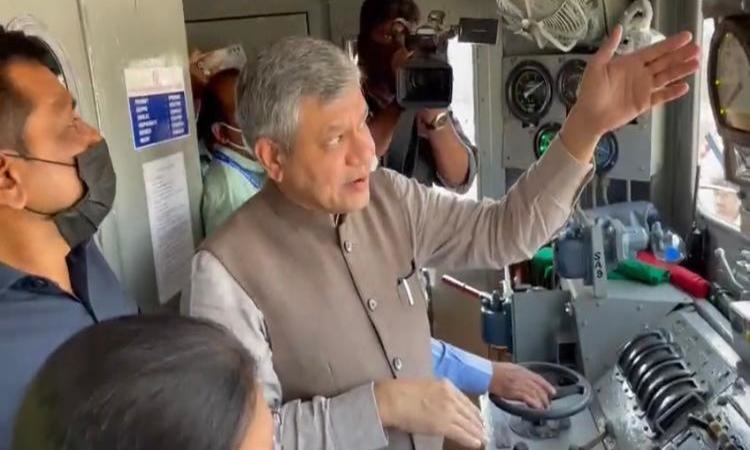 Anti-Collision Test Conducted By Railway Minister Successful
Following the commissioning of up to 2,000 km this year in the South Central Railway (SCR) zone, Kavach, the indigenously developed train collision avoidance system (TCAS), is set for countrywide implementation by taking up 4,000-5,000 km each year, according to Railways Minister Ashwini Vaishnaw on Friday.
How does It work?
It operates on the basis of continual movement updates via high-frequency radio communication. It also meets the highest level of safety certification, SIL-4 (Safety Integrity Level - 4).

For track identification, train location, and train direction identification, RFID tags are provided on the tracks and in the station yard for each track and signal. The purpose of the 'On Board Display of Signal Aspect' (OBDSA) is to assist loco pilots in checking signals onboard consoles even when vision is poor
With a fraction of the cost of importing similar foreign equipment, which could cost up to Rs.2.5 crores a kilometer, India has its own tested safety system that can be installed at Rs.40 lakh a kilometer.
Important Things To Remember
As part of the Atmanirbhar Bharat initiative, 2,000 km of the rail network will be brought under the indigenously designed Kavach for safety and capacity augmentation in 2022-23, as announced in the Union Budget for 2022.

Kavach has been

certified for speeds up to 160 km

and has been deployed on over 1098 route km and 65 locos in ongoing South Central Railway projects.
In addition, as part of the Mission Raftar effort to raise speeds to 160 kmph, Kavach would be introduced on the Delhi-Mumbai and Delhi-Howrah lines.
Trainman's train app or website allows you to book IRCTC/Indian Railway train tickets online quickly and easily using your IRCTC login. Check your PNR status after you've booked your ticket online to determine how probable it is that your ticket will be verified. Confirm your train's current status (or use Trainman's Spot your train option).